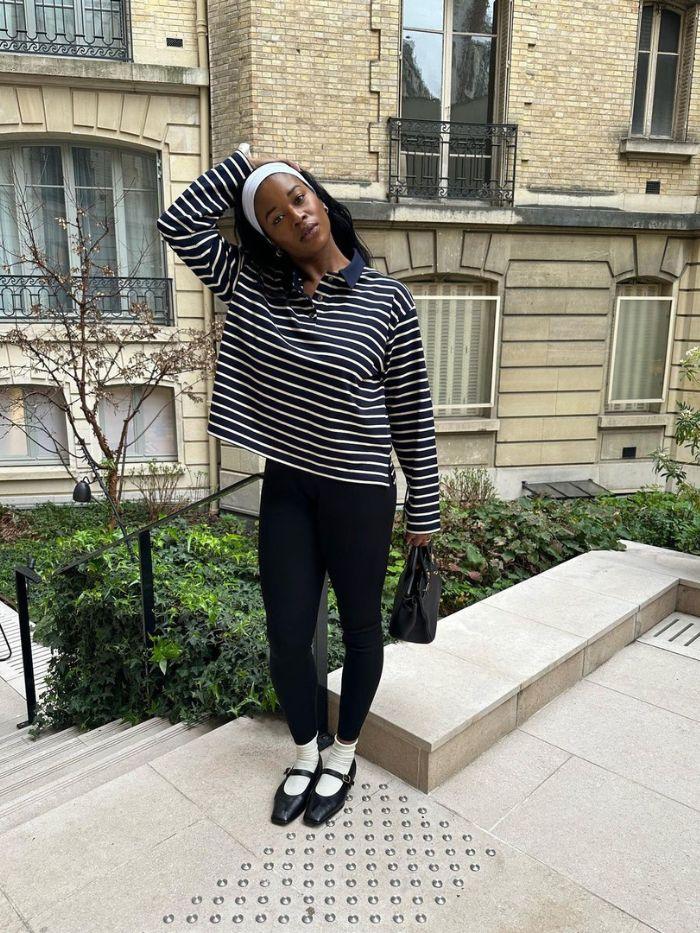 If I'm honest, I've never really been into leggings. Although, you would think I'm lying if you saw how many activewear styles I have, sat there ready and waiting in case I ever set foot in the gym I pay monthly for. But when it comes to leggings to wear as part of a daily uniform, I've always avoided them—until now, that is. And it's all thanks to all of the outfit inspo on Instagram. 
While it's tricky to find a pair that doesn't bag at the knees and sag at the crotch, so many brands—including Commando, Spanx and Totême—have nailed it with well-fitting styles. It's all about getting the right thickness, too. Unlike opaque tights, you don't want them to be sheer, as this is what can make them look cheap and scruffy. Instead, thicker (more luxe) materials with details such as stirrups, split hems and a second-skin fit are what to look for. 
Sure, it's easy to wear leggings off-duty with an oversized sweatshirt and trainers, but as someone who is often overdressed, I'm all for the looks that make leggings actually look chic. From wearing them with a midi skirt to teaming them with knee-high boots and a blazer, here are six outfits that have unintentionally persuaded me to wear leggings.
Style Notes: Kim styles the perfect off-duty look with a crew-neck jumper, chunky trainers and a covertly casual cap, whilst also layering a boxy blazer over top. This is one I want to recreate.
These breathable and lightweight leggings from Free People are great for those who are always on the go. 
What's not to love about a grey marl sweatshirt?
Arket's Hopsack blazer is a firm favourite amongst our editors. 
A cap is a streetwear staple and this one from Jacquemus oozes subtle luxury. 
I own a pair of Nike's P-6000's and they are the comfiest trainers I have tried.  
Style Notes: My mum definitely wore them in the '80s with court heels, and now, stirrup leggings are back. Tanice shows how to make them feel fresh with cool kicks and a bold knit. I'm completely sold. 
These look so chic. 
I adore this cobalt blue shade for winter!
This bouclé coat is a must-have for the colder weather approaching. 
New Balance trainers are still in, people. 
Style Notes: I've seen so many people wearing knee-high boots over leggings or skinny jeans again. A glossy pair of rider boots with a wool blazer à la Anouk is always a good idea. 
From the gym to running errands, this Booty Boost style from Spanx is a great transitional pair of leggings – they even have a hidden pocket in the waistband. 
Peaked lapels elevate any blazer, just like this one from & Other Stories.
These leather ankle boots have a slight equestrian feel to them, with their contrasting wooden block heel and comfortable insoles.
Style Notes: Borislava shows us that the UGG hype is still in full swing with this dressed-down number. Paired with a knit beanie, handy cross-body bag and relaxed-fit coat, this look champions smart-casual. 
If you're looking for a body-hugging option to lounge in, these thermal ribbed leggings from SKIMS might just be the answer.
H&M is known for its expensive-looking outerwear and this woven double-breasted design encaspulates exactly that. 
This lightly padded cross-body bag is perfect for quickly chucking bits and bobs in before heading out the door. 
Accessories are a great way to add a pop of colour to your wardrobe.
No explanation needed. 
Style Notes: Marilyn styles the sell-out Frankie Shop quilted jacket (you know the one) with a classic pair of leggings and clogs. While I'm not sure about clogs for myself, this outfit certainly makes me want to go wild and try them out. 
Nail your capsule wardrobe with these timeless TOTEME leggings. 
Diamond-quilted jackets are everywhere right now. 
Following the recent clog trend, these Chloe Marcie sliders sport a designer-engraved buckle embellishment and a cosy shearling lining. 
Style Notes: While most people swerve away from grey sweat-showing leggings when working out, they totally work for the day. The more layers the merrier for winter, and Linne makes a strong case for a knit skirt over her pair. 
Not only are these leggings great for layering and lounging, but they're also made using a thermal fabric to keep you warm during the cooler weather. 
You can't go wrong with a ribbed roll-neck. 
Sézane makes such effortless pieces and this knit midi skirt is one of them.
Whistles has nailed it with this gorgeous jacket.
Loafer season is back in full swing and what better way to hop on the trend than with this Prada patent leather option?
Style Notes: This outfit screams winter in the city. Focused totally on practicality and layering, Lina opts for a knitted roll-neck jumper underneath a smart wool blazer, before completing the outfit with a trench coat. 
This double-layered jersey style from Falke boasts the much-loved contoured effect of leggings. 
Mirror Lina's look with this roll-neck jumper from Mango. 
Padded shoulders, notched lapels, front flap pockets? I'm sold. 
Yes to everything about this caramel wrap coat. 
I think there's something so chic about a flat knee-high boot.
Style Notes: As a big fan of Janka's fun looks, I appreciate this from top to toe. While leggings are the simple base to this whole outfit, it's all about keeping the rest of the vibe big, bold and cosy. 
You'll get so much wear out of these faux leather leggings from Commando. 
This belted faux fur coat looks so cosy.
A staple.
Style Notes: If in doubt, keep it simple. An oversized crisp white shirt is the perfect companion to a pair of leggings. And this split-front style is the attention-to-detail iteration that minimalists swear by. 
A split hem brings so much more to a pair of regular leggings. 
Do I even need to say anything about this relaxed-fit poplin shirt?
I always have a pair of Nodaleto heels on my wishlist.
This piece was published at an earlier date and has since been updated
Next up: I Live In Leggings – 7 Fresh Ways I'm Wearing Them This Winter.