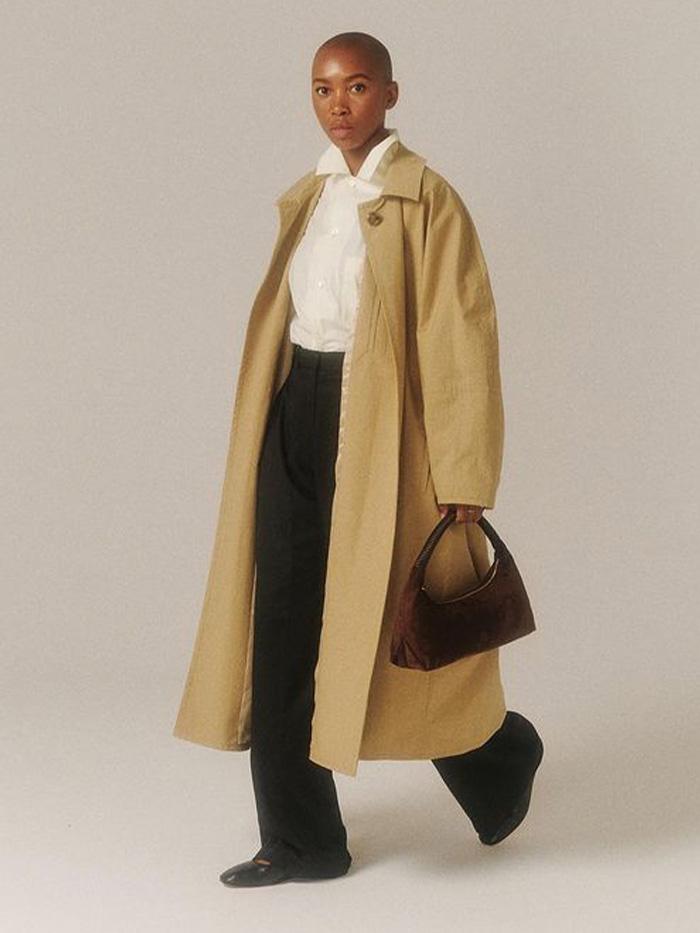 As the leaves start to brown and the sun gives way to rain, it's that time of year when we get out the most useful of outerwear from our wardrobes: the trench coat. 
The weather has definitely turned, and as I sit at my desk with the rain pouring down, it's got me thinking about to how to look chic but still warm when the temperamental British weather isn't on our side. If you're thinking the same, don't fear, as the answer lies in a staple you probably already have in your wardrobe. Easy to throw on, functional yet stylish and an instant way to pull your look together, the trench coat is the chic cover-up we all need in our lives. 
Influencers such as Marianne of @smythsisters and stylist Hanna MW are big fans of a trench coat, too, providing us with endless inspo on how to style ours. Marianne is known to wears her long black iteration in true trans-seasonal style with a basket bag and flats, while Hanna teams her vintage trench with oversized cargo trousers to give the look a contemporary twist.
Marianne wears a black trench coat with a shirt and basket bag.
Hanna wears a classic trench with white cargos and Chanel platforms.
As a fashion editor, I love researching and deep-diving into what's trending right now. However, the trench coat isn't new, having evolved from waterproof coats dating back to the 1820s. Fast-forward to 1853, and Aquascutum and Burberry both took advantage of the evolving technology to make the coat their own, in Burberry's case inventing the gabardine fabric, which it still uses today. And just like that, the trench coat as we know it was born. 
From the classic beige version to shiny faux leather, when it comes to the high street's offering of trench coats, the choice is endless. If you're liking what you read, scroll on to discover my edit of the best high-street trench coats that you'll love now and wear forever. 
A classic you'll wear forever.
I love a black trench for something super sleek.
This has already sold out and come back in stock again!
A gorgeous grey hue will go with so many other colours.
Yes to this whole look.
I've fallen head-over-heels for this wool style.
A khaki trench is high on my wish list this season.
I love how this Massimo Dutti number looks with white denim.
Just stunning.
Available up to size 4XL.
Trenches don't need to be worn belted. Look how good this looks worn loose and relaxed.
Aligne's trenches are modern-day icons.
A sell-out every year.
This one comes in size 6 to 24.
A great option for petites!
Look at those jumbo lapels.
For something a little different…
Up Next: The Autumn/Winter 2023 Fashion Trends That Really Matter
Opening image: @_marisamartins_