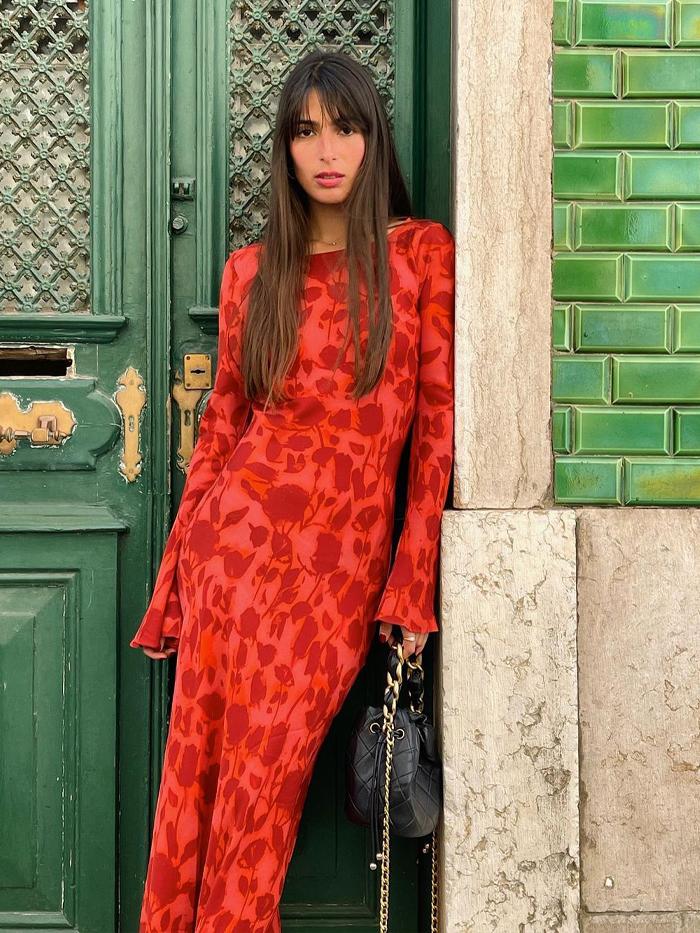 We can talk all day about how much we adore French fashion brands. We've gleaned countless styling tricks from the country's chicest stars and style gurus, whom we look to for excellent Parisian style. But what about the best French fashion brands that enable all the above? There are loads of them. From the super-luxe established designer Parisian fashion houses (Dior, Saint Laurent and Chanel) through to newer and more affordable startups such as Sézane or The Frankie Shop, there's a veritable gamut of Gallic labels to get to grips with. And that's before we even get started on the incredible midrange section the French industry has licked. Think of some of the names you know, such as Maje, Sandro and Claudie Pierlot. They're the cherry on top of a particularly tasty contemporary-fashion sundae.
Tamara wears the Gia dress from French brand Réalisation Par.
So to indulge our love for all things Français, we've brought together 48 of the most important French fashion brands, some you'll recognise and some you won't. What's key to note is that not only have we assembled the coolest of the cool, but we're also giving you pointers on exactly what you should look out for when shopping any of these labels. For example, Jacquemus is our trusted go-to for bags, tops and shoes, but today we've chosen one of the brand's dresses. As we love all the following brands, you can expect to see the pieces we want to shop right now. Keep scrolling to see and shop from the 48 best French fashion brands in existence.
Style Notes: Created by French style icon Jeanne Damas, Rouje is a blogger favourite for its barely there blouses, flirty sundresses and high-waisted denim. What to Buy: Dresses, especially slinky slips that you can dress up or down, and classic coats.
Style Notes: Created by French influencer Anne-Laure Mais of Adenorah, this is everything your favourite Parisians on Instagram will be wearing this season. What to Buy: Perfect date-night tops. 
Style Notes: Simon Porte Jacquemus is one of the most trailblazing designers on the global fashion scene. His slightly surreal clothes and concepts never fail to impress editors, but there's something so inherently wearable and wantable about it all. What to Buy: Bags, dresses, shoes and knitwear are all very popular Jacquemus choices, but the latest top drop has caught our eye. 
Style Notes: It may no longer have the accent above the e, but Celine is still one of the most influential designer labels in the world. What to Buy: Who wouldn't love Celine sunnies? 
Style Notes: Atelier de Production et Création is loved for its utilitarian basics and has been a minimalist's go-to since the '80s when the brand first launched during a time of great maximalism. What to Buy: We have it on good authority that A.P.C. is currently serving up perfect everyday bags. We couldn't resist this classic beauty. 
Style Notes: Lingerie connoisseurs will be more than aware that Eres makes some of the best-quality underpinnings around. They're subtle and understated but luxe at the same time. What to Buy: We're looking to sleek one-pieces for swimwear that'll go the distance. Turns out, the perfect black swimsuit does exist. 
Style Notes: Amélie Pichard is probably one of the most adventurous shoe designers in the entire world, not just in France. She recently collaborated with Pamela Anderson, and her shoes are instantly recognisable for their off-kilter heel shapes and wacky finishes. What to Buy: There's something really sassy about Pichard's clogs.
Style Notes: Worn by Rihanna, FKA Twigs and Alexa Chung, Annelise's bold but refined pieces of jewellery are all handmade in her Paris atelier. What to Buy: We're hooked on her molten metalwork pieces.
Style Notes: Ba&Sh, designed by the very chic Barbara Boccara and Sharon Krief, is for the true bohemian dresser. What to Buy: Both dresses and blouses are big for the brand.
Style Notes: Not matter who's at the helm, Chloé manages to wow us with its collection every season.  What to Buy: Any of the brand's iconic bags. 
Style Notes: Jour/Né essentially means "day to night," so this brand is all about the clothes that do the job for you—with lots of humour thrown in to boot.  What to Buy: The graphic tees.
Style Notes: Bobbies' timeless leather footwear is classically Parisian, though each pair is handmade in Portugal. What to Buy: The brand's sleek flats are always a great investment. 
Style Notes: Claudie Pierlot does a cute take on contemporary French style. Think sweet bows on blouses, patent miniskirts and suede coats. It's more innocent than its peers. What to Buy: Right now, it's a toss-up between the pretty blouses and the jackets. 
Style Notes: Givenchy is now in the very wonderful hands of the American designer Matthew M. Williams, taking over from Clare Waight Keller—aka Meghan Markle's wedding-dress creator—who made this storied house look rather delicate over the past few seasons and reinvented its iconic Antigona bag. What to Buy: This dream bag will become part of your forever collection.
Style Notes: Emmanuelle Alt is a big fan of this label and often wears its bold and unusual pieces to fashion week. What to Buy: You'll never be stuck on what to wear with this beautiful lace-detail blouse. 
Style Notes: What more can we say? Chanel is the Paris megalith that has, over the years via both Coco Chanel and Karl Lagerfeld, cemented some of the most important parts of many people's wardrobes. What to Buy: A pair of Chanel mules will last you a lifetime.
Style Notes: As Iro was founded by one-time music producers, it's understandable that there's such a strong rock-chic vibe running through each collection. What to Buy: The perfect little black dress. 
Style Notes: Balmain fans like their clothes tight, their hemlines short and their heels high. The crew that has assembled around the super-popular director Olivier Rousteing includes the likes of Gigi Hadid, Joan Smalls and Kim Kardashian West. What to Buy: Balmain always has a strong selection of bouclé jackets. 
Style Notes: Since former Valentino designer Maria Grazia Chiuri took over the reins, many people (celebs included) have enjoyed seeing her classic and delicate style echoing through the brand. What to Buy: Anything with the Dior logo on it is golden right now, but these shoes are at the top of our list.
Style Notes: Kenzo Takada was born in Japan, but he founded his label in Paris. Sadly, he passed away in 2020. He retired in the late '90s to pursue a career in art, and many names have led the change at the brand over time. What to Buy: A sweater or hoodie; whichever you prefer. 
Style Notes: Jérôme Dreyfuss makes covetable bags and shoes. (He's also married to Isabel Marant.) He's basically the coolest man in French fashion. What to Buy: Such a chic silhouette.
Style Notes: The modern high priestess of boho lovers and rock chicks alike, Marant spans every possible department with her must-haves, from party dresses to sneakers. What to Buy: I always head to Marant for hero footwear. 
Style Notes: When The Kooples first landed in the UK a few years back, it was all about "his 'n' hers" dressing. While tailoring is still key, you'll find more feminine pieces in the mix these days. What to Buy: I really rate The Kooples's slip dresses. 
Style Notes: If you feel like all of the brands in this gallery are too expensive, French catalogue La Redoute will be your saviour. Full of classic pieces at a much lower price point (its in-house labels are really quite good), this website also stocks other designer brands. What to Buy: It's where I'll be stocking up layering pieces that won't break the bank. 
Style Notes: Clergerie shoes are well known for being beautifully made and very practical in design. As such, you'll find an array of influencers who adore the wearable styles. What to Buy: You can't put a step wrong in Clergerie's mules.
Style Notes: Founded in 1889 by Jeanne Lanvin, it has always been a source of fantastic evening wear. When Alber Elbaz stepped down in 2015, Bouchra Jarrar replaced him but has since departed. The new creative director is Olivier Lapidus, a Balmain Homme alumnus. What to Buy: It's a brand known for its glam, so this dress still lives up to the spirit of the name. 
Style Notes: Christophe Lemaire has been around for some time, but it's only in the past few years that his name has shot into our collective style psyche. What to Buy: What's more French than a croissant?
Style Notes: With Nicolas Ghesquière leading the charge, LV has become a trusted source of burgeoning trends and directional fashion, from the incredible leather jackets down to the equally intricate footwear. What to Buy: From origins creating trunks, Louis Vuitton knows how to make a great bag. 
Style Notes: Part of Chanel's special ateliers, Maison Michel is a mighty-fine purveyor of hats. From jaunty berets to fedoras and Minnie Mouse ears to tulle veils, if there's an accessory that changes every outfit, it can be found here. What to Buy: You'll wear this every summer.  
Style Notes: Maje has plenty to offer across the board, but we often gravitate toward the more rock-chic pieces the brand specialises in. What to Buy: This amazing minidress.
Style Notes: This Parisian model turned designer is all about shirts, and they couldn't have landed at a better time considering the widespread mania for button-downs. What to Buy: A striped shirt, bien sûr.
Style Notes: Mid-priced Sandro should be on your list for when you're looking for staples with a twist. The brand knows what people like wearing on a day-to-day basis and gives each of those items a little extra oomph every time. What to Buy: There's so much to choose from, but this collared shirt feels pretty special.
Style Notes: Saint Laurent is designed by Anthony Vaccarello, and boy, is he bringing the sensual Parisian out of us all or what? Thigh-high slits, plenty of leather and all of the vital accessories to be our most glam selves 24/7. What to Buy: These are bound to suit everyone. Well worth the investment, merci.
Style Notes: Naturellement, we love Chloé's mainline collection, but there's something particularly exciting again about the diffusion collection. It has the floaty attitude of Chloé with a more accessible price point. What to Buy: An entry-level designer handbag with all the traits of classic Chloé arm candy. 
Style Notes: Set up initially as an online-only fashion store in 2013 by Morgane Sezalory, Sézane has been breaking boundaries and supplying great casual clothes for the past few years. What to Buy: The knitwear, specifically this striped cardi.
Style Notes: Frankie Shop is the boutique to visit in Paris these days. It stocks other brands, but its in-house label has all of the trend-setting tailoring, separates and dresses that you'll find dotted around the hippest Instagram feeds. What to Buy: It started the whole shoulder-pad T-shirt thing, but now, its blazers are the hot-ticket item. 
Style Notes: There's always a punky finish to everything Zadig puts into the world—whether it's a pair of rock-star boots like these or a slung-on velvet blazer you could wear to a concert with ripped jeans. What to Buy: Dresses you can style all year round. 
Style Notes: This conscious sneaker brand has really boomed in the past few years, with celebrities and influencers flocking to Veja's pared-back (and super-comfy) styles. What to Buy: Literally any pair.
Style Notes: Parisian influencers love showcasing their dresses from Réalisation Par, though the brand also does dreamy midi skirts and romantic camisoles. What to Buy: One of the brand's silk dresses, without question.
Style Notes: French dressing doesn't just stop when it comes to workouts. Ernest Leoty brings a fresh perspective to gymwear, and it's incredibly chic.  What to Buy: The crop tops are unparalleled. 
Style Notes: One of the cooler under-the-radar bag brands around right now, Elleme has a new take on bag silhouettes that is a welcome change.  What to Buy: Any of the top-handle totes. 
Style Notes: There's a common misconception that French fashion isn't particularly sassy, but Alexandre Vauthier proves otherwise. From dresses to boots, this sharp take on French dressing really gives the wow factor.  What to Buy: A pair of fabulous shoes. 
Style Notes: The iconic Breton tees (originally worn by the French navy) come from Saint James. If you want the ultimate striped T-shirt, then you have to go for this brand.  What to Buy: A Breton, bien sûr. 
Style Notes: A more laid-back brand, Corrèges offers up cool separates that are ideal for everyday wear.  What to Buy: The denim gets our vote. 
Style Notes: If you're more into elevated streetwear than haute couture, you don't want to dismiss AMI Paris.  What to Buy: A sensationally good coat.
Style Notes: Founded by former designers Sébastien Meyer and Arnaud Vaillant, who met during their studies, Coperni's designs are minimal but playful, exploring silhouette and texture in new and unexpected ways. What to Buy: It handbags that are trendy yet timeless.
Style Notes: Marie Dewet founded French brand MaisonCléo with her mother, the brand's namesake and head seamstress, to create the pieces she wanted to wear but was struggling to find. Named after women in their family, each design is handmade in the duo's native France using fabrics like silk, cotton and linen. Quantities are limited and drop at particular points in the month, but are worth the wait.  What to Buy: A blouse—absolutely a blouse. 
Style Notes: French designer Leslie Halfon takes inspiration from her summers in America to create the label's now instantly recognisable sandals. Since then, the brand has expanded into accessories and ready-to-wear pieces that will have you dreaming of warm summer days.  What to Buy: With plenty of iterations, there's a pair of trekking-inspired sandals out there for everyone. 
This story was originally published at an earlier date and has since been updated. 
Next Up: French Women Never Wear These Trends—8 Timeless Alternatives They Wear Instead