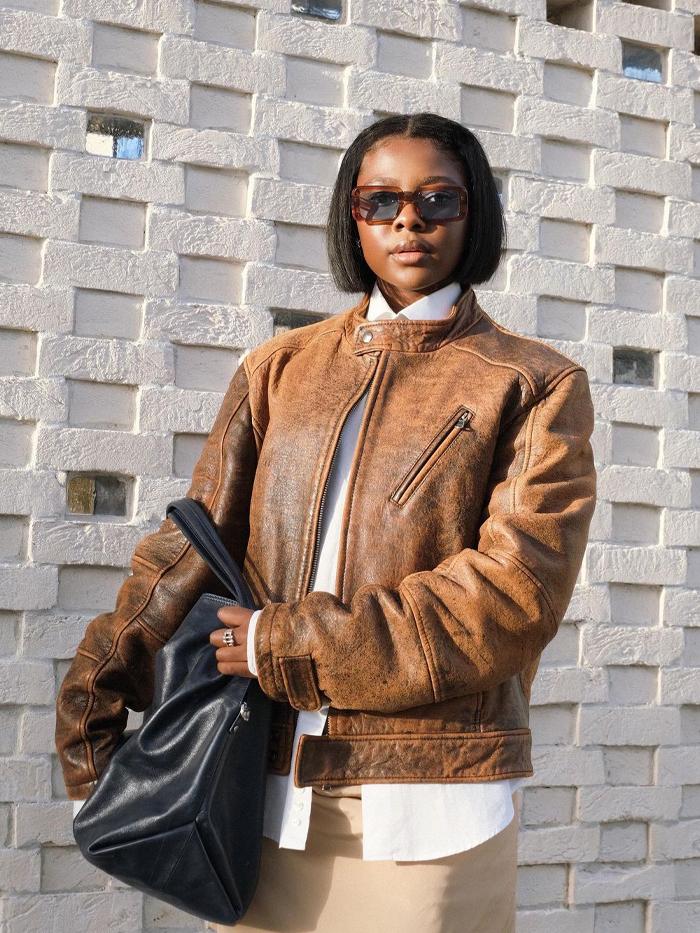 As we find ourselves on the cusp of winter with a bounty of beautiful cold-weather staples filling our favourite new-in sections, even the most assured shoppers will inevitably need a helping hand to whittle down the options. 
Unsurprisingly, designers like The Row and Toteme have nailed the brief, delivering classic winter fashion that feels well worth the investment. On the other end of the spectrum, high-street brands such as Arket and Mango are providing seasonal staples at a much lower price point. Whether you're on a budget or seeking some luxury additions to your wardrobe, it's worth reflecting on the pieces you lived in last November through January—this will ensure anything you buy now will get the wear it deserves.
Perhaps a glimpse at what others are adding to their winter arsenal will kick-start your shopping itinerary. I consulted a handful of influencers who I knew would be making wise purchases right about now, and their wish lists are just as covetable as you would expect. Glancing through each of them, certain themes became clear. The first is the colour red. That's right; shades of crimson and scarlet will be everywhere this season. And the second thing I noticed? Influencers are all about COS right now.
See for yourself—below, find eight curated wish lists to inspire your own winter wardrobe.
"Aligne has really cornered the market when it comes to creating beautiful leather pieces and this dress is no exception. It has a nice clean look and it's perfect for the upcoming party season. I'd pair it with strappy heels, a statement clutch and a slicked-back bun."
"Red is definitely the colour of the moment! The easiest way to incorporate it into your wardrobe is by adding this colour-pop knitted sweater. Throw it over the shoulders of your coat in lieu of a scarf. We love a versatile number!"
"A pair of good black flat boots will stand you in good stead as they pretty much go with every outfit—jeans, dresses, jumpsuits, skirts, all of it. I love the square toe on these boots and the leather is so soft, making them comfortable even on the first wear."
"Investing in a good coat is one of the best pieces of advice I've received. They have the power to seamlessly pull an outfit together while keeping you warm in the winter months. The herringbone detail on this coat adds a standout characteristic which will remain classic for years to come."
"Festive season has well and truly begun and this sequin is perfect for dinners out. It will most definitely be the talking point of the night."
"The colour of this structured dress is divine. It would work equally well in the office as for an off-duty look—all you need is the right accessories. The maxi length is also bang on trend."
"Layering has always been super interesting to me, I feel like it upgrades any look. For the autumn/winter I've been eyeing this COS bolero—I love the exaggerated sleeves and you can definitely wear it front to back."
"This Korean brand offers incredible designs and I love this specific bag. It's minimal and timeless but super unique as well, which is exactly what I look for in accessories."
"The key to looking effortlessly stylish is to own everyday staple items that have something interesting about them. These Weekday acid wash jeans are a perfect example."
"My hands always get quite cold as the temperature drops, but this year I've decided to accessorize them with these leather gloves from COS. They'll add a subtle pop of colour to any monochromatic look."
"I have my eyes set on the Mariela boots by MIISTA. The contrast orange stitching makes them super eye-catching. They're perfect for everyday wear and I can pair them with virtually any item in my wardrobe."
"A favourite brand of mine at the moment is Aligne. I'd style this distressed leather jacket with jeans and a simple T-shirt for an effortless look. It's a cool update on the biker jacket that will also take you through to spring."
"I use my Loewe basket bag throughout spring/summer and I'm after something similar but more hard-wearing for winter. I love this Dragon Diffusion leather woven bag in black."
"Silver is one of the key colours of the season and I'm obsessed with this sequin skirt for the festive season. I'd style it with a mohair knit and statement earrings."
"I've been searching for an everyday boot and I love the square toe of this Vagabond biker style."
"Another key tone for the season we all know about is red and I've got my eye on this Ganni cardigan."
"I've been looking for a long black tailored coat for the longest time. Mango has nailed it with this one."
"The Fortune Croissant has recently been released by Lemaire. The updated shorter strap makes it a perfect everyday bag and this colour would style beautifully with denim."
"I wear a lot of crew neck knits and T-shirts and this pearl and jade necklace would elevate any simple outfit."
"Raey is one of my favourite brands and this oversized cable knit is a great take on a timeless classic."
"I'm really drawn to long boots and this pair looks incredibly chic. I also love that the heel height isn't super high so they'd be easy to walk in (hopefully!)."
"First on my list is the new IT Gucci bag in my favourite colour, green! I'm obsessed with the shape of this bag and how it's so versatile for both day and night."
"Ganni does knitwear so well, and it has a significant place in my wardrobe. I'm loving purple at the moment and the Christmassy feel to this one."
"I'm very into vintage-looking leather jackets right now. I adore the chocolate brown shade and the Miu Miu vibes of this number from Mango."
"Next is the newest Adidas and Wales Bonner collab. As a Stan Wales Bonner fan, these are a no-brainer for me. I know they'll go with just about everything in my wardrobe."
"I've been living in hoodies lately and really love the colouring, type and attention to detail on this Picante style."
"Knits like this are so cosy and easy to wear—they're my uniform on the colder days. This cashmere turtleneck is at the top of my wish list!"
"I'm obsessed with satin skirts and the soft feminine touch they add to an outfit. I'd love to pair this with a cream cosy knit for a chic tonal look."
"Striped PJ's, yes please! As soon as I get home, the pyjamas are on. These look perfect for a lazy stay-in-your-PJ's-all-day kind of day."
"A tan bag is a classic and something I think I'm really missing from my wardrobe. The detail on the puzzle bag is just *chef's kiss*."
"I play it fairly safe with my wardrobe but I'm making an exception for these trousers. Metallics are huge right now and I think these might just be my next purchase."
"Stay in vogue with a cool oversized biker jacket. This is a key piece for any wardrobe."
"This season, it seems like everyone is embracing a vibrant touch of red."
"The Bou Bag is my top pick this season! Available in various colours, I bring it along wherever I go."
"This autumn, mini skirts are all the rage. I enjoy experimenting with them and pairing them with long coats, leather jackets, boots and ballet flats."
"They not only add a cute touch to your outfit but also keep your legs toasty in the cold. Knee-high socks and leg warmers are my seasonal favourites."
"Beige is one of my favourite colours and when I first stumbled across this jacket I knew it would fit in well with my style. Massimo Dutti always has amazing wardrobe basics."
"These are unlike anything I have in my wardrobe—it's nice to have unique pieces."
"I absolutely adore COS knitwear. It keeps me warm and the quality always feels great."
"I've been in love with this coat from the moment I saw it. It can be styled with anything."
"I love a good jumpsuit and & Other Stories does it so well. This one is very easy to style, and comfortable, too."
Next Up: Winter Is Coming—Here Are 7 Stylish Cold-Weather Outfits to Wear This November