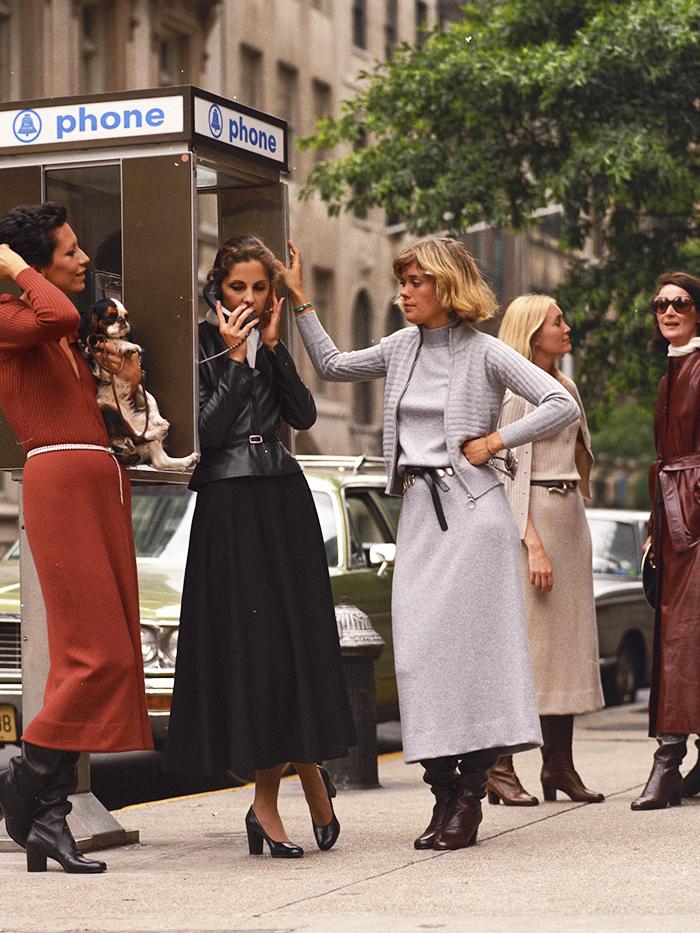 I'm a huge fan of '70s fashion—the era created a host of trends that still stand up today, whether you realise they're from that time or not. Think of our current obsession with bright over-the-knee boots, folk-inspired printed dresses, velvet and corduroy, boho blouses, midi skirts and so on. While the '70s sweep over the runways every couple of seasons, there's always a hint of it on the streets if you look closely.
Think of the iconic designer names that were indelibly marked into history during this decade, like Yves Saint Laurent, Karl Lagerfeld and Diane von Furstenberg. Also, during this period, mass-market, trend-driven fashion was more readily available. Barbara Hulanicki's Biba kick-started the idea in London a decade earlier, alongside boutiques such as Bus Stop, and cool, connected girls were able to switch up their looks more readily, which likely led to the 1001 aesthetics and key pieces that came out of this electric time.
This glamorous period also produced a slew of unforgettable, high-octane, high-profile style icons. Think Farrah Fawcett, Grace Jones, Bianca Jagger, Diana Ross, Cher and Debbie Harry. Their fabulousness was met in equal parts by the casual '70s crew: Ali MacGraw, Diane Keaton, Jane Birkin and company repped the kind of '70s style that feels more brunch-ready in NYC rather than wild nights at Studio 54. Whether you're into hippies, disco queens, rockers, punks or retro nerds, I'd recommend following @70sbabes on Instagram for a daily dose. What you'll notice when looking through these archival shots is that so many retro fashion moments still feel relevant; this is particularly given the release of Daisy Jones & The Six, which is set in the decade and is currently shaping the aesthetic this season. Keep reading to see which 50-year-old trends we're still wearing today.
Style Notes: Jackie O's '70s style (particularly on this holiday in Capri) is for all the minimalists out there. I love the simple vacay look topped off with a headscarf—a styling trick we've noticed recently on Instagram.
Tie around your neck, as a bandana or wrap around your ponytail. 
A future heirloom. 
Style Notes: I'm a big fan of Princess Anne's style archive, and this is one of my favourite looks. From the jumbo floral print to the balloon sleeves and shirred bodice, everything about this is very 2023.
The sleeves on this dress are also very 1970s. 
This whole look is heavenly. 
Toughen up with a biker jacket. 
Style Notes: Right now, pearls are all over everything, but this is one jewellery trend that pops up every decade without fail. In the '70s, it was all about wearing long strings with shiny satin dresses for the evening, à la Raquel Welch.
Earrings you'll wear for life. 
The gold hands add a vintage touch to this piece. 
Style Notes: Diane von Furstenberg's wrap dress has moments in and out of the trend spotlight, but it forever remains a true staple in anyone's arsenal. Here is the designer wearing her classic creation way back in 1973.
Add brown knee-high boots. 
This print feels so '70s in the best way. 
DVF's wrap dresses are for life.
Style Notes: Is it just us, or are these outfits everything you'd like to wear to work? Plain midi dresses, slouchy boots and tonal colours are all on our radar for spring. Call your friends, and tell them the news.
This will live in your wardrobe for such a long time. 
The matching trousers aren't a bad bet either. 
Style Notes: There are countless cool-girl trends one can chart back to Debbie Harry (her back catalogue of outfits is a treasure trove), but how much would you pay to get your mitts on this Blondie slogan knit right now? We know. A lot.
Wear this knit with vintage-wash jeans and slingbacks. 
Just in time for the cooler months. 
Style Notes: Slinky "naked" dresses have been present through the 20th century, but there's something about a boudoir-inspired satin slip that feels A) very '70s and B) very much like something we'll be wearing this summer. 
Made using deadstock fabric. 
Just add ballet flats. 
The pale blue hue feels typical of the era. 
Style Notes: While the pantsuit wavers in and out of popularity, right now, it's big business for retailers and the streets of fashion week. Bianca Jagger will forever be one of the original trouser-wearing icons—just look at this necktied all-white getup for proof.
How sharp is this blazer? 
The fluid flare silhouette keeps it feeling modern. 
Style Notes: We noticed recently that much of Cher's '70s and '80s style looks strikingly similar to multiple present-day celebrities, but let's not stop there. Cher's easy, breezy, co-ord pictured here is the ideal going out outfit. 
If it's breezy co-ords you're looking for, Faithfull the Brand is where it's at. 
Everything about this pairing feels very '70s.
Style Notes: Not only are these '70s boots the right kind of pull-on, mid-heel style to fit into today's current OTK demands, but they're also in white, making them doubly covetable.
Wear over jeans now, or with a mini skirt come summer. 
I've been dreaming about these boots. 
Style Notes: The power of the denim dress lives on. Whether you wear yours short and cheeky with matching platforms like this '70s model did, or you decide to opt for something more demure, the simple use of this humble fabric can make any frock seem easier to wear.
The mini hemline feels so authentically '70s. 
The gathering only adds to the '70s appeal. 
A different denim-dress silhouette to try. 
Style Notes: The 1970s can be instantly recognisable from one item: platform shoes. Whether glam-rock in metallic leathers or in simpler sandal form, this stacked footwear dominated the decade.
Platforms are huge for 2023.
These glossy platform boots look so expensive. 
Style Notes: The '70s wouldn't be anything without their freedom-fighting hippies, and it just so happens that Jane Fonda was part of the club. Here, she's wearing a Thea Porter dress—this designer's seminal creations are still adored by boho girls like Kate Moss today.
This dress looks just as good with trainers as it will with strappy heeled sandals. 
Picture this with a skinny scarf. 
The most beautiful neckline. 
Style Notes: Jane Birkin spent much of the '70s not really wearing much clothing at all, but she did always have her trusty basket bag nearby. Over the past few summers, we've seen these traditional woven holdalls make their way back into fashion to become the bag to wear every summer. For the winter transition to woven leather bags to replicate a similar look.
A basket bag I'd very much like to own. 
An understated yet timeless style.
Style Notes: Every time designers present their summer collections, you can bet safari references will be present. It all started, of course, with Yves Saint Laurent. Here, his muse, Betty Catroux, models the famous safari dress in 1969—a look that would rule during the first part of the following decade.
The utility pockets and large belt loops are iconic of safari styles. 
Pair with a crisp white tee and your favourite denim jeans. 
Style Notes: Where would today's best-accessorised outfits be without scarves? Nowhere, that's where. They were very popular in the '70s, topping off many a look, including this Dior one.
Neck ties are a thing right now. 
The most glorious collaboration with Illustrator Sharan Ranshi.
Style Notes: Marisa Berenson's silky pyjama tunic, culottes and matching scarf look precisely like pieces we'd wear around the house or for an intimate dinner. Paired with gold sandals and a shoulder-robed coat, this glam look hasn't dated from when it was captured in 1974.
Sleeper does the best could-be-'70s co-ords. 
The feathers give big '70s energy. 
Style Notes: Elizabeth Taylor has been fabulous at all times in her life, but the 1970s were a particularly OTT time for her (and then-partner, Richard Burton). Here, we have a spectacular lesson in making an entrance: Wear a bright-pink gown with excess beading and a truckload of diamonds and pearls.
Truly breathtaking. 
A fabulous (and unexpected) way to wear the trend. 
Embrace millenial pink in your accessories too! 
Style Notes: In the '70s, tie-dye and crochet were all the rage, and many dresses featured both trends in one. This shot of Rock Hudson with a group of women (don't ask me what it's about—I don't know) showcases the looks in all their glory.
Just add a plain vest or tee. 
The daisies are a nice touch.
Style Notes: Donna Summer was the queen of disco, and her stage looks have set the scene for many a pop diva to come. This feathered-coat-and-leotard combination wouldn't be out of place at a Beyoncé concert today. 
The dress brand that's not-so-slowly taken over…
Just a hint of glamour. 
Style Notes: Here's Joanna Lumley looking all kinds of lovely in a green floral wrap dress. Enjoying the matching green shoes, too.
I love the ruffled sleeves. 
An effortless dress for all occasions. 
Style Notes: To really complete the bohemian look, you need jewellery. Here is Ali MacGraw showing us how it's all done by pairing multiple hippy, collected-from-around-the-world (probably) necklaces with her handkerchief-hem dress.
The moon iconography makes this necklace feel authentically '70s. 
More was more in the '70s so stack your jewellery for maximum impact.  Next Up: Autumn/Winter 2023 Fashion Trends: The Looks You Need to Know About.  This story was originally published at an earlier date and has since been updated.