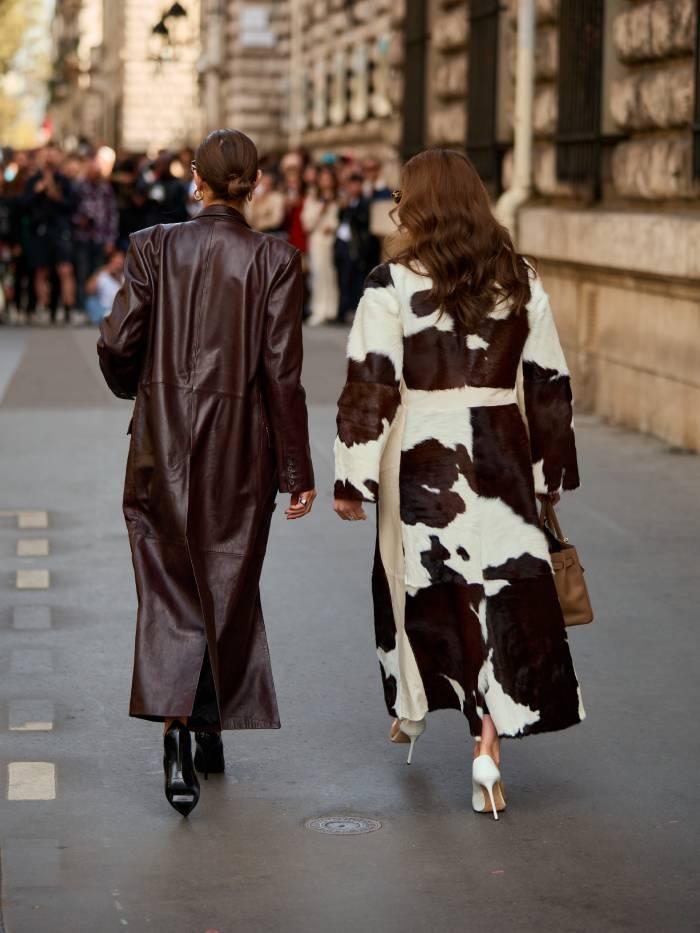 Hi, I'm Emily, and I'm a coat addict. Okay, not actually, but I own more coats than probably any other item in my wardrobe (much to my husband's dismay). Hear me out. As a stylist and editor who's worked in the fashion industry for over a decade now, I've worked out that (for me at least) feeling great about my outfit is as simple as throwing an amazing coat (and maybe a great bag or pair of shoes) over my favourite basic T-shirt or knit and jeans. I basically live by this rule whether I'm dressing for fashion week, fabulous industry parties or just popping to my local pub—and, yes, if you were wondering, I do seriously struggle in summer when wearing a coat isn't an option. So I like to consider myself somewhat of an outerwear expert. 
The thing is, although I'm incredibly tempted by all the gorgeous new designer coats out there, I certainly don't have the budget to be spending thousands every time I invest in a new style. I often look to the high street as they do have some really impressive, expensive-looking designs these days—I just make sure to look out for good quality fabrics and design features. However, I do have a hack I wanted to share with you for getting my hands on the very best coat styles for less, and it's as simple as always shopping designer coats on sale.  
This might sound really obvious, but I only ever buy designer coat styles when they're discounted. I'm the first one to admit that I'm not the biggest fan of sales as a general rule—mostly because I find it overwhelming having to sift through the crap to find the really classic buys I know I won't regret. And often sales can be full of end of season trend-led buys that you'll never really wear more than a few times. But—when it comes to coats, most styles are in fact seasonless from the get go. It's easy to spot the classics which makes them the perfect pieces to buy on sale. Whether it's a camel wrap coat, a perfect beige trench, or a black tailored wool style, finding designer coats on sale can mean being able to access the very best quality pieces (that look basically identical to the season's new-in styles) for much lower prices. It just makes sense!
Keep scrolling to see the designer coats on sale for winter 2023 (and beyond) that I've got my eyes on…
Farfetch are offering 25% off for a limited time only, so be sure to snap up this ridiculously chic coat quickly. 
Being Danish, Ganni knows a thing or two about designing a great coat. 
This is such a smart style for a workwear wardrobe. 
Not only does MyTheresa have an amazing selection of coats on sale, there's also an extra 20% off these sale prices for a limited time only! 
This iconic Isabel Marant shearling goes down to £560 at checkout. 
You can snap up this impeccable The Row coat (in this season's most wanted chocolate brown colour) for over £1000 off (it comes to £1327 at checkout). 
This is a seriously special sale find—I recently wrote about how iconic Max Mara coats are here. Which is probably why there's only one of these left in stock, and with the extra 25% off added at checkout it's even more of a bargain so you'll want to act fast. 
A piece of Dries Van Noten's famously good tailoring, for £652 at checkout. 
Fashion people are obsessed with Raey coats. 
There's a whopping 70% off this beautiful coat.
The ultimate in quiet luxury, and 50% off!
This looks so cosy. 
Puffer coats are always useful, year after year. 
A perfect camel coat. 
Incredibe.
A cream coat will always look polished. 
A grey coat is so classic. 
So many celebs are wearing brown leather coats at the moment. 
You can't argue with a black wool coat. 
Shearling coats are just as timeless as classic wool ones. 
The Outnet is a brilliant place to find designer pieces on sale. 
This may seem like a statement-making coat, but you'd be surprised how timeless a black leather (or faux) trench can be. 
If you're after a shorter coat this one is beautiful, and comes in a few colours. 
I can so see Scandi girls wearing this. 
A Barbour jacket is timeles. 
I've personally tried this on and loved it. It comes quite oversized but that makes it look effortlessly cool. 
Up Next: 5 Low-Key Coat Trends People in London, Paris and New York Are Wearing Right Now