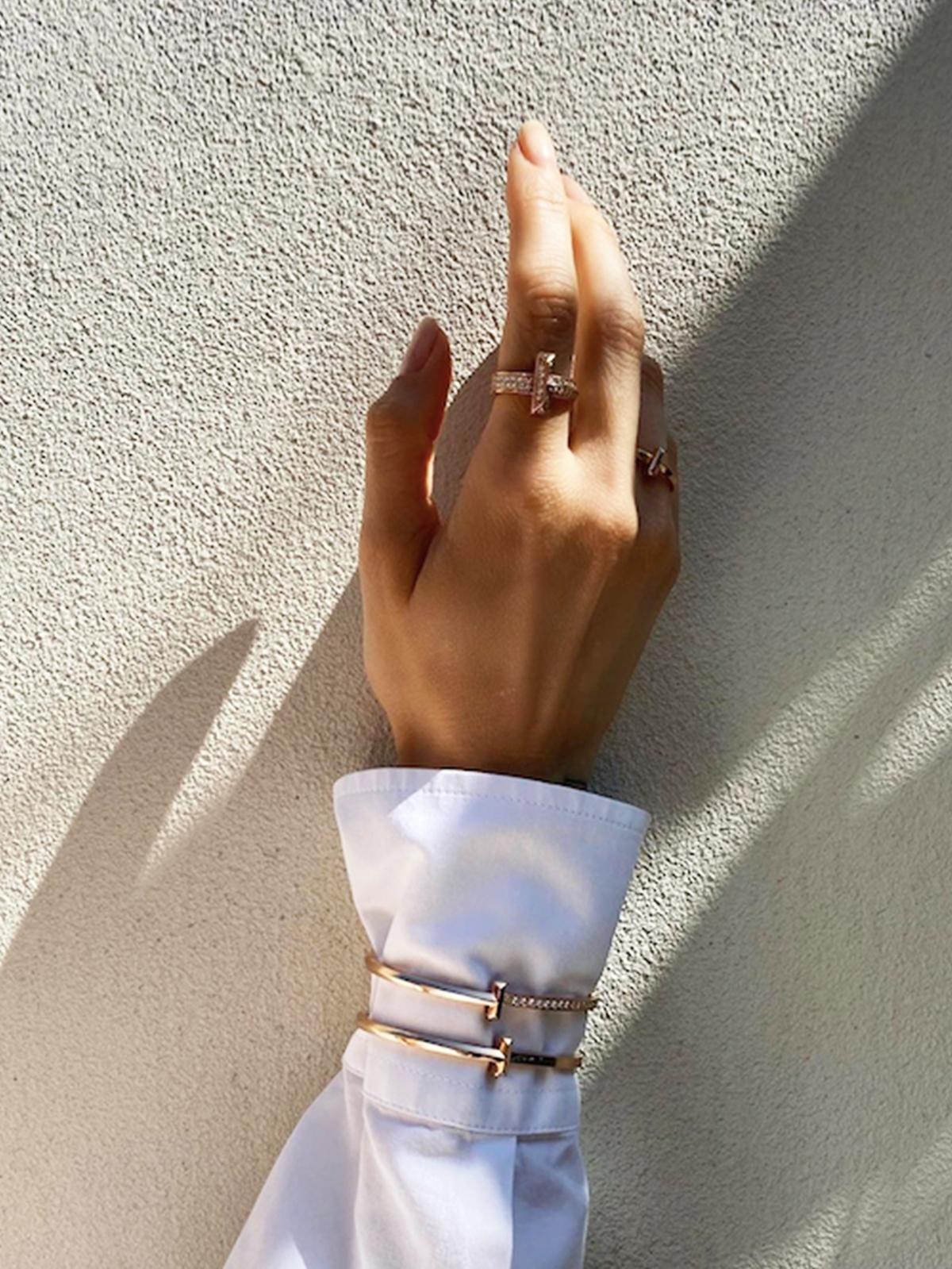 On the whole, jewellery never goes out of style. No matter the decade or the trend, the unique designs of earrings, necklaces, bracelets and rings have served as both statement pieces and daily accessories. Whether pearl, gold, silver, rose gold, diamond or something else entirely, a good jewellery piece can stand alone, completing your outfit and adding the right amount of elegance and sparkle.
As much as we love our day-to-day pieces, though, we're always on the hunt for new ones to add to our collection, ones we will hopefully be able to pass on as family heirlooms. So more often than not, to acquire a piece that will outlast trends and generations, you have to invest in designer jewellery brands.
Whether it's a renowned Cartier Love bracelet or a classic Mikimoto pearl necklace, there are so many designers elevating jewellery and creating pieces that are worth every penny. To streamline the best designer jewellery brands in the market for you, we decided to put the 15 best in this article. From brands whose clothing you already love (hi, Hermès and Chanel) to labels who've been perfecting their craft for so many years (looking at you, Swarovski), make sure you commit them to memory.
Another classic brand is Cartier. Get yourself one of its iconic Love bracelets or something classic such as a necklace.
Not a TSA-friendly bracelet but still very pretty.
A necklace that will last forever.
So pretty. 
A timeless pair that add a touch of sparkle to every day. 
Messika's contemporary pieces have quickly become classics in their own right. With timeless style combined with innovative design, the Messika signature is instantly recognisable in each creation. 
A sleek yet impactful design. 
The moving diamond is an icon of the brand. 
An exquisite creation. 
I'd feel very lucky to own this. 
Blame it on the classic Audrey Hepburn film Breakfast at Tiffany's, but there's something undeniably timeless about anything from this age-old jewellery designer.
If you didn't know, chain jewellery is a big trend for 2023.
A classic Tiffany piece.
What is Tiffany without its tag necklace? 
One of Elsa Peretti's captivating designs, this three wave diamond ring is a sculptural work of art. 
David Yurman emerged on the scene in 1980, but that hasn't stopped it from creating pieces destined to be in your jewellery box forever. If you're buying your first piece, go for something that features the brand's signature rope-style twist.
This is combination made in jewellery heaven.
A future family heirloom.
The cable design has remained an iconic signature for more than 30 years. 
Everyone can appreciate a diamond ring. 
If you aren't familiar with Mikimoto, it's about to become one of your favourite designers. The Japanese jewellery brand's founder is known as the first to create cultured pearls, which means you know that this brand will have some of the best out there.
A true classic. 
The pearl is cocooned in 18-karat gold. 
We're always on the look-out for simple but elegant earrings.
You can never have enough pearls.
If you're looking for something that feels more exotic than your classic gems, Bulgari's pieces feel like those Cleopatra might wear if she were alive today.
This is easily one of the coolest rings you'll have.
We're loving the fan-like pendant on this necklace. 
So colourful and pretty. 
Personalise with initials on the inside. 
Could there be anything more lust-worthy than something from Harry Winston? As the brand responsible for some of the most famous diamonds to date, there's no doubt any piece from the designer is worth the investment.
Price available upon request from the brand. The shinier, the better.
Price available upon request from the brand. Opt for a classic diamond in a pear shape. 
Price available upon request from the brand. We're in love with these drop earrings.
Price available upon request from the brand. The Lily Cluster really caught my eye. 
When it comes to luxury, no one does it quite like Hermès. Sure, you know the brand for its signature Birkin Bag, but it also has some amazing jewellery worthy of a spot in your collection too.
So chic.
How good is this ring?
With the iconic Hermès orange strap. 
A balanced silhouette inspired by ship anchor chains. 
Perhaps you've become familiar with Chopard from its luxury watches, which feature the brand's signature Happy Diamonds. Well, its jewellery is equally cool. Whether you opt for a piece that features the Happy Diamonds or not, it's sure to stand out.
You won't regret adding this beautiful bracelet to your collection.
If you're looking for a pair of eye-catching earrings, these are for you.
So cute. 
This makes for a great gift.
No matter what you get from Chanel—whether it's a classic handbag, a ready-to-wear piece, or something else—you know it'll be the epitome of chic. If you're looking for something to wear every day, embrace the famous fashion house with a shiny bauble.
Dainty and pretty. 
Such a nice statement bracelet. 
This ring is a forever piece.
This new watch design plays off the classic bag chain. 
French luxury jewellery and watch designer Van Cleef & Arpels carries a unique, old-school touch to all of its pieces. If you aren't sure where to start, get yourself something that showcases the brand's classic clover motif or a simple bracelet to wear with all of your ensembles. There's no going wrong here.
So special. 
This one is too pretty.
This is really unique.
The Alhambra is so good we had to include it twice. 
Alex Monroe is known for its nature-inspired jewellery, which continues to stand the test of time. Most fashion editors have the designer's bee pendant in their jewellery collections, which, although delicate, has become one of the most iconic pieces in British jewellery. 
This necklace comes in two sizes, so you can take your pick. 
This dainty pair shows off the designer's affinity for intricate metalwork. 
The initial pendants continue to be best sellers for Alex Monroe. 
An everyday kind of ring.
Proof that fine jewellery can have a playful side, Annoushka's pieces are colourful and glamorous but not unwearably so. Glittering plentifully with diamonds and precious gemstones, each of the brand's pieces is handmade from the highest-quality materials.
Pearls and gold always look chic together, but this combination is perhaps the best we've seen. 
Use this necklace to elevate up any outfit. 
Curated ears have never looked better with Annoushka's single hoops. 
Wear as is, or add charms for a personalised charm bracelet. 
Though Suzanne Kalan launched her jewellery line back in 1988, the pieces she creates along with her daughter feel distinctly "now." The pair explore colour and form with their jewellery, finding beauty in uneven clusters and vivid colours. 
The translucent colour is mesmerising. 
The scattered settings adds a modern feel to this timeless piece. 
If you buy one piece from Suzanne Kalan, make it the brand's iconic cluster ring. 
A striking cuff made up of baguette and brilliant-cut diamonds. 
Swarovski has always spearheaded the business of sparkle, but its latest collection just might be its best yet. With bold designs in a directional colour palette—balanced with more subdued pieces in the brand's trademark silver hue—it serves up a jewellery feast of the finest kind. 
How brilliant are these earrings?
The ideal way to dress up knitwear and LBDs. 
Cocktail rings are back for 2023, and this is the one we want on our fingers. 
These will be a versatile addition to your jewellery box. 
This piece originally appeared on Who What Wear U.S. and has since been updated. 
Next Up: Sofia and Hailey Keep Wearing This "Old" Jewellery Trend, and It's Peak Luxury