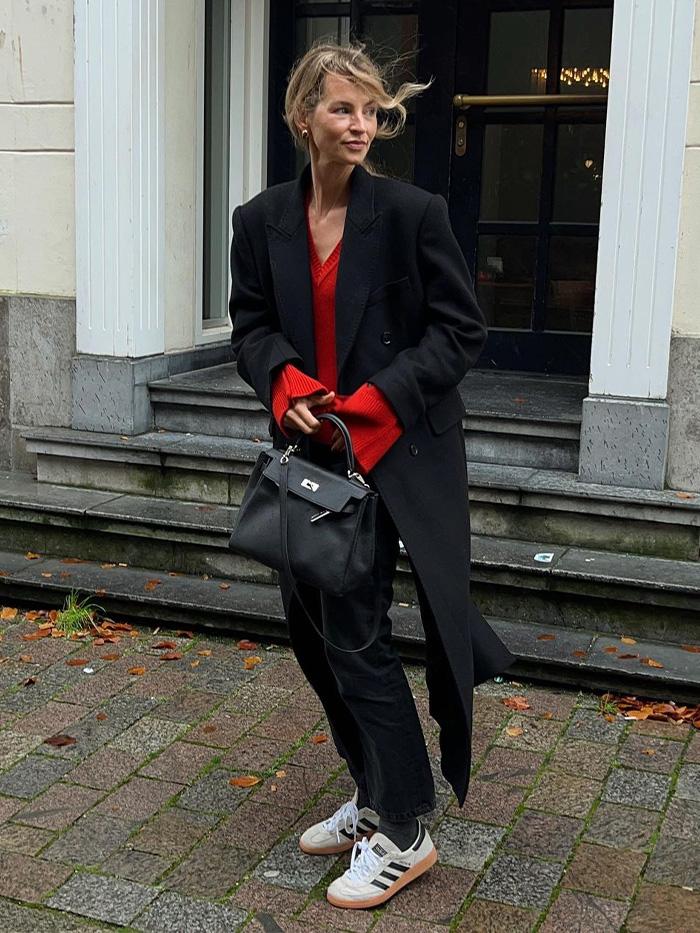 It's official: Autumn is on the horizon. Now is the time to bring out the jumpers and trench coats and start to think about and revitalising our weekly outfit rosters ready for the season ahead. 
But let's not make life too difficult for ourselves—instead of overhauling all your sartorial habits, start by tweaking your existing go-to looks. As a team, we Who What Wear writers are guilty of living in jeans. And we know we're not the only ones. Scanning Instagram this week, I've noticed that pretty much every influencer I follow is just as reliant on denim as I am. It makes sense: no other trouser is quite as versatile, seasonless and suited to everyday wear. 
So, let's start there. Instead of reaching for your tired T-shirts and worn-out ankle boots after buttoning up your favourite jeans, try out some of the fresh combinations below.
Style Notes: In case you missed it, red is a colour trend that is already big news for winter. If you're worried about how to make a bold hue look chic, take cues from Anouk and pair it with simple staples like black denim and a classic coat. 
Mango's red knit is just what my winter wardrobe was missing.
These slim-fit jeans are perfection.
The entire WWW team really rate COS's coat selection.
The Campus trainers are a good alternative to the brand's sold-out Gazelles or Sambas.
Style Notes: This look may be simple, but that doesn't mean it isn't uber stylish. A cosy navy knit with blue jeans always looks good, and we love how Marianne has paired the duo with classic ballet flats and a neckerchief. 
Some of the best knitwear on the high street this winter can be found at H&M.
I love the slouchy fit of these jeans.
So chic.
Style Notes: This is your sign to jump on the Canadian tuxedo bandwagon. Yes, it's back, and it works wonderfully with another major trend: ballet flats.
I'll forever love the look of a denim jacket layered over a floral midi dress. So '90s.
Once you wear these jeans in, they'll soon become your favourites.
Chloé has totally nailed the ballet flat trend. I want these in the off-white shade, too.
Style Notes: If you needed further proof that leather blazers are the epitome of cool, this outfit by Natasha Ndlovu will surely sway you.
I haven't seen nearly enough hype around this blazer.
This subtle distressing will make your look infinitely cooler.
Sleek and seasonless.
Style Notes: If you're heading on a night out or just don't want to wear a bulky wool coat, a bomber will be your best friend. And it just so happens that this trending layer looks great with jeans.
I love how minimal this jacket is. Style it simply, or jazz it up with bright accessories.
It doesn't get more versatile than a striped button-down.
These look incredibly flattering.
Style Notes: Sporting sheer fabrics might understandably feel outside your comfort zone, so styling a see-through top casually with jeans is a smart way to ease yourself in.
You could create a fun layered look around this piece.
Straight-leg jeans are still just as relevant as ever.
Who needs heels when you've got these sleek slingback flats?
Style Notes: Monikh proves that a dark, tonal look will serve you well during the cold months. This combo is the perfect balance between casual and polished, thanks to the addition of a smart black coat and gorgeous shoulder bag.
I just know you'll love and wear this classic black coat for years to come.
The coolest pair of jeans I've seen.
Yes, they're an investment, but one that is worth making thanks to their anti-trend shape and fantastic quality.
Is it too soon to ask Father Christmas for this?
Next Up: Trust Me—These 9 Colours Always Make Outfits Look Expensive