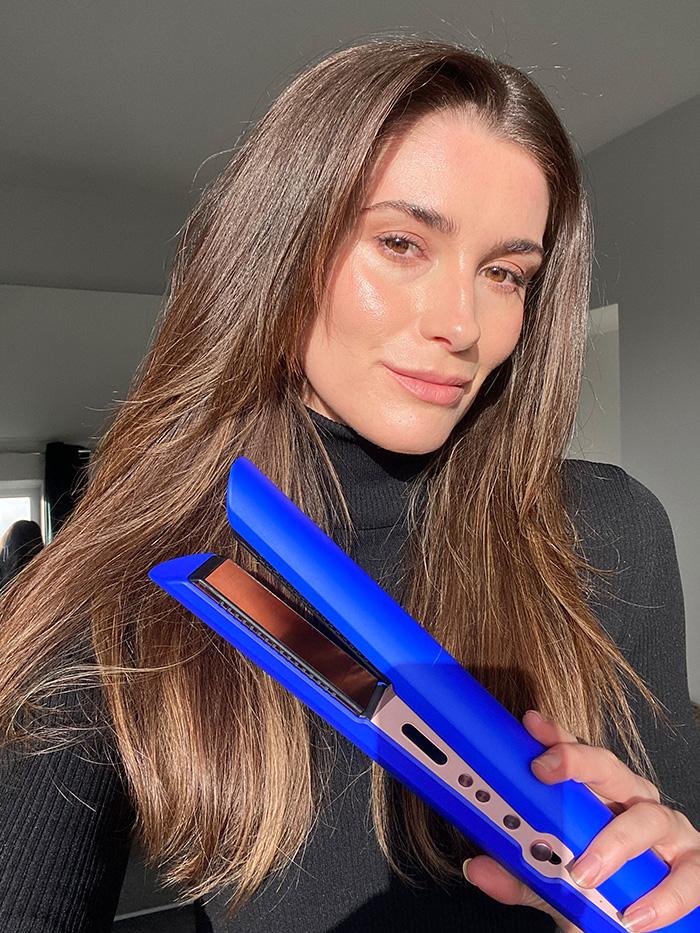 As a beauty editor, one of the most common questions I get asked about are Dyson's hair tools. "Is the Dyson Airwrap worth it?" or "Is the Dyson Supersonic the best hairdryer?" While Dyson's hair tools are a big investment, I do believe that you get what you pay for with this brand, and I count myself a fan of the premium hair tools. The Supersonic hair dryer dries my long, thick hair fast, while the Airwrap gives me a blowout worthy of a salon appointment. Which is why I was excited to get my hands on the Dyson Corrale hair straighteners to truly test first-hand if they're the best around. At  £400, I spent a couple of weeks putting them through their paces to see if they're really worth the price tag. Scroll ahead for my honest review with before and after pictures.
Ok, so let's talk through some of the features that command the Corrale's eye-watering price tag. The first point of difference from other straighteners is that the Dyson Corrale is cordless. A big win, if like me, you hate being tethered to a plug socket. These really do grant you the freedom to do your hair anywhere that a cord might otherwise limit you.
From a full charge, you get 30 minutes of cord-free styling time. Depending on the thickness, length and texture of your hair, this could be a hindrance. It takes 70 minutes for the straighteners to reach full charge after the battery runs out. 
Which brings me to another neat feature. The Corrale has a 'Flight Ready' mode, which disconnects the battery, allowing you to safely carry it on board in your hand luggage (apart from if you're flying to or from Japan, where airline rules differ) without the worry of them turning on. The straighteners also feature a sliding lock mechanism that safely closes the plates together when they're not in use, and they turn off after 10 minutes of inactivity—a great plus for peace of mind when leaving home.
The Corrale has three heat settings (heating to 165, 185 or 210 degrees celsius) so you can tailor it to your hair texture, and the temperature is regulated 100 times a second for accuracy. And its speedy. It took just 25 seconds to heat to 210 degrees, so there's little waiting around here. With just three buttons (the power button, and the two temperature control buttons) it's very intuitive and easy to use.
The plates are perhaps the most innovative, however. They are flexible, cushioning and moulding to your hair as your run it through your hair. Dyson says that there is still enough tension to straighten (or even curl) the hair, but the result is less heat damage compared to other straighteners that clamp and drag on hair.
While these are primarily a hair straightener, the curved edges allow you to twist the irons to create loose curls—a great added bonus compared to flat straighteners—and the plates contain tourmaline, which has an ionising effect to help reduce static and provide a sleek result.
The plates are not the largest I've seen, however, so if you have a lot of hair that you're working with, you may well find this a slower process than something like the GHD Max Styler, which has extra wide plates to cater to thicker hair textures.
Needless to say, the Dyson Corrale looks and feels like a premium hair straightener, alongside the technology that commands its price tag. The Corrale comes in a few different colourways (mine is the limited edition blue and blush model, but the blue and copper is particularly chic) and they come with a very sleek vanity case to house the straighteners and charger (which very satisfying snaps into place with a magnet). A heat-proof sleeve is included which is ideal for carrying on the go, as well as a mount to hold your straighteners if you need to have them out.
What I will say is that the Corrale is significantly heavier than other hair straighteners out there because of the battery used to enable them to be used cordless This wasn't a hindrance for me per se; they feel sturdy and I find they lend some more control as I style my hair.
This is my hair without styling. It's long, quite thick and has a natural wave. Some of my hair texture is quite coarse, so I'm often prone to flyaways and find it tricky to get a sleek result. Thanks to some recent hair regrowth, I'm also contending with some shorter pieces of hair that require some smoothing.
I found the Corrale super easy and quick to use. The plates glide easily through the hair without tugging, and was surprised at just how much hair the plates could straighten in each section. I noticed an immediate smoothness and glassy shine as I straightened my hair.
This is my hair after straightening with the Dyson Corrale. It took me about 10 minutes to straighten in total using the 210 degrees setting. It left my hair looking and feeling particularly sleek, smoothing flyaways and kinks as it passed through each section. And did I mention the shine? I was impressed! But how does it fair at curling?
If it's soft curls that you're after, then the Dysom Corrale does a great job at curling the hair. The wide barrel lends itself to creating a soft bend in the hair—as opposed to tight curls—which gave my hair a blowdry effect while smoothing my lengths. If you're after the latter, I'd stick with a regular curling wand or tong for better hold, but for loose waves this is a great bonus to hair with the hair straightener.
As someone who rarely straightens my hair, the idea of dropping £400 on a pair of hair irons makes my bank account scream. If you are a straightener aficionado however, I couldn't recommend them enough as an investment. Yes, the scary price tag cannot be ignored, but if you're someone who straightens their hair every day, you'll really appreciate all of the carefully considered details that the Corrale has.
I was surprised by how much I liked the cordless feature—I don't think I can go back to using corded models now. The fact that they're travel-friendly is another bonus if you plan to take them on holiday. They are heavier than others out there, so if you have difficulty with holding heavy items I'd recommend trying them out in-store to get a feel for them first. 
Truly, they really are a dream to use. They heat up fast, and because the heat damage is less severe, it's great investment in your hair health if you regularly use heat on your hair. I couldn't stop stroking my hair and marvelling at how shiny it left my lengths in under 10 minutes. That being said, if you have thick and/or curly hair, this will naturally take more time, so the 30-minute limit of a full charge could leave you with sections unfinished if it takes longer to style your hair. 
If you do have the cash to splash on these, I do believe that these are the best hair straighteners that money can buy.  Who What Wear UK's deputy editor, Maxine Eggenberger, has also rates Dyson's Corrale. Scroll ahead to see her review, as well as our edit of the more affordable hair straighteners out there.
Maxine before using the Dyson Corrale.
"Having used GHD hair straighteners for the best part of 17 years, I didn't think anything could sway me. I'm nothing if not loyal to my beauty products and tools. However, when my step-dad treated my mum to the Dyson Corrale straightener, I'll admit my interest was piqued. Still, every time I made the two-hour trip from my home to hers, I always packed my GHDs out of habit. The last time I visited, however, I forgot them and had no option but to use her Dyson Corrale the morning after sleeping on—shock horror—a cotton pillowcase in place of my usual silk pillowcase. My hair was matted and frizzy, but it was no match for the Corrale.
"But let's not get ahead of ourselves. Initially, I was surprised by just how heavy the Corrale was. My best friend, who has arthritis, had warned me it was too heavy for her to hold, and she wasn't kidding. This straightener is significantly weightier than what I'm used to, for the reasons Eleanor has already run through, but regardless it would be difficult for someone such as my best friend to use. Another initial observation was that it took a while to heat. Did I mention I'm impatient? I always use strong heat settings on my hair tools, and the Dyson Corrale allows you to select from three: 165, 185 and 210 degrees. I chose the latter. As I waited for the plates to heat, I sectioned my hair and spritzed it with GHD Bodyguard, £19, my ride-or-die heat protector. Eventually, they were ready, and I chose a particularly wavy section from the back to kick things off," she says. 
Maxine after using the Dyson Corrale.
"Wow. What the Corrale lacks in speed, it absolutely makes up for in precision and execution. Just one steady glide was all it needed to straighten my hair, which is unheard of for me. The plates do make a scratching noise as you straighten, but I later learned this is due to the flexing technology that shapes to gather the hair. Instantly, I noticed my hair didn't have its usual fly-aways or frizz; it was glossy, sleek, shiny and soft to the touch. Even my husband, who once didn't clock when I had my nipple-grazing tresses cut above my shoulder, commented on how 'nice' it was looking. That's something, right?
"Knowing how impressed I was, my mum spoilt me by buying me a set for Christmas. I've used them every second day since, and I feel like my hair looks healthier for it. I've never been one to curl my hair that often, but the Dyson website reassures me the Corrale delivers on that front, too. With all of this coupled with the added extra that they're cordless, I have to say I'm a Dyson Corrale convert. Yes, they are expensive, and if my mum hadn't have been so generous I likely wouldn't have spent £400 on them myself, but if less-frazzled, healthier hair is what you seek, will legitimately get the use of them, and have the budget, I'd consider this straightener. My GHDs? They're still within arms reach for the days when speed is necessary," says Maxine.
Pros:
– Sleek design
– Cordless
– Less heat damage
– Quick to heat up
– Easy to use
– Travel-friendly
Cons:
– Expensive
– Heavy
– Limited styling time
These are quite possibly the most well-known and well-loved hair straighteners out there, and I have to admit I love the Platinum+ just as much as everyone else. Using dual-zone technology, they deliver the optimum temperature for every type of hair. 
Not only are these straighteners great for both curling and straightening, but they also look great on the dressing table. 
You might think that £180 is a little steep for a Babyliss tool, but these aren't like anything else on offer. They're cordless and have half an hour of battery life, making them perfect for travelling. 
Clever sonic vibrating plates infused with natural volcanic rock help to protect the moisture in your hair.
All the power and performance of the beloved ghd straighteners are now in this cordless, handbag friendly size, which is great for touch ups on the go.
Utilising the power of steam instead of damaging plates, the Steampod 3.0 is one of the kindest hair straighteners out there. 
Victoria Beckham swears by this cordless hair tool when she's travelling, and if it's good enough for Posh Spice, it's good enough for me.
Simple but wonderful, this classic hair iron from Cloud Nine boasts temperature control so that you can minimise the amount of damage it causes. 
Price shown is member price.  Light as air, this heat-protecting mist preps hair for styling while shielding against heat damage. It leaves hair super shiny too.
The two levels of heat protection between the hair and straightener to preserve your locks. 
The argan oil infuses to nourish and soften whilst protecting hair from heat. 
Cantu's heat protection can be used on textured, coloured or permed hair. 
This post was originally published at an earlier time and has since been updated. 
Next Up: The Experts Have Spoken—These 12 2023 Hair Trends Are the Only Ones That Matter