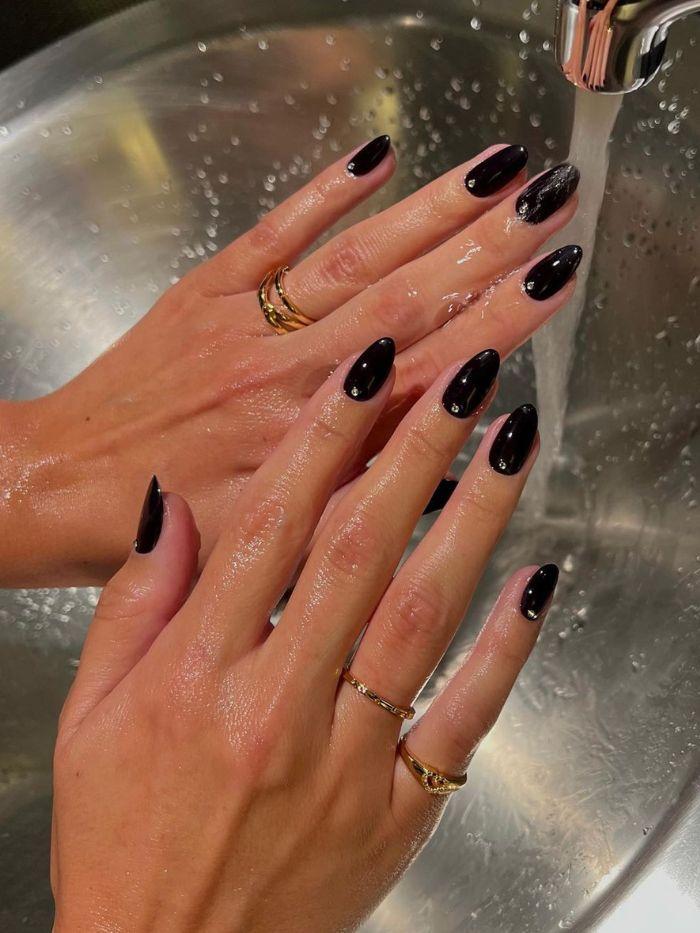 It's cold, it's raining, and I don't remember the last time I left the house without a coat. There's no denying it, winter is well and truly upon us. However, instead of moaning about the frosty mornings and dark nights, I've decided to embrace all things cosy and make the most of the new season. One thing that I'm really focusing on now that I'm spending more time at home is my self-care. That's right, I'm talking weekly face masks, hair masks and at-home manicures to help lift my mood and make me feel my very best. 
As much as I love doing my nails, lately I've been feeling a bit uninspired and unsure of what shades to go for this November. Although we are on the run up to Christmas, it feels a little too early to whack out the glitter polishes and shimmery top coats, but it also feels a little too cold for bright colours and pastel shades. So, I decided to reach out to none other than Juanita Huber-Millet, founder and creative director at Townhouse, to find out which November nail colours she recommends. Interested? Keep on scrolling for the nail expert's top recommendations, and treat yourself to a fresh manicure to brighten up the dreary weather…
"Brown hues are the epitome of elegance in November," explains Huber-Millet. "Think rich, chocolatey browns, or shades reminiscent of warm lattes or autumn leaves! They complement the season's cosy vibes and work beautifully for day and night looks, making it a very versatile choice."
This colour really does give me all of the cosy vibes, and you can definitely have a play around with different nail art designs like this cute French tip manicure.
"For an ultra-chic look, I'd recommend styling your mani with a chrome finish," says Huber-Millet. If this doesn't say party season, then I don't know what does.
This chocolatey brown shade is making me hungry just looking at it.
If you want that chrome finish, OPI have got you covered.
Next up, say hello to deep berry reds. "Reds are a timeless choice for November," says Huber-Millet. "This season, I'd recommend exploring deeper hues like burgundy or wine red. They are super sophisticated and pair wonderfully with autumn fashion."
"Not only that, but I think a red mani can add a touch of drama to your look, making it ideal for those special occasions or just to feel a little extra fabulous!"
I love how chic these deep red shades look, and the best bit is that they also work perfectly for December and beyond.
This is one of the most beautiful deep red nail polishes I have ever seen.
This shade is giving me all of the Christmassy vibes.
"Black is a fantastic choice for those who prefer a more edgy and modern style," explains Huber-Millet. "The hue perfectly complements autumn's darker colour palette and adds a touch of mystery to your look."
There is definitely something super cool about this colour, and the best bit is that it will never clash with your outfit!
For an ultra-sleek finish, try adding a glossy top coat for that mirror-like shine. 
Not only is this nail polish super affordable, but it has a shiny finish for that salon-worthy look.
Another amazing affordable option from Sally Hansen.
Last but by no means least, Huber-Millet recommends a classic French tip. "Classic French tips against a neutral or sheer base never go out of style and are always a safe choice for a beautiful mani."
"This look goes with everything and exudes timeless elegance, making it a perfect choice for any season or occasion."
I couldn't agree more. There is something so simple yet so stunning about classic French tips, and this might just be my next manicure of choice…
These pens make doing your own French tips so much easier.
However, if you're really struggling, why not opt for press-on nails instead?
Next Up: I Keep Getting Compliments on My Nails—It's Down to This At-Home Product