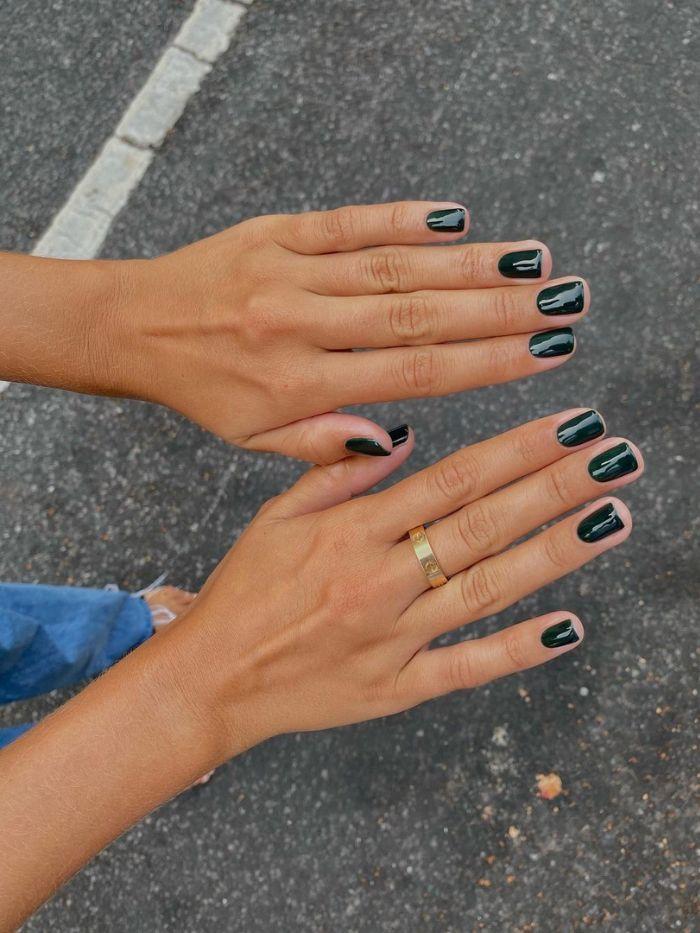 Is it just me or has it suddenly become freezing in the UK? It feels like only last week I was leaving the house in a t-shirt and jeans, and now I can't go out without a coat and scarf. As much as I like to complain, deep down I'm ready to whip out the candles and the hot chocolate and get cosy for the season ahead. I've already spent the week planning my capsule winter wardrobe, and now, it's time to think about my nails.
Lately I've found myself wondering, what will the winter nail trends for 2023 be? Will we see the return of the classic brown and burgundy shades, or will there be something new on the horizon? Luckily for you, I spoke to Thea Green, nail expert and founder of Nails Inc, to pinpoint what nail trends she thinks will be huge this winter, and, without spoiling anything, I'm a big fan of each and every one.
Although there are some timeless nail colours included, Green has also shared lots of fun, new trends that have got me practically running to the salon. So, if you're like me and you're already starting to think about your winter manicure, keep on scrolling for all the 2023 winter nail trends to try…
"Glossy, glazed nails are still going viral for winter," says Green. "To get the look, use sheer, plumping polishes and amp up the gloss with a shiny top coat." 
I'm personally a big fan of this trend, as it's a really natural way of wearing your nails and is perfect for everyday. Plus, it makes your nails look super healthy and requires hardly any maintenance. A win win.
Bubble Bath by OPI is a classic colour, and is great for doing the lipgloss nail trend at home.
This glossy, high-shine top coat is perfect for that lipgloss effect.
"The French manicure never goes out of style," explains Green, "and the micro French is back again for another season. You can easily recreate this look in seconds with an easy nail art pen – all you need to do is draw the tips and seal in with a top coat."
This trend is so chic, and the best bit is that you can choose any wintery shade to wear on the tips of your nails.
To get the look at home, try a nail art pen. Trust me, it will make doing your French tips so much easier.
Or, keep things really easy with press-on nails instead.
"You might have seen latte makeup take social media by storm – think smokey, toasted browns and warm-toned shadows, and now bring the makeup to your manicure," says Green.
I love these lighter latte shades, as they are a great winter alternative to the popular milky nail trend.
This is the perfect milky latte shade if you ask me.
Another lovely latte shade.
"Thanks to the rise in popularity for natural-looking nails, with that comes a love for shorter nails too," explains Green.
Personally, I'm a huge fan of short nails. Not only do they look super chic, but they are so practical, so I was very happy to hear that this will be a big trend this winter.
I love using a crystal nail file when doing my manicure at home, and this Margaret Dabbs one is so chic.
To keep your shorter nails and hands looking as healthy as possible this winter, try a moisturising hand cream like this Templespa one.
"As seen on the A/W 23 catwalks, you'll be seeing a lot of red this season," says Green. "It's definitely a firm favourite, and you can also opt for deeper burgundies and wine shades for winter."
I don't know about you, but I really have been seeing this colour everywhere, and in my opinion, it's an absolute classic.
Have you ever seen such a perfect red nail polish shade?
For something slightly darker, I love this shade from Gucci.
This story was published at an earlier time and has since been updated.

Next Up: I'm A Beauty Editor—These Are the 5 Nail Print Trends That Actually Look Chic