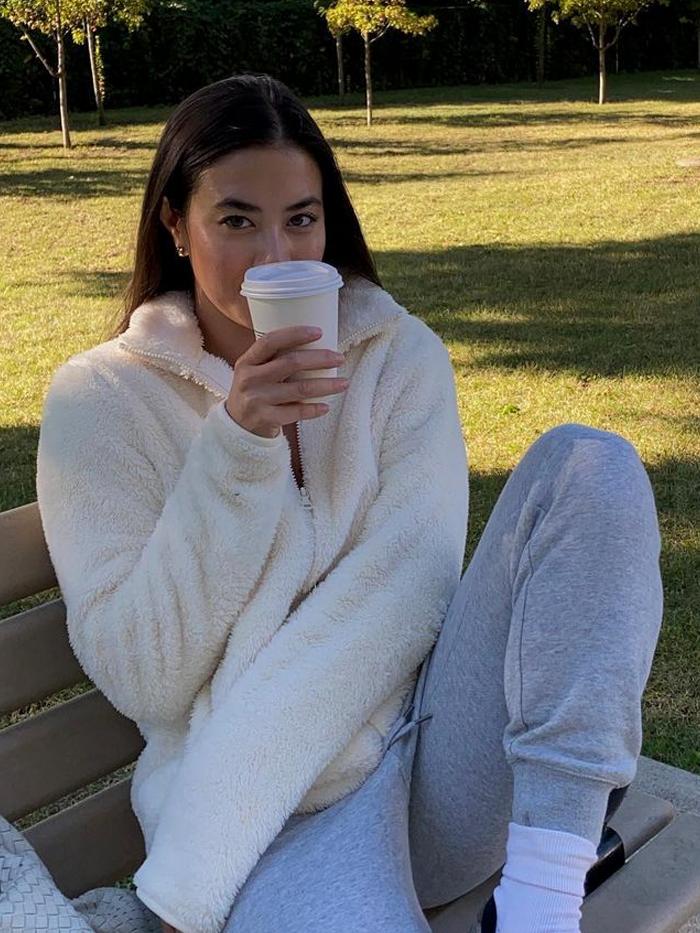 First things first, I'd like to profess my love for leggings; honestly, I don't know how I would have gotten dressed over the past three years without them. Prior to that, I'd never really have worn them out of the house save from going to the gym or dashing out for a coffee. Now, however, I wear them whilst working, heading to the shops and meeting my friends for brunch on the weekend; they're a staple in my wardrobe and always will be. Still, I believe that you can have too much of a good thing, and I worry that I'll tire of leggings at the rate I'm currently wearing them. The solution? To find other items I can wear just as easily and, crucially, that are as comfortable as leggings.
Pyjamas might seem like the closest relative to leggings, but I think working from home in my star-print flannels five days a week could become an unhealthy habit. Instead, I've been looking for sleek alternatives to leggings that I can pull on with my basics and feel put-together in. And would you believe I found eight pieces that fit those criteria? I know, even I was impressed with myself.
Scroll on to see eight solutions for the what-to-wear-instead-of-leggings quandary I, and I'm sure many of you, currently find myself in.
Style Notes: Ordinarily, I wouldn't consider jeans to be as comfortable as leggings, but since investing in a loose-fit pair from H&M, I've been convinced otherwise. The roomy silhouette makes them more feasible for lounging in, and you can always make them even more comfortable by looking for pairs made with stretchier denim weaves. 
Mid-blue hues are taking over the jeans scene this year. 
These come in a slew of classic colours. 
The fit of this pair is perfect. 
Style Notes: Legging alternatives don't have to fall within the trouser category. Currently, my favourite outfit consists of a soft tube dress, which I pair with knee-high boots and a boxy woollen blazer when I head out. Polished and akin to a second skin, jersey dresses have become my go-to. 
I love the cut-out detailing on the neckline. 
This will work with every shoe style going, be it boots, trainers or sandals come summer. 
Grey is the colour of the season so this one ticks so many boxes. 
Style Notes: How is it that I didn't own a pair of knitted trousers until this year? I live in my woollen strides throughout the cooler months as they make me feel snug as a bug in a fashionable rug. Just add your favourite jumper and trainers into the equation to complete the low-key cosy aesthetic. 
I've fallen for this whole outfit. 
A knit co-ord so good, Free People made it in 36 (yes, 36!) different colours and prints. 
Naturally I need the matching knit waistcoat. 
Style Notes: Okay, hear me out—I find shorts very comfortable to wear in the summer months, so why wouldn't that be the case during the cooler ones, too? With a pair of black tights to hand for warmth, I promise you, this combination will work just as well with whatever you've been wearing your leggings with up until this point. 
I just bought a pair of leather shorts, and I get so much wear out of them. 
Premium tights are a wise investment. I've had my Sheertex pair for ages, and they still look like new. 
Satin fabrics feel great against the skin. 
The sheer tights I always recommend. 
The closest thing to pyjamas that I'll allow myself to wear for days on end is a pair of drawstring trousers in either cotton poplin or linen. With a fresh white tee and a tailored blazer, they look surprisingly elevated. My shoes of choice? Birkenstocks. 
These would look so cool styled with an oversized knit and loafers. 
A classic that'll never fail. 
I bought these last summer, and I wear them across all seasons with some clever layering. 
Style Notes: If optimum comfort is what you seek, then sweatpants need to be on your agenda. They might be more casual than leggings, but I've seen a flurry of influencers styling them in new ways this year already (slingback kitten heels, anyone?). However, if you ask me, it doesn't get better than joggers, trainers, crew socks and a fleece, as seen on Sasha. 
So cosy. 
These are such a great colour to team with neutrals. 
Pangaia track pants come in a rainbow of colours, but I think the neutrals always look so luxurious. 
Style Notes: Having dominated the runways, there's no doubt about it—maxi skirts are one of the biggest trends of the year. Look for fitted styles that will give you the same clean lines as a pair of leggings, or reach for fuller-skirted options in knitted weaves. 
I've had my eye on this Dôen set for so long. 
This versatile maxi looks so good with trainers, loafers or knee-high boots. 
Peak '90s minimalism right there. 
Style Notes: If, like me, you treated yourself to a pair (or three!) of wide-leg tailored trousers at the beginning of the year, you're in luck—the silhouette is still key this season. I'm seeing wide-leg trousers in more relaxed and fluid fabrics coming through, making them even simpler to throw on day-to-day, just as you would your leggings. 
Reformation's Mason pants are considered a cult buy in fashion circles; everyone loves them! 
A staple in any wardrobe. 
I love the contrast waistband on this pair. 
Next Up, It's Official: These 9 High-Street Stores Do the Best Jeans