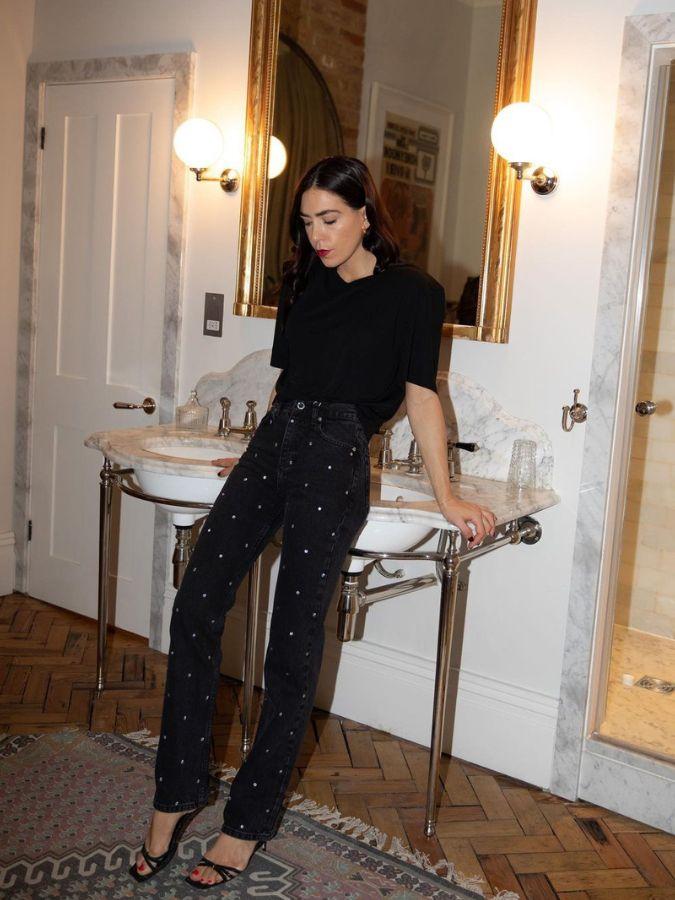 We're quickly heading towards November and events season is only ramping up from here. When the plans pile on and your calendar starts to resemble a Tetris game, there's only so much wear you can get out of your favourite LBD before we need to call in for backup.
To see me through the season in style, this year I'm parking my party dresses in favour of a dazzling pair of trusty jeans. A mainstay in my wardrobe throughout the rest of the year, there's no reason why denim shouldn't shine throughout the winter months as well. And shine it does, this season's party pairs are glistening with diamantés, pearls, and studs en-masse for a disco ball effect you'll be wanting to take with you to every get-together.
Across the board, brands are catching on to the glimmering potential of sparkling denim right in time for party season. From Zara's pearl embellished jeans, to Align's glistening wide-leg pair, we'll be styling them up with stomping platform heels, or mini kitten heels all season long.
The day-to-night trouser trend that will compliment an oversized knit in the day-time, and a slinky silk top when the sun goes down, shop the best embellished jeans here.
Zara'a pearl embellished straight-leg jeans are selling quickly! And they come with a matching shirt…
Extra wide, extra sparkly—the perfect comfortable party jeans.
These subtle sparkles will light up any dance floor.
Style with a silky top or chunky knit.
Sparkle embellishments come to life on black jeans.
Wear with a black kitten heel and draped neck top.
A more subtle nod to the new season trend.
These dark was jeans will liven up your party wardrobe.
Style with sky-high heels during the evening, and sleek white trainers into the day.
The baggy cut adds a relaxed element to these sparkling jeans.
Free People currently stocks different types of studded jeans from multiple indie brands.
Up Next: It's My Job to Spot Shoe Trends—This Pretty Style Is Everything for Winter