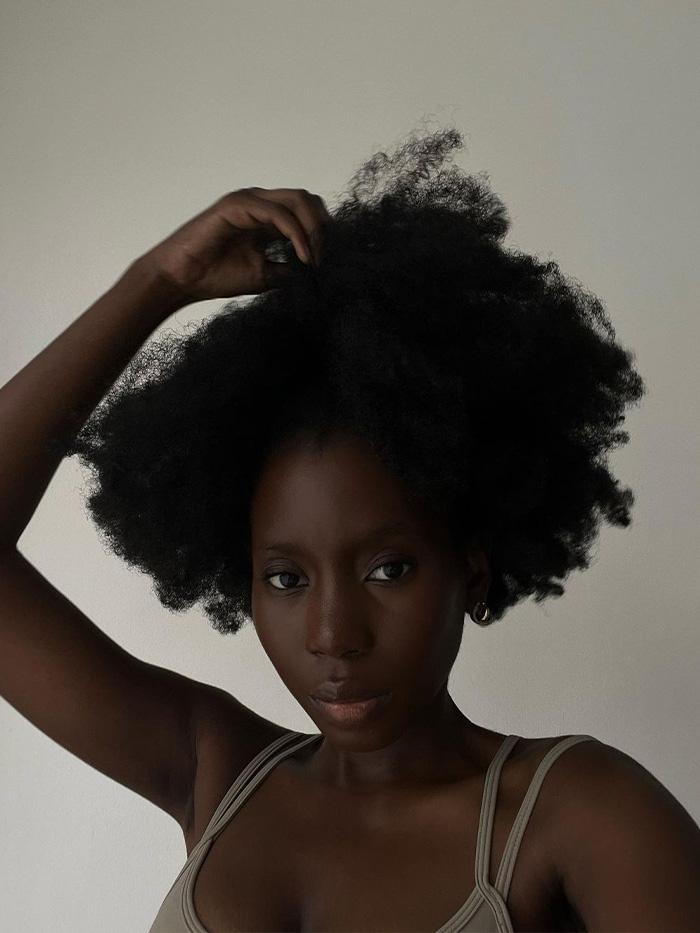 For those of us blessed with kinky and coily hair, finding the right blow dryer to add to your toolkit—no matter your texture—can often feel overwhelming. Although some Afro-haired people prefer heatless styling, for certain styles, the added help of a great blow dryer is key. And when scoping out a new Afro hair–friendly blow dryer, prioritising its versatility and ability to work with Afro hair in all its iterations is a good place to start. For coiled and curled looks, this means a low and steady heat tool—perfect for providing an even dry—and one lightweight enough to stave off the dreaded washday dead arm. We've all been there, right?
Not all tools are created equal, however, with some dryers sporting easily accessible cool buttons (ideal for providing a chilled blast across lace lines in order to help wigs lie just a little flatter), or for the heat-averse, diffuser attachments allowing for smooth and accentuated coils with a satisfying spring. 
So whether you want to try out a '90s-eques fringe ponytail or are looking to extend the life of a swishy silk press, a high-powered blow dryer with ultra-precise nozzles, not to mention trusty pik attachments, can be a perfect addition to your hair arsenal. Luckily, I've decided to do the hard work for you. When it comes to Afro hair blow dryers, I've tried them all, so from ceramic to paddled brush tools, this is my ultimate list of the best blow dryers for Afro and coily hair types. Scroll down to discover my favourites. 
If you're going to entrust your crowning glory to someone, who better than curly, coily, and kinky hair expert Tracee Ellis Ross. Whether you're fluffing up your curls or slicking back for a smooth and silky look, this brand new dryer tool has 4 different attachments for shape definition and effective drying without causing damage. Expect cooler heat settings, a sleek and easy interface, and significantly quicker drying time. (It also helps that looks this good too). 
Over the past few years, the Revlon Pro Salon One Step Paddle Hair Dryer and Styler has undoubtably become the belle of the natural-hair-community ball. With countless YouTube and TikTok videos dedicated to the dryer—of which you'll find is about 90% rave reviews—there's no denying that it's a brilliant all-rounder for anyone in need of a reliable washday addition. The flexible yet durable bristles help prevent tangling on coily hair textures, ensuring a perfect frizz-free blowout or for reblending tape-in extensions post-wash.
The OG styler and a staple in high-street Afro salons, the Wahl PowerPik 2 Hair Dryer is beloved for its powerful pik. The brand's heat-resistant secure-fit OnePik attachment was and still is one of the best blow dryers for dense and ultra-coily hair thanks to its durability and tangle-free dry as well as easy styling experience. If you've recently gone for the big chop or frequently opt for free-flowing 'fro hairstyles, this is the blow dryer for you.
Multi-stylers have no doubt taken over the hair space in the past few years, and if you're Afro-haired person looking to downsize your hair kit, then the Shark FlexStyle Air Styler & Hair Dryer is an investment worth making. The ultra-sleek base wand converts into an anything but a standard blow dryer thanks to the use of air and heat in tangent, meaning less damage and less of that crispy feel on your kinks. Plus, it comes with a range of tools, including a diffuser tool to auto-wrap curlers, which makes it a perfect option for natural afro days as well as curling wigs and weaves if that's more your style. Oh and it comes with a handy storage case, so say goodbye to that crowded hair-tool bin.
Post-salon blues are one thing, but post-salon silk-press blues at times have the power to make or break plans. Enter coil-conscious brand Amika's round blow dryer brush 2.0. Its customisable heat settings make it the perfect at-home option for touching up blowouts and for smoother styling. For the best results from the oval-barrelled dryer and to achieve significant root lift via it's detangling bristles, try partially drying your hair with a microfibre towel. When you pair it with the brand's glossy heat-protectant serum, you can kiss day-three humidity hair goodbye.
Strong, sturdy yet chic is the description that comes to mind when thinking about the BaByliss HydroFusion 2100. Don't let the name fool you; this is not the easily overloaded drugstore hair dryer of our teens. Thanks to this blow dryer's nifty moisture-balancing ionic system (negative ions that break up water positivity molecules preventing them from soaking in and causing frizz), it manages to leave coils completely dry whilst locking in moisturiser.
The internet's blow dryer darling. Hype aside, the real star of the Dyson show in my eyes in the Dyson Supersonic Hair Dryer kit is the super-thick, wide-tooth comb attachment. One of the first of its kind on the luxury end of blow dryer market, the comb mirrors all the best parts of a traditional pik (it works with five attachments in total) with the added style and customisable experience that Dyson hair tools have become synonyms with: light, über-quiet (a big win for those of us with thick kinks) and an overall soft and definitely shinier finish. No wonder so many have converted!
Although a salon-like blow-dry on Afro hair is a hard one to master at home, as going from coil roots to bone-straight strands with minimal damage can be time-consuming, having the GHD Helio professional Hair Dryer at hand really is a hair saviour. The only downside is you do have to buy the brand's Pik offering separately, but for salon-like power in your hands, it's a small sacrifice in my books.
Beauty Work's Aeris's ultra-sleek design and petite motor makes it one of the quietest new-generation blow-dryer options. The wunderkind dryer's digital design screen allows for quick temperature changes and control. Need to quickly switch to cool in order to securely lay a new wig then add some blow-dry curls to the ends? The Aeris has you covered. The lightweight design also means dead dryer arm is a thing of the past. 
The gentle giant of dryers comes courtesy of the Drybar Buttercup Dryer. This blow dryer comes with two concentrator nozzles to allow for more concentrated airflow—one larger for allover dries and one smaller, perfect for getting into harder-to-reach crevices like the partings on a twist-out. The blow dryer's accompanying diffuser is one of the larger offerings on the market, making it a handy option to have for those days when only a lazy dry will do but you still need to get to the root. 
The key to a great, blowdried style is not only technique but also the tools to help minimise heat damage without having compromise on the finished look. Here are some of my favourite blowdryer toolkit additions.  
Up Next: The Experts, Brands and Products That Celebrate Natural Hair in All Its Glory