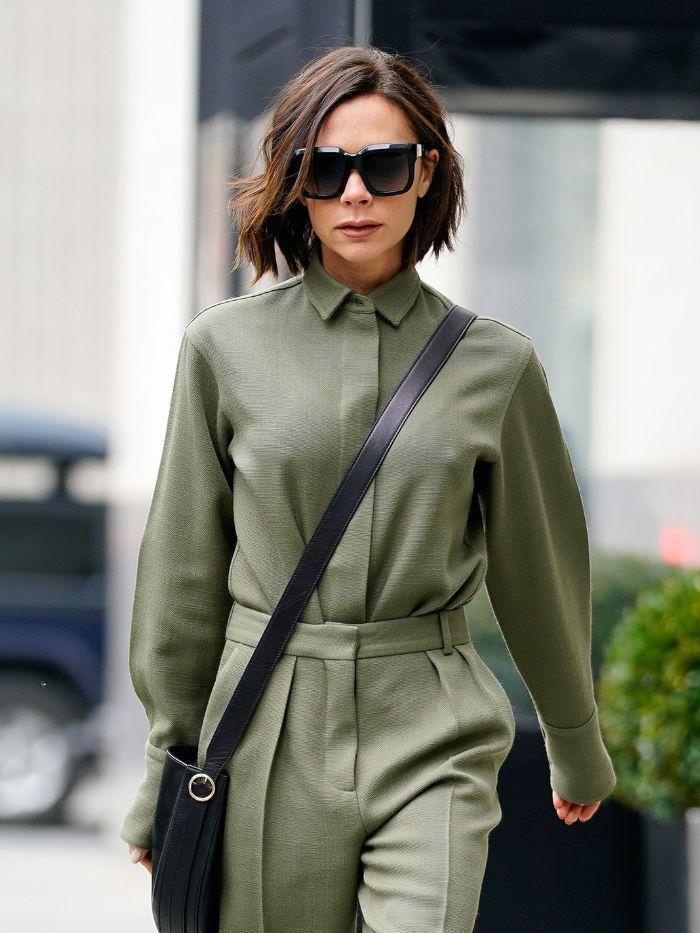 When I think of the most popular bob hairstyles, everything from the textured bob to the butterfly bob comes to mind. As much as I love all of them, I am never quite sure which one will suit my face shape best. However, it turns out that one of the most versatile bob hair trends is actually an older style that some may consider "dated". That's right, I'm talking about the inverted bob hair trend. I don't know about you, but when I think of the inverted bob, Victoria Beckham immediately comes to mind. The star was known for this hairstyle back in the early 2000s, and I remember being desperate to recreate the look.
Although this exact hairstyle is yet to come back in fashion, there's a new way to wear the inverted bob haircut trend this winter, and I've spoken to Emma Vickery, creative director and all-round haircare expert at Percy & Reed, to find out exactly how people are making this haircut look a whole lot more modern. Keep on scrolling for everything you need to know…
"An inverted bob is basically the same as an 'a- line' bob or a graduated bob," explains Vickery. "The only difference is the length of the graduation or layering throughout the haircut. It is shorter at the back, and is usually cut to replicate the shape of the neck. The style drops down in length as it moves towards the face. The length of the layers is totally up to you to decide with your stylist, but the actual shape is usually cut in first before doing this." 
The great thing about this haircut is how versatile it is. "This style, unlike most bobs, does suit most people as you can gauge the length around the face," says Vickery. "If you have a rounder face, this hairstyle can look especially good as it keeps more length around the face which can elongate your facial features."
"I wouldn't say that the 'classic' inverted bob is coming back in fashion, but people have been cutting it differently to make it much more modern," explains Vickery. "I would recommend leaving more length throughout so that it actually becomes a bit more of a lob rather than a really short bob. Styling wise, it should naturally sit well its own without too much work required, but if needed I would go in with a large round brush to create a bevel through the ends and give the hair some width."
Ciara has kept her inverted bob hairstyle on the longer side, and the addition of a side parting makes this look even more modern.
Why not add a fringe for a slightly edgier take on the trend?
That's right, even VB has worn her inverted bob in more of a lob hairstyle. 
I love how subtle the graduation on this bob is. 
It seems that a side parting and an inverted bob make for a chic pairing.
Another great example of how a fringe can really elevate your hairstyle.
Simply stunning.
If you do want to keep your hair on the shorter side, why not add some fun blonde highlights to give your inverted bob a modern look?
If it's good enough for Halle Berry, then it's definitely good enough for me.
As Vickery mentioned, a large round brush can help create a nice slope at the ends of your hair when blow drying.
You'll need a powerful hair dryer too, and you can't go wrong with this one from Dyson.
To keep your bob looking as healthy as possible, make sure you are using an effective shampoo. This Templespa one will leave your locks feeling silky soft.
Inverted bobs look beautiful on curly hair types, and this curl enhancer from Aveda will help your natural hair texture shine through.
Vickery recommends using this cream from Percy & Reed for natural hold and to fix any flyways.
For a glossy finish, apply some of this shine spray from Amika. 
Next Up: I'm a Beauty Editor—Here's How I'm Planning to Switch Up My Bob