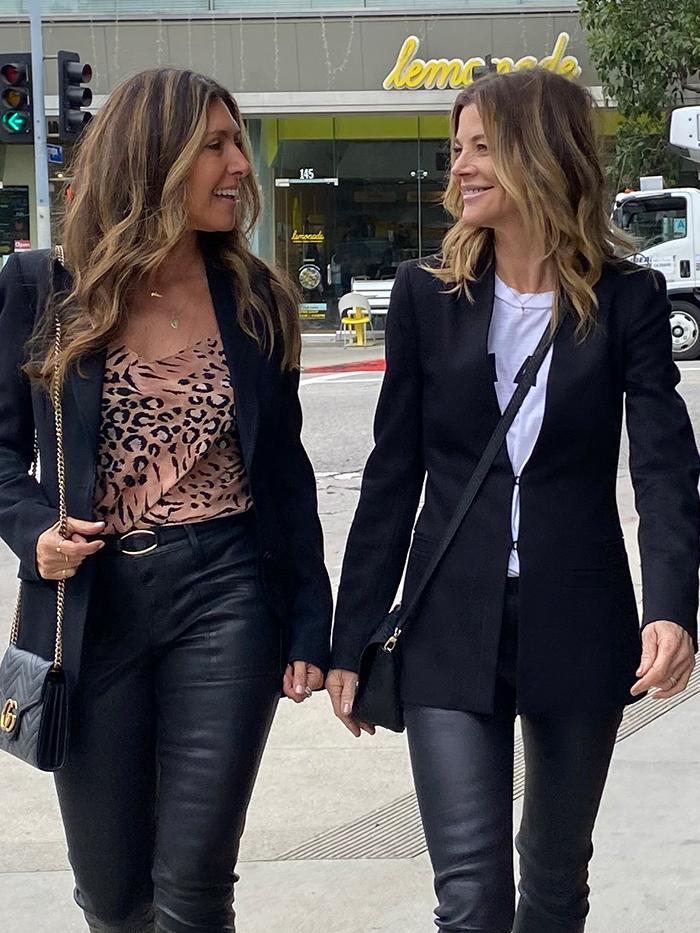 Janet Gunn is the inspiring influencer behind The Grateful Gardenia. Originally from Texas, the 58-year-old style guru is now settled in Los Angeles with her husband, son, and dog Buster. She's worked as a Dallas Cowboys cheerleader, flight attendant, actor, jewellery designer, and beyond. In other words, she has a ton of experience and an equally cool personal style. Melissa Meyers is a Los Angeles–based influencer with a focus on beauty, style, travel, and wellness. Her blog, The Glow Girl, aims to empower women to embrace the best version of themselves, age gracefully, and cultivate a glow from the inside out. She also happens to be 54 years old and has a penchant for masterfully styling trends. Here, the fashionable duo teams up to discuss the basics they swear by. Oh, and don't forget to follow them at @janetgunngratefulgardenia and @melissameyers.
Janet Gunn and Melissa Meyers are always filled with insightful style recommendations. And while age clearly has nothing to do with what you should or shouldn't wear, these ladies are over 50, and it's that more experienced fashion perspective that's consistently intriguing. On that note, we wanted to get their feedback on some of the staples they've relied on over the years to build their well-balanced outfits.
They previously shared with us the basics they wear to look chic, and we wanted to dive even deeper into this topic to get a sense of the winter basics that are no-brainer in their eyes. In reality, they've tested out a ton of basics over the years, so they know what truly works best for them specifically. With all that in mind, keep scrolling to check out the easy items they're wearing more than anything else right now, complete with styling inspiration. If you're interested in adding a piece or two into your offering too, there's also a smattering of shopping picks sprinkled throughout for you to shop.
"A great-fitting pair of jeans is a forever classic for any closet. We love the versatility of this timeless, tried and true basic, and prefer high-waisted styles in a variety of washes." — Gunn. On Gunn: Veronica Beard jeans
On Meyers: Citizens of Humanity jeans
How perfect is this cut?
So many of editors swear by Arket jeans. 
"Nothing says luxury quite like the feel of cashmere. We live in our jumpers throughout the winter, whether they're oversized or fitted. A classic sweater made from this timeless and cozy material always shouts chic." — Meyers. On Meyers: Naked Cashmere sweater; Parker Thatch bag; Anine Bing boots
On Gunn: Vince sweater
A cosy cashmere sweater will see you through every cool day to come. 
This looks as soft as it feels. 
"We seem to be wearing our flats or low heels on repeat this year! Some great traditional classics work with just about anything in your wardrobe. Whether you choose a snakeskin print or a pop of colour, an edgy boot, or stylish sneaker, flat shoes seem to bring a fresh look to any outfit." — Gunn. On Gunn: Birdies flats
On Meyers: Aera flats
How chic are these?
These come in an array of great colours. 
"Our wardrobes have definitely expanded to include more comfy clothes than ever. A cute sweatshirt worn with jeans or a matching sweatsuit are our go-to pieces these days. This is the perfect cozy-chic look when working from home or running errands." — Gunn. On Gunn: Anine Bing sweatshirt
On Meyers: YesAnd sweatsuit
This colour will go with everything in your wardrobe. 
So many colours to choose from. 
"Leather is that elevated anchor piece that always adds an edge and sophistication to any outfit. Faux or real, make sure you have a skirt, jacket, or trousers in this fabric as part of your wardrobe this season." — Meyers. On Meyers: Zara skirt and jacket; Office of Angela Scott shoes; Heidi Wynne Wrap
On Gunn: White House Black Market jacket and pants
The must-have jacket for all seasons. 
There's so many ways to style these faux leather trousers. 
"An oversized wrap is super versatile and the perfect grab-and-go basic. It can be worn so many different ways. We like to wear ours as a shawl or as a scarf with a jacket or blazer." — Gunn
On Meyers: Heidi Wynne wrap
Perfect for draping or wrapping around. 
Pair with a full cream ensemble for a seriously chic look. 
"A simple classic blouse can be worn dressed up with a leather skirt or with a favourite pair of jeans and sneakers. It's always a favorite style of ours." — Gunn. On Gunn: Grayson blouse
On Meyers: Veronica beard blouse; Mother pants
You'll find yourself wearing this with so many different outfits. 
Timeless. 
This post was previously published and has since been updated.
Next, Fashion People in Paris Wear This Elegant Shoe Trend With Basics