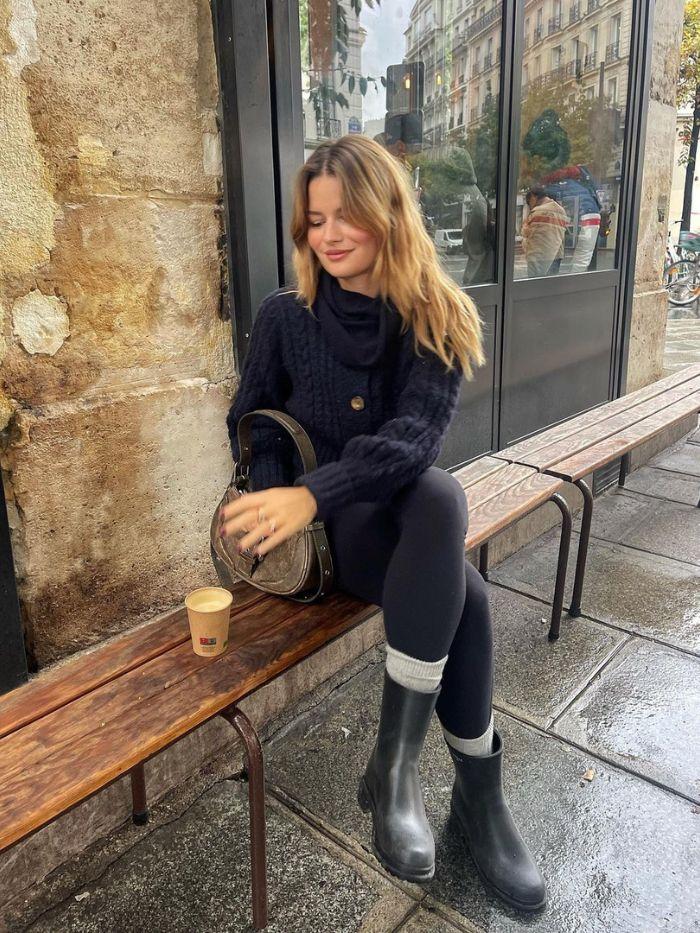 Anyone else feel like switching up their hair this winter? I'm definitely ready for a change, but I'm not quite sure what look I want to go for. As much as I loved all of the summer hair trends, I want to make sure that I opt for a style that's going to be in fashion for the season ahead. After spending hours researching different looks on Instagram and TikTok, it's safe to say I felt a little overwhelmed, so I decided to go straight to the experts to ask them which trendy winter haircuts are about to be everywhere.
Wondering who I reached out to? I spoke to a whole heap of industry professionals, including Bernardo Vasconcelos, Living Proof ambassador and celebrity hairstylist, Michele Antiga, signature colourist and stylist at Gielly Green and Adam Reed, hair stylist and founder of Arkive Headcare. All three experts shared their favourite haircuts, and trust me when I say that there is something for everyone. Intrigued? I thought so. Keep on scrolling for all the information you need, alongside product recommendations and inspo pics that you can take with you to your next appointment. Now, time for me to decide which trendy winter haircut I want to try…
First up, a beautiful bob hairstyle. "This trend is stronger than ever," says Antiga. "This cut is the perfect length to sit on big coats, collars and scarves this winter, and when you unwrap from the heavy clothes it still looks great showing off the neck and décolleté."
Antiga says that it's vital that the cut is done perfectly balanced so you can wear it beautifully either side and with a middle parting. "It should be cut with body, some movement and volume. Think sexy, fresh, elegant and versatile."
To add volume to your bob, I recommend these rollers from Babyliss.
However, if you want more of a quick fix, then a blow dry brush should do the trick.
For all the cool girls out there, say hello to 'the uncut'. "This haircut captures the essence of the glam rock 70s, while incorporating modern elements for a fresh and contemporary twist," explains Antiga.  "Cleverly introducing subtle layers with lots of texture, it gives the illusion of an uncut style but with beautifully enhanced movement and shape."
According to Antiga, at the heart of 'the uncut' lies the concept of creating an invisible haircut, and it seems that Reed agrees. "This technique is designed to add invisible layers, body and texture to all hair types," he explains.
Help add extra body and texture with this clever spray from Living Proof.
A paste is another great way to style your hair, and this one nourishes your locks too.
According to Vasconcelos, this winter it's all about long layers, fringes and framing. "We are still seeing the influence of the '60s and '70s, plus a major influx in '90s cuts with extreme layering at every length," explains the celebrity hairstylist.
"This haircut is perfect to distribute the volume and keep the density on the hair." If you want to add more dimension to the look, Vasconcelos recommends asking your stylist to add in some shorter layers too.
Care for your layers with a deep conditioning mask. I like to use this one once or twice a week.
In between washes, opt for a dry shampoo to freshen up your roots and add a bit of volume for that tousled finish.
"The butterfly cut is still hot for winter," explains Vasconcelos. "This haircut is suitable for those looking for a timeless, classy and and glamorous look. Adding layers into your haircut can create volume, dimension and personality."
Vasconcelos says that this haircut is perfect for that 'quiet luxury' look, and I couldn't agree more.
To keep your hair looking healthy and bouncy, use a detox shampoo to remove any buildup. 
Then, add some serious volume with this Kérastase mousse.
Another super cool, trendy winter haircut comes in the form of the shaggy pixie style. "This is great for those of you who suit a short haircut yet still want to have fun," says Antiga. "It's a combination of texturised layers and a choppy feel."
When it comes to styling, Antiga says it can be worn naturally messy or you can glam it up with a good blow dry and pomade to add texture.
An effective hairdryer is essential for a good blow dry, and I am looking to invest in this Bellissima one.
To add texture, I always opt for the Ouai pomade.
"This look will never go out of date," says Antiga. "We are seeing the lob all the time as the style is extremely versatile and suits a lot of people." If you're not familiar with the haircut, it's essentially a long bob that usually falls just past the chin.
I think this is one of the chicest hairstyles of the whole season, and I love the fact that it can be worn in so many different ways.
Want that smooth, sleek finish? Ghd has got you covered with the brand's original hair straighteners. 
For a glossy, shiny look, add a nourishing hair oil into your routine.
Next Up: This Classy, Anti-Trend Bob Haircut Is Convincing Me to Finally Get the Chop