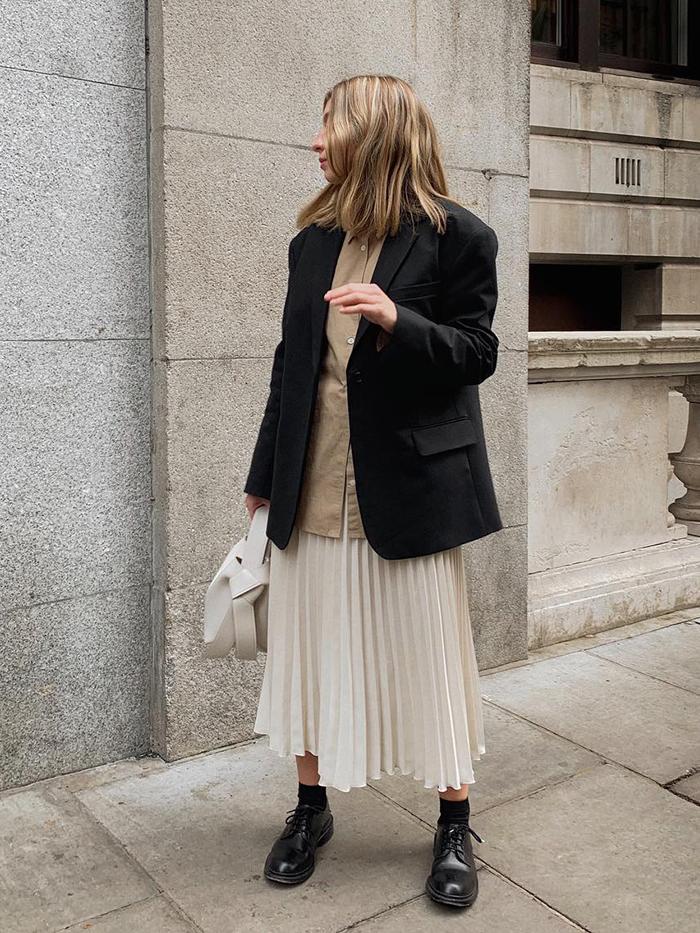 I'm going to make a bold claim: By creating a winter capsule wardrobe, I have genuinely managed to cut my time of getting ready in the mornings to just 30 minutes. This is great for many obvious reasons, one of which is that I can maximise my time in a warm bed.
Whether you're staying home, heading to an office or simply running out to do your errands, there are a few key elements a winter look needs in order to be both warm and practical. However, I hear you ask, can you still look good at the same time? Well, I'm here to tell you the answer is yes! And to prove this, I've narrowed down my winter wardrobe to just eight key pieces that I wear on repeat and that I know will keep me warm whatever the elements throw at me.
Want to know what they are? Keep scrolling to see how to re-create a high-performing winter wardrobe that'll make your life (and morning routine) so much easier. 
Style Notes: A cashmere roll-neck is the ultimate versatile winter staple. Wear it under a dress, coat, knit vest or alone alongside a pleated midi skirt. 
When it comes to finding cashmere on the high-street, M&S is a great place to start. 
Made from responsible cashmere. 
This forest green will go with more than you think, and it makes a change from the usual neutrals. 
Style Notes: While you might want to stick with neutrals for all your other pieces, when it comes to chunky knits, you can afford to go for a bold hue. Try red (the colour of the season), lilac or green to give your outfit a bit of life. Pro tip: If you get too warm, take it off and layer it over your coat like a scarf.
This will look gorgeous against a backdrop of camels or creams. 
I love this neon knit paired with grey tailoring. 
If you're new to wearing colour, try a softer pastel first. 
Style Notes: Berets made a comeback thanks to Emily in Paris but I've always had a soft spot for this French-girl accessory. Evidently, influencers also agree. 
Perfect for a minimalist wardrobe. 
Stay warm and look good doing it. 
A chic finishing touch. 
Style Notes: Winter doesn't mean you need to cast aside dresses. We recommend investing in knit dresses that will keep you cosy without compromising on the style factor. 
A seriously elevated high-street gem. 
There's nothing not to like about this dress. 
This just looks so god damn comfy. 
Style Notes: Consider this your biggest purchase. A winter coat that you love can be worn for almost six months of the year (which is incredible for cost per wear when you think about it). They don't come more versatile than camel. 
A seriously expensive-looking option from Mango.  
As the name states, this is an iconic piece for the brand. 
Maxi coats are trending right now. 
Style Notes: Shoes need to do these three things in the winter: keep your feet warm, keep you from slipping and withstand the grim and slush. These tread-sole boots have got you. 
Ganni's boots are a staple every autumn and winter. 
Perfect for beating the rainy and chilly days. 
You'll pull this sleek pair out every year. 
Style Notes: Midi skirts are just as essential for winter as they are for the warmer months. Opt for silky slip styles and leather or pleated options that work best with knitwear layered on top. 
Looking for something a bit different? Try this leather version.
Just add your chunky boots and a cashmere turtleneck. 
The handkerchief hemline is a designer-looking touch. 
Style Notes: A puffer coat is a practical winter essential, especially when many of us might still be keen to socialise alfresco. Wear alongside chunky boots and a beanie for a cosy winter look. 
You'll be grateful for this cosy puffer when the temperatures drop even further. 
The drawstring adds a defined silhouette to your puffer. 
I personally love lululemon's technical (but still stylish) puffers. 
Next Up, I Searched Through Thousands of High-Street Coats—These 31 Are the Very Best
This post was originally published at an earlier time and has since been updated.