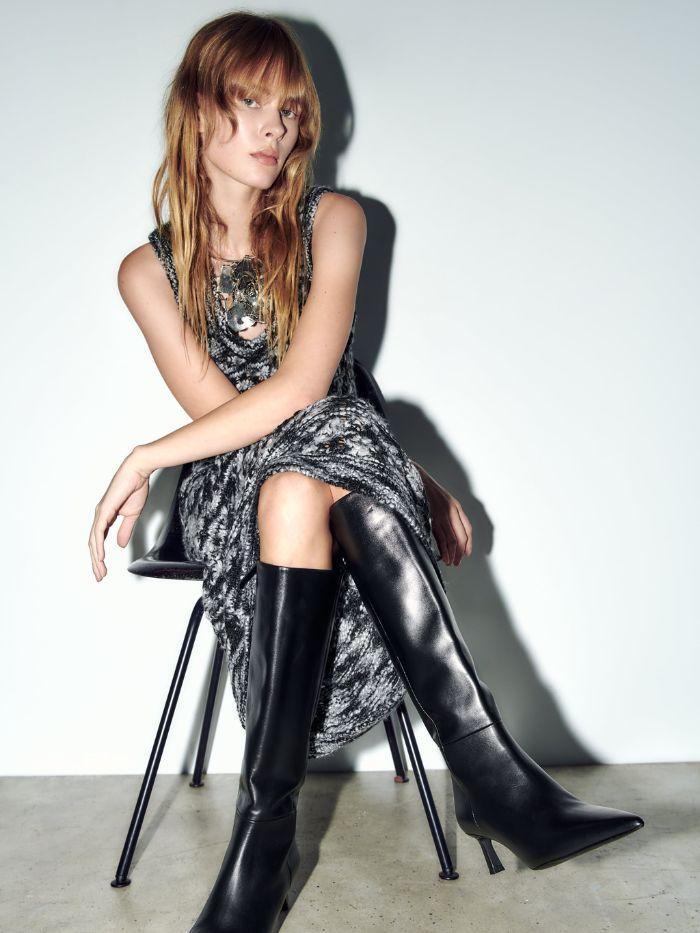 You'd be hard-pressed to find someone (fashion fanatic or otherwise) who doesn't have an item of clothing from Zara in their wardrobe, from royals to celebrities, influencers to editors. The Spanish retailer has developed a reputation for itself over the years for creating affordable, trend-led pieces and contemporary basics that can act as the cornerstone of any closet. 
Though, Zara's mass-market appeal doesn't end at clothing. The brand's footwear is equally as coveted, and this winter, in particular, we've spotted quite a number of expensive-looking boots in its collection, many of which, we predict, will sell out in no time. (Sadly, these styles don't often hang around for long.)
Once again this season, the brand has aced the concept of timeless classics while also creating pairs that are bound to elevate any outfit going. And we're not just talking about chunky soles. Although, these are key once again this year. Among the trends we've spotted is the return of Western styles, alongside the revival of suede, studs, sculptured heels and chunky soles all featured on tall boots. Prefer ankle boots? Zara's new-in section is all about high-heeled boots with pointy toes, and they remind us of pairs we've most likely all worn over the years with jeans and a nice top.  However, the brand has also got something for those of us who are feeling a little more adventurous. We may be downplaying this slightly, as Zara is backing some of the most eye-catching boots we've seen on the high street, from flame-adorned knee-highs to sequin-encrusted pairs that have us planning our next night out.  No matter your preference, keep scrolling to shop the four boot trends Zara is championing this winter that will undoubtedly continue well into spring/summer.
If you're looking past the trends and seeking a pair you can wear for years to come, this is it.
These boots were made for… showing off at every opportunity.
These feel very Parisian to me—which, of course, means they're a winner.
The metal toe cap detail looks so expensive.
Feel your outfit's a little too boring? Nothing a dose of cream leather can't fix.
Strong Matrix vibes—in the best way possible.
These look really premium for the price.
Tired of relying on black footwear? Try a dark brown that's just as easy to style.
If you're going to buy just one pair of thick-soled boots, these fit the bill perfectly.
I think we can all agree that these boots have the wow-factor.
I've been obsessed with knee-high boots lately, and this is the next pair on my wish list.
These feel traditional and cool in equal measure.
Perhaps the chicest pair of metallic boots out there right now. 
Once the secrets out, these statement stompers are guaranteed to sell out fast.
Dancefloor, we're ready for you.
Statement, skyscaper boots, pure and simple. 
I'm so excited about the 90s boot renaissance.
A dressed-up take on the lug-soled boot trend.
This story was originally published at an earlier date and has since been updated.
Next Up: The Autumn/Winter 2023 Fashion Trends That Really Matter