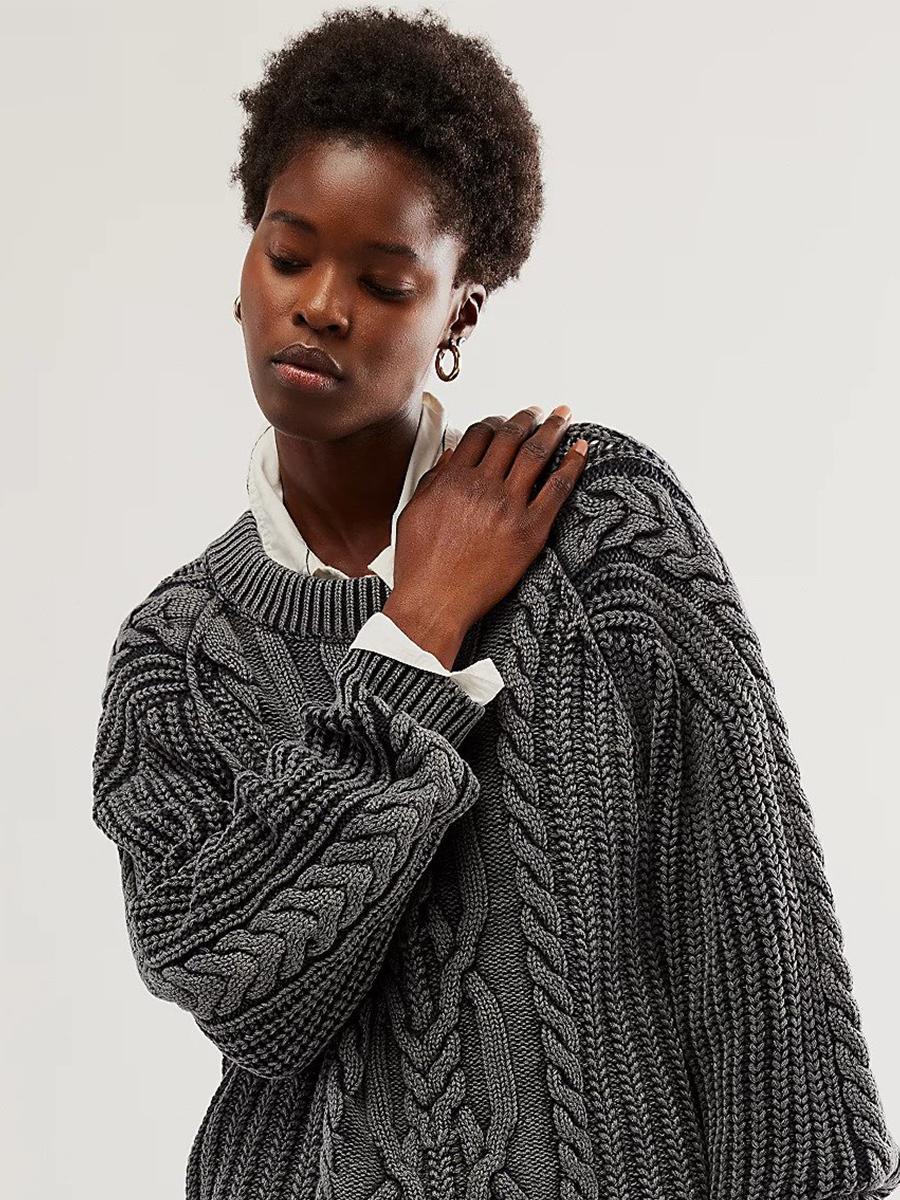 In the blink of an eye, we skipped over autumn and landed straight in winter. There was no easy drop of temperatures to lure us into the season, just a quick jump that left many of us scrambling to rebuild our wardrobes with a cold-weather edge. There's a chance that the abrupt shift could leave us longing for the warm days of summer, but I'm here to remind you of the joys of dressing for the cosiest time of the year. Winter is my favourite time of year because I can layer up for cosiness and comfort, but without the right foundations, I agree that it can feel like a bit of a wardrobe feat. So, where do you start when you want to build the cosiest winter wardrobe that still retains a put-together, chic feel? Personally, I turn to Free People. 
Free People rises to the challenge every single season. From summery, heritage-inspired dresses to easy-to-style co-ords and year-round denim, Free People is a clever place to start for any season. Come winter though, the brand's innately relaxed feel comes into its own. Free People's ability to channel the laid-back feel of its East-Coast origins is channelled through oversized silhouettes and timeless styles that will serve your wardrobe for years to come. When building your ultimate cosy-season wardrobe, knitwear is the first place to start. Right now, Free People has a wide array of cosy knitwear, ranging from classic cable knits to pair with tailoring for work; to chunky, oversized jumpers made for maximum comfort. Alongside these styles you'll find useful cardigans that can be added or subtracted for warmth on the go. Free People has also ticked off the key jacket styles of the season, including playful prints and classic leather designs, which can be swapped in to add a put-together feel when heading out for coffee dates or meeting with friends. And yet another area that Free People excels in is denim. From jeans to jumpsuits, straight-leg to baggy silhouettes, the brand knows all about great denim. Any time I want to add polish to a cosy jumper-and-jacket outfit, denim is the answer. 
Keep scrolling to ready your wardrobe for the cosy season with Free People's winter essentials. 
Loved by celebrities and fashion people alike. 
This easy tee is a wardrobe basic. 
For those who run cold, look to Free People's FP One thermal fabric. 
A classic cable knit will serve your wardrobe for years to come. 
This slouchy, lightweight bag will carry all your essentials and much, much more. 
Every wardrobe deserves a great leather jacket. 
From the colour to the shape, I'm sure this will be a favourite. 
A ready-made outfit you can dress down with trainers or elevate with heels. 
Many of our editors have already snapped up this cosy fleece. 
This neckline proves even your reliable tops can be standouts. 
Forget hunting through vintage stores for an iconic moto jacket—Free People's version saves you the trouble. 
The much-loved Hailee sweater set has been reimagined in a cardigan iteration. 
Now these are a lot of fun. 
The hard part is choosing which of the four striking patterns to go for. 
The exposed seams and raw edges add a lived-in feel that adds to this sweatshirt's overall comfort. 
The ultimate off-duty jeans. 
Beat the unpredictable weather with this classic waxed jacket. 
I'm wearing these leggings for workouts, relaxing and easy winter looks alike. 
The quilted details are so striking. 
This cropped silhouette is the ideal companion to high-waisted trousers. 
Gilet styles come back every winter. 
Discover more chic winter pieces from Free People here.
Up Next, The Autumn/Winter 2023 Fashion Trends That Really Matter