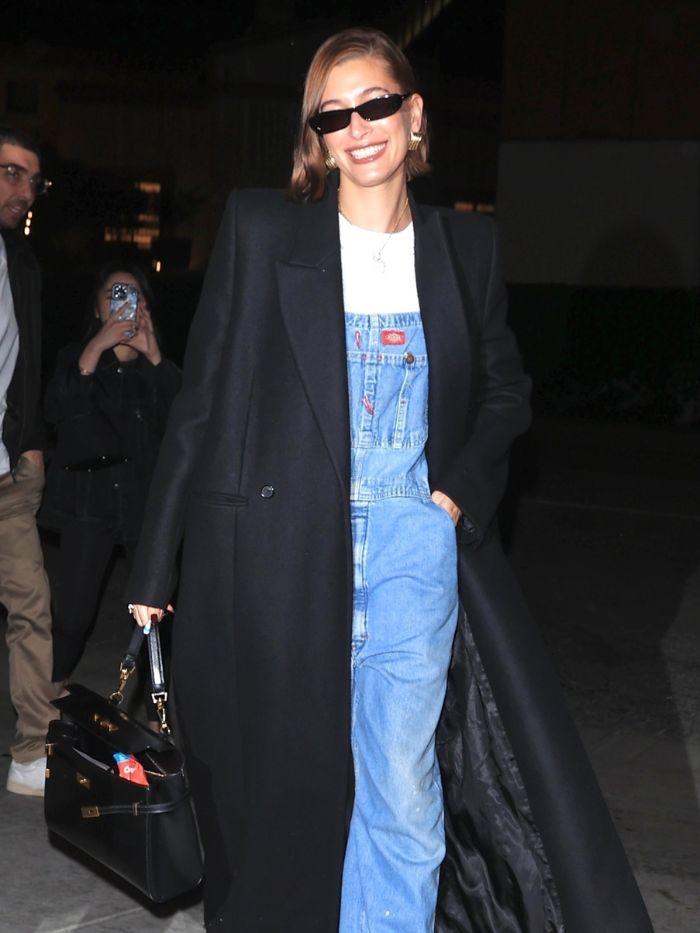 Ah denim. No matter how much we flirt with tailored trousers, maxi and mini skirts, comfy leggings or pretty dresses, we always come back to faithful old denim for an easy outfit that we can pull together in 10 minutes or less. Denim does have the benefit of being one of the moment versatile fabrics in our wardrobe after all, and no matter the weather or season, we know a good pair of jeans are always going to rise to the occasion, that is, until they get a little bit boring. 
"Jeans and a nice top" has been the foundation of so many looks for so long that we inevitably started to experiment with different ways to wear denim. Jeans got ultra skinny, then high-waisted and retro fit, and just when we settled on a supreme straight-leg, baggy 90s jeans took over the runways, so with all the fuss surrounding jeans and trends we did the next best thing—re-wearing denim skirts. But, as the weather gets cooler and denim skirt and boots won't cut it for winter, we spotted another anti-jeans trend popping up on some very stylish celebrities, and it's an unexpected vintage throwback. Allow me to reintroduce you to denim overalls. 
Claudia Schiffer wears dungarees in the Versace 1994 Haute Couture show.
Baggy, laidback denim dungarees make sense as the natural evolution of A/W 23's loose-legged jean, but there's something about the overall's farmcore-stroke-90s nostalgia vibe that immediately speaks to us. Perhaps its the fact that its a combination of just about every trending TikTok aesthetic in the last 12 months (see cottagecore, grunge, VSCO girl etc), but it also scores highly for its sheer laziness. This is a trend doesn't require stiff tailoring or an ultra-polished finish, it's appeal lies entirely in the fact you can roll straight out of bed and into this look. A win, win.
Not convinced by the overall's prowess? Take Hailey Bieber and Kendall Jenner's recent outfits as an example of how a pair of blue denim dungarees can be kept casual for a quiet weekend or dressed up for an evening (and let's face it, dungarees, a maxi coat and a pair of pointy heels is a stroke of genius. It shouldn't work, but it definitely does).
After falling deep down into a dungaree rabbit hole, the internet throws out pictures of Sienna Miller, Alessandro Ambrosio and Kylie Minogue all sporting overalls as their airport outfit of choice, and don't even get us started on Jennifer Lopez and Alexa Chung's longstanding affair with the denim one-piece (Google the evidence, you'll have enough outfit inspiration for a lifetime). 
So should you be looking for a new way to layer up your denim this season, the celebs have spoken and they're seeing out 2023 in dungarees. Keep scrolling for our pick of the best overalls to shop now. 
One of the best dungaree finds on the high street.
Free People's Ziggy overalls deserve an award. Not only is the fit impeccable but, they come in 23 different colours.
Like this perfect stonewashed blue.
I love how luxe this dark indigo wash is.
Such a good boyfriend fit.
These would look so chic with a fluffy cream knit. 
Act fast, these are already selling quickly. 
The perfect shape and colour.
BRB, copying this whole outfit.
Not into traditional blue? These will shake up your wardrobe.
Outfit perfection from Whistles. 
Throw on with a tee and trainers.
Up Next, Winter Is Coming—7 Shoe Trends That Will Dominate the New Season