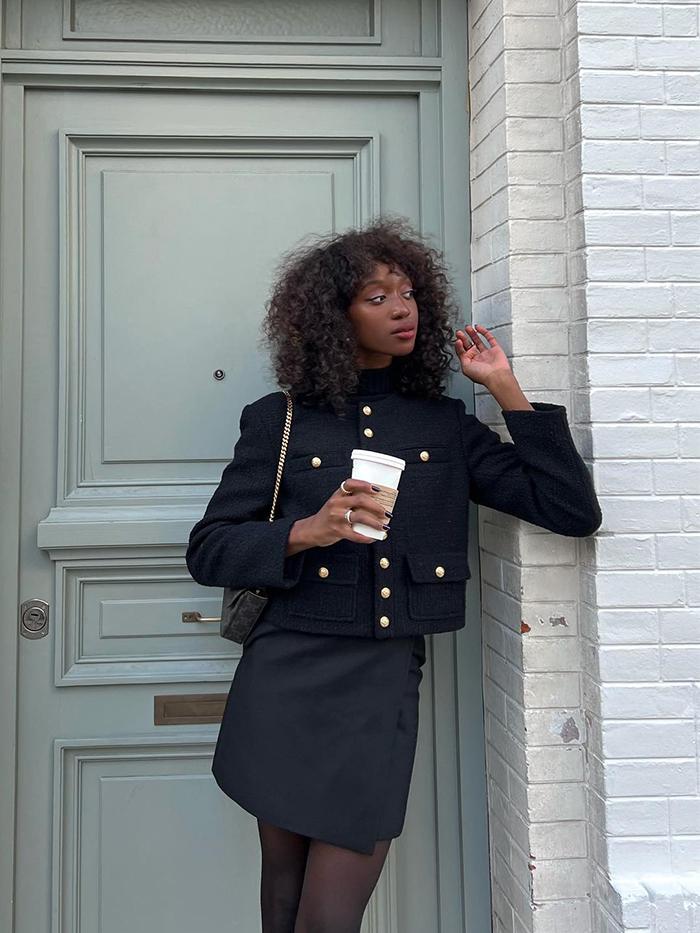 There are many things about my personal style that have changed since I started my career in fashion. I have developed a new-found appreciation for natural fabrics, my shoe collection has practically quadrupled, and I now understand that leggings are in-fact a wardrobe hero. Though there have been many changes, one thing that remains the same. If you were to ask me where I get my style inspiration from, I would point you towards the French. 
I believe that the French have the rare ability to make their outfits look perfectly poised, yet somehow entirely effortless. With a good ten years of obsessing over their style, I've picked up a few tips and tricks that are well utilised by the French, that seem to set their style apart from the rest.
The French fashion-set are experts at working with the proportions of their clothing, making a long-line coat look neat and chic, rather than oversized and messy. Making their cropped jackets looks elegant and suave, rather than uncomfortable and stuffy. With their knee-high boots they're even better. Pairing the trending style with everything from jeans to miniskirts, they seem to make the boots—which are often times difficult to style, look incredibly easy to work with.
As boots season is well underway, I've done what I always do and looked towards to the French for outfit inspiration. Read on to discover all of the ways the French are styling their knee-high boots this winter, and shop the styles below.
Style Notes: For their body-hugging style and streamlining effect, leggings are a secret weapon of mind for elevating my looks. When styled with a pair of knee high boots they come in to their own. Complimenting the smooth leather, a legging pairing will elongate the leg for a sleek and put-together effect. Add a knit and oversized coat to fair the windy weather, and you're good to go.
Stirrup leggings are chic legging trend that pair as well as with pointed-toe sling backs as they do with a knee-high boot.
Kitten heel knee-high boots are the biggest footwear trend of the winter season.
These zip cuff leggings could pass as normal trousers.
Block heels are the new heel trend that prioritise comfort as well as style.
Style Notes: Teaming knee-high boots with a midi dress in a neutral hue is effortless. This autumn, consider a long sleeve or knit iteration.
Style this puff-sleeve dress with an equally feminine heel, or juxtapose the feel with a knee-high biker boot.
Wear with tights of bare legs as the weather decrees.
Long sleeve dresses and the no-fuss solution to dressing smartly during the winter.
Pointed-toe shoes are the new season silhouette that our favourite celebrities can't et enough of.
Style Notes: This ensemble is so elegant with the boots, miniskirt, and polished textured jacket.
This structured mini looks great with a black belt and crew-neck knit.
Deep chocolate shades are the right on trend this winter.
Perfectly pleated, I'll take one in every colour.
'00s style biker boots are on the shoe of choice amongst the fashion set this season.
Style Notes: Baggy jeans are currently the go-to for many, but skinny jeans are a classic choice—especially with knee-high boots. 
No matter what anyone says, black skinny jeans will never go our of style.
I'm on the hunt for the perfect suede boots, and these tick all my boxes.
Dark wash denim is all I'm wearing this winter.
In my opinion, this the the perfect heel height.
Style Notes: You can't deny the power of a simple LBD for an easy and chic vibe. Your favorite style will look fantastic with knee-high boots and a slouchy blazer.
A boat-neck dress is oh-so-French.
Mini kitten heels scream chic.
Boho and floaty, this is my king of LBD.
Paris Texas is my go to for leather boots that stand the test of time.
Style Notes: A pleated skirt is an elevated staple that works perfectly with elegant knee-high boots.
Asymmetric skirts were seen all over the streets this London Fashion Week.
This calf-hugging style layers so well with a flowy skirt.
Style with a glitzy top or staple button-down.
Cowboy boys are the enduring trend I'm still shopping this year.
Next Up: 10 Timeless Items French Women Have in Their Capsule Wardrobes