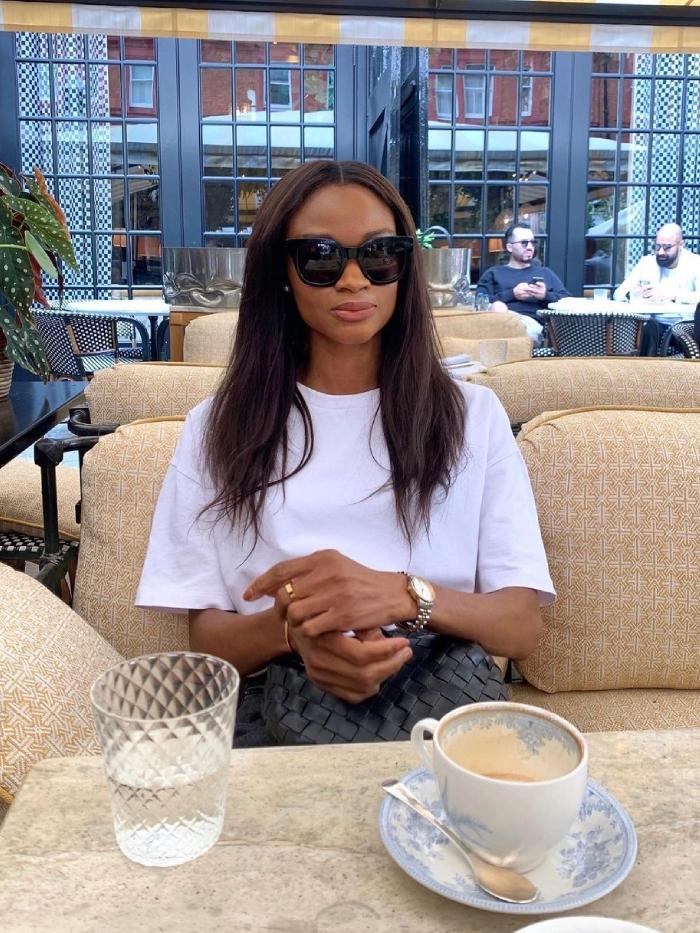 Hunting down the best T-shirt brands is like searching for the holy grail of fashion. Such is the importance of the quest for many fashion lovers. Here at Who What Wear, we always get questions about where to find perfect tees. But first off, it's worth reminding ourselves of the requirements that make an incredible T-shirt. For starters, it should fall just right—not too clingy and not too loose (unless you're after the relaxed look). Other factors include it being in a block colour (with the exception of the Breton) for maximum styling options. Our preferences are tees in black, white or grey—although, other hues are acceptable as well. (Wild, we know.)
Finally, there is one last trick that we highly recommend when on the hunt for this basic: Try shopping outside of the women's department. The men's section (or just head over to Mr Porter) can be a trove of T-shirt wonders, particularly if you're looking for a style that you might want to tuck into jeans. Here, we've rounded up the very best T-shirts you can locate—from high-street options to designer ones. Click through our gallery to shop from best T-shirt brands, starting with some of the Who What Wear editors' favourites.
"Arket's T-shirts are the stuff of legend in the Who What Wear office, with many of our editors including them in their edit of basics. However, I have a confession to make: I didn't own one until recently. So, a couple of months ago, I decided to see what all the fuss is about, and I can confirm the hype is warranted. I get it, how exciting can a white T-shirt be? Turns out very, when you find the one with the perfect relaxed fit and ideal weight to it. Instantly my jeans outfits look cooler, and it tucks into the waistline of my skirts with ease. I have the white, but I'm considering investing in a handful of the colours to see me through summer." – Maxine Eggenberger, Deputy Editor
The ribbed piping on the neckline is a nice touch.
This option is for you if you favour a roomy fit.
"Whilst there are many brands that make a sublime white T-shirt, COS became my number one when I realised its other colour options were equally as reliant as its monochrome ones. Be it cobalt blue, slime green or lemon yellow, COS isn't afraid to brave the bold, and always seems to hit the nail on the head when it comes to a trending palette." – Rebecca Rhys-Evans, Branded Content Editor
The breakout of hue of 2023. 
This classic will work hard for you.
"I'm wearing an M&S tee as I type! Marks and Spencer might not seem like the obvious go-to for the perfect T-shirt but I own a couple of their heavier-weight jersey crew-neck versions in white, navy and black, and swear they hold their shape, wash well and seem to be true to size. I tend to go for their slim-fit style, which isn't too snug but does the job of defining my figure better than a baggier cut." – Hannah Almassi, Editor-in-Chief
Available up to a size 24.
Everything you want from a classic tee.
"I'd say a white T-shirt is probably my most worn wardrobe item, so in my experience it pays to invest a bit more in really good quality style that can be washed over and over again. I turn to Raey for a lot of my key capsule wardrobe staples, from winter coats to jeans, as I love the masculine shapes and very cool fits, so it makes sense that I also love their perfect white tees. Their cotton crew neck is the softest thing you'll ever feel—probably because it's blended with a hint of cashmere, and as a white T-shirt connoisseur I can tell you it has the best slouch around." – Emily Dawes, Affiliate Editor
The dropped shoulder and lightweight jersey adds to the oversized silhouette.
An investment worth making.
"It shouldn't come as a surprise that the high street hero known for elevated basics is my go-to for the perfect T-shirt. It has everything from oversized graphic tees to rich cotton crew necks. At the moment, I'm loving the new modal-blend range which is available in a range of colours perfect for all seasons." – Joy Ejaria, Social Media Editor
I wear mine with denim and pair of Birkenstock Boston's.
Available in 9 classic colours.
"I'm obsessed with Ninety Percent's luxuriously soft and stretchy dresses, so it stands to reason that I'd love their organic cotton T-shirts too. If you're looking for flattering cuts, premium quality that won't break the bank, and happen to be a sustainable shopper, nothing beats Ninety's credentials. A good tee is one of the hardest-working pieces in your wardrobe, and this one happens to donate 90% of its profits to charities so, it does good too." – Remy Farrell, Shopping Editor
This is begging to be worn with a biker jacket and pale denim.
It also comes in white FYI.
If you're looking to invest, James Perse is one of the leading luxury brands for tees.
A ultra soft cotton style is an easy weekend staple.
A Fashion Editor favourite, it's the softest tee in town.
The destination for great basics on the high street, Weekday isn't one to overlook. 
This looks very premium IMHO.
This cut screams 90's and I'm here for it.
A classic high-street brand that rarely lets you down. 
I'm a big fan of the vintage washed out look.
You can always rely on Boden for a classic breton.
I have a white T-shirt from Monki that I've owned for over six years, and it's still going strong. 
The perfect amount of slouch.
This option has a touch of stretch, perfect for those who love a fitted silhouette.
For the ultimate classic tees, look to Uniqlo. The brilliant thing about this brand is that it offers much more interesting colours too. 
Available from sizes XXS to XXL.
The v-neck version is so good.
When I asked the members of our Facebook group So… Should I Buy This?, Gap came up as one of the biggest recommendations. 
Made with 100% organic cotton, obsessed with the sleeve detail.
A bestseller for a reason. 
Don't sleep on Hush. It really has some great tees. 
If you're a fan of a boxy fit, look no further.
Wear with classic blue denim and pair of Sambas for an easy weekend look.
I love the length of the sleeves on these tees from Whistles. 
I can vouch this style fits true to size.
Update the classic breton with a dash of red.
This story was published at an earlier date and has since been updated.
Next Up: I'm a Shopping Expert—12 Cosy Coats, Knits and Boots I Really Rate for Winter