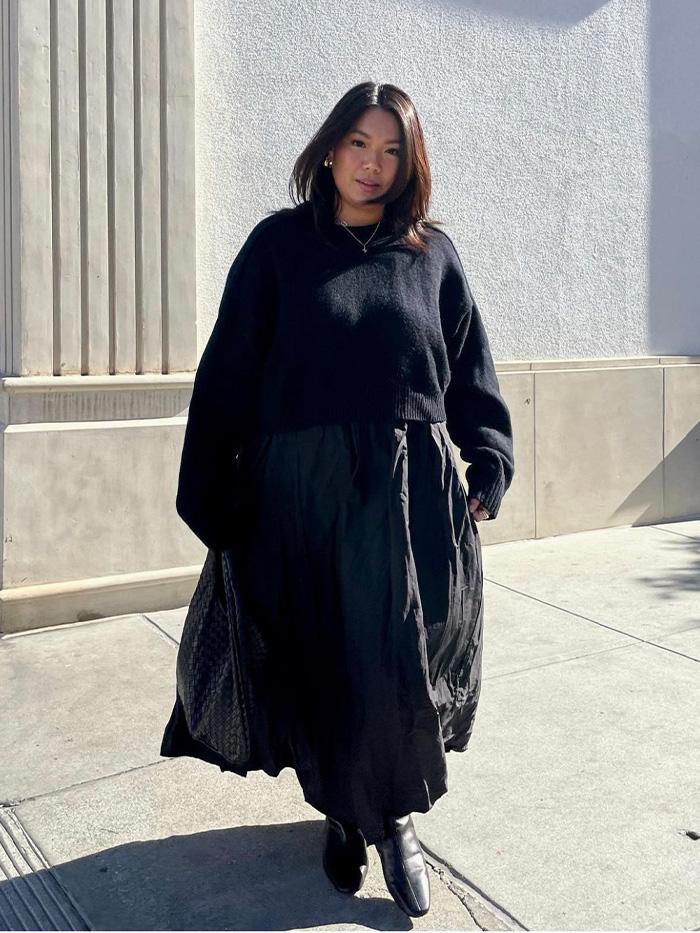 While summer calls for transparent voiles and barely there clothing, winter styling is the complete antithesis and we veer towards deeper hues, jewel tones and steadfast items that have met the style and warm criteria over the years. However, you aren't alone if you too lack inspiration when outfits are swallowed whole by oversized coats. Winter is all about layering and outfit combinations. At this time of year, I pull for black dress and boot ensembles more than anything else. Within one fall sweep, you have a head-to-toe outfit that's practical, looks considered (in an effortless way) and stylish. It's a combination that always looks chic, understated and bears a chic Scandi lilt (Scandinavian women are experts at wearing monochrome outfits, after all). 
I've never met someone who didn't love a LBD and although they're best associated with eveningwear, there are myriad ways to style black dresses which transcend the eveningwear realm. Simply pairing them with boots, instantly makes them daytime-appropriate. When it comes to choosing which dresses to style with boots, the options span from long-sleeved tea dresses to bodycon numbers and silken slips. Jumper dresses are also landing on e-commerce faster than you can say winter, in various cuts — from high neck to raglan styles you can pull in at the waist (there's more on that later).
Come winter, there's also an opportunity to reinvent evening gowns with hardened footwear and structured coats. It's fair to say, everyone could benefit from a black dress in their arsenal. Keep on reading for five-inspired black dress and boot looks to carry you from now to the winter months.
Style Notes: Add a boxy leather jacket to a bodycon dress to juxtapose an androgynous and feminine silhouette. You can easily take this look from day to date night.
Whistles is renown for its leather jackets. The quality is exceptional.
A skimming cut with a flattering peek-a-boo gape.
I defy you to not feel happy whilst wearing such jolly earrings!
I'm continually impressed by Duo Boots. It offers an array of size-inclusive boots in both fashion-forward and classic styles. My favourites are the knee-high styles.
Style Notes: Take note from Marina and pair your flouncy frock with a cropped jumper over the top. Layer with dainty accessories and prop this look up with sleek heeled boots.
A two-in-one frock with the pleated skirt of the season. You can dress this up or down for day or night.
Astrid & Miyu's new initial pendants bring an added bit of character to classic outfits.
Dala specialises in inclusive denim and contemporary silhouettes. This longline denim coat is a sure way to add texture and a nonchalant effect to a typical monochrome outfit.
I would believe you if you told me these were designer boots. I'm in awe, truly.
Style Notes: If you want to instantly elevate a look, pay attention to accessories. As the chill seeps in and we refer to layers add bags and accessories in slightly contrasting tones. 
I purchased this coat in tan last winter. It's a piece I know I'll have forever.
Break up block colour with a subdued pattern like so.
A dumpling shaped bag big enough to house all of your winter essentials.
Put out your winter accessories, it's almost that time.
These Chelsea boots have a slightly higher shaft, which is perfect for disguising socks and keeping the cold at bay!
Style Notes: Make like Lois and pair a languid jumper dress with chunky Chelsea boots and the much-adored Arket crossbody bag. Although we're heading towards the depths of winter, sunny days are still rife, so add a pair of sunglasses to tie the look together. 
The type of dress that will always work hard in your wardrobe. Wear it slouchy, or belt it at the waist.
Arket's crossbody bag is one of its bestselling items. It's available in this walnut hue for winter but if this colourway doesn't tickle your fancy, there are five others to choose from.
Chelsea boots come in many different forms. Not only do lug sole platforms have an androgynous element, but they're also practical for the (dare I say it) snow.
Style Notes: You needn't leave lingerie slip dresses in the summer. For winter, add a layer of warmth atop and there isn't a more classic style than a speckled herringbone or tweed.
Herritage-style outerwear will never be passé. This particular style features a nipped-in waist silhouette.
Slip dresses are still proving popular as we transition into winter. They're very apt for the upcoming party season too.
Monc London produces conscious and elevated designs. It's the eyewear brand to have on your radar.
I can't take my eyes off this darling bag. It'll compliment almost every evening outfit.
Matches have replenished The Row, so now the boot everyone has fallen in love with is available in all sizes.
Next Up: I've Done the Research – 4 Major Dress Trends That Will Be Everywhere This Winter