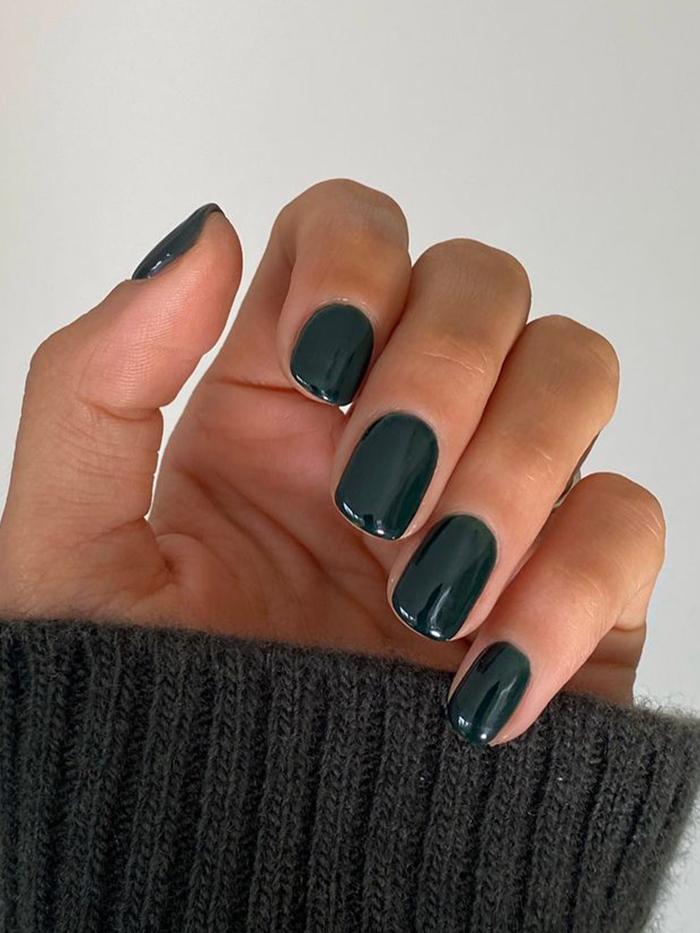 As winter comes knocking, so too does our desire to start paying our nails some more attention. While the summer months have us booking in for gel manicures every few weeks to ensure our manis and pedis stay fresh, come autumn, we like to give our nails a little bit of a break. But as we start winding down from Christmas and gearing up to NYE, you better believe we're ready to jump back on the manicure train.
Over the past few weeks, we've been busy saving down all of the winter nail inspiration we can't wait to try over the coming months. However, with our diaries booked up, we're anticipating finding ourselves out of time this season. And while we're big lovers of nail art, we also appreciate that it can be a time-consuming trend. So this winter, we're getting ready to embrace a good old-fashioned block polish with some of this season's most on-trend colours. Keep scrolling to discover all of the nail colours experts predict will be big news this winter. We can't wait to get them on our hands.
Sitting somewhere been a glossy polish and a shimmer polish, reflective nails are set to be huge this winter. Nail artist Christine Doan explains, "It's not a normal glitter colour. The particles are finer and have depth in daylight. I love wearing them to holiday parties because they catch the light at such different angles."
Price shown is members price.
Jewel tones are traditionally big news come winter, but this year, things are looking a little different. "I think traditional jewel tones will still be popular as always, but this year, they will take a muted step forward to create a different look. You'll find these jewel tones lean more neutral or grey in undertones," says Doan.
Gold polishes can sometimes look a little flat. However, this winter, it's all about creating accents with polish to really make the metallic finish pop. "One way to elevate any manicure in a pinch is with liquid gold–effect paints," says Doan. "Think of it like gold hardware on your favourite designer bag."
What is winter without a classic red nail? This season, it's all about super-glossy, deep tones. Iram Shelton, resident manicurist at the Bulgari Hotel London, says, "A deep red is a classic colour which can be worn all-year round, not just during the winter months. You don't need to go to a salon to achieve salon results, either. Dark shades look great on shorter nails, especially if you add a glossy topcoat. It can take your look from zero to 100 really quickly."
Black nail polish comes in and out of fashion, but this winter, it's officially back. "Black nails are so versatile because they look great on any nail length/shape and work well with every skin tone," says Shelton. Whether you go for a matte or glossy finish, black polish is a fail-safe option this season.
While glitter polishes can risk looking a little dated, a glitter French tip is a chic take on sparkle—it's all in the polish that you choose, too. "Gone are the days where we only have one type of glitter in a polish. The more dimension and glitter in a polish, the better it looks," says Doan. Be sure to finish off with a topcoat to prevent chipping.
We have seen natural-looking nude polishes reign supreme in every season of 2023 so far, and winter will be no exception. "The great thing about a nude nail is that it's very flattering and can give the appearance of longer, slender fingers. Nudes are also a great base for any minimal nail-art designs. If you're someone who isn't able to wear polish for work reasons, a nude nail is a great way of looking polished without drawing attention to your nails," says Shelton.
Our top tip is to shop for a sheer polish—they tend to work across all skin tones and make mistakes harder to spot.
Green has, without a doubt, been one of this year's biggest nail trends, with every shade from matcha to deep green trending. And this winter, it's set to really come into its own. "Green has had a little moment this year, with designers such as Bottega paving the way. There are so many beautiful green shades that you can try if you're wanting a little pop of colour adding to your look," says Shelton. Deep, glossy forest greens make for the perfect pairing with a chunky knit.
The French manicure is back on the beauty map, and it's not going anywhere this season. While previous seasons have leant towards pastel coloured tips, this winter, we're experimenting with more autumnal French manicures—think deep reds, brows and greens.
Shelton reveals, "we can expect to see lots of dark French tips. I've also seen negative space tips which I think are a great twist on the classic manicure."
While glitter polishes will no doubt be chunkier and more impactful, that's not to say there isn't a place for subtle shimmer, too. "Subtle glitter is definitely having a moment right now, and I think we'll be seeing a lot more sparkle as it comes up to Christmas," says Shelton. Add it to French tips for a subtle nod, or coat the entire nail in a fine white or gold shimmer for a super-festive look.
For those who want to elevate their go-to mani, a magnetic polish could be just the ticket. "It's an effect nail colour that you can control using a magnet. There are metal particles in the paints, so you can form different effects, dependent on the magnet you're using," says Doan. There are a number of different shades available, but we think a deep, dark hue is where this colour trend really shines.
Next Up, 84 Nail-Art Pictures We've Saved for Our Next Trip to the Salon
This post was previously published and has since been updated.