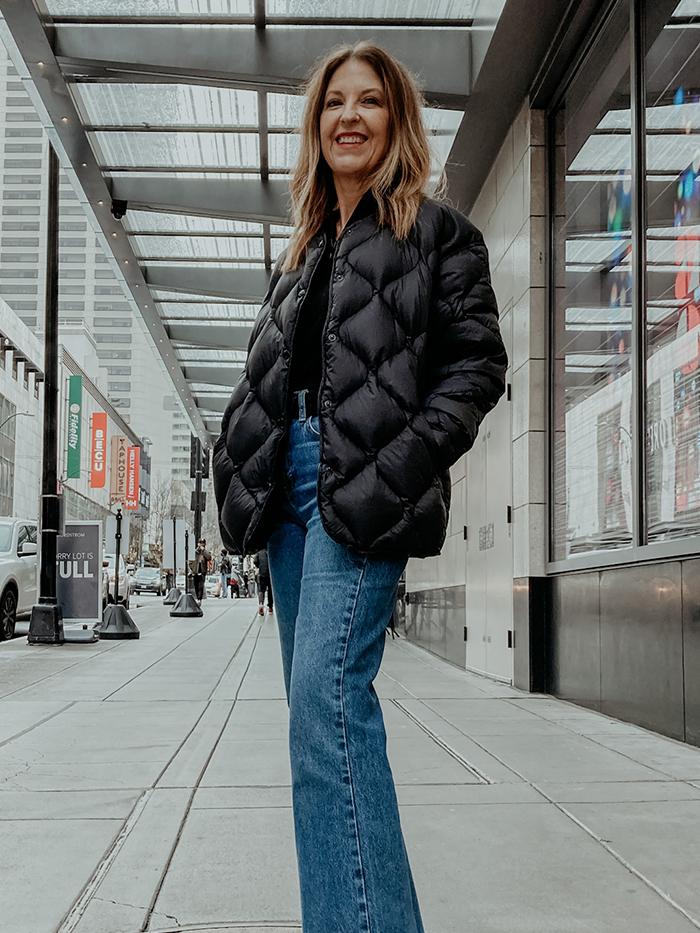 Last year, VIP Nordstrom stylist Sandy Koszarek shared her favourite trends. While chatting with us, she also shared that one of the key questions her clients routinely ask her is what shoe trends look best with jeans. So we thought it could be informative to have her offer up some of the combos she suggests—you know, in an effort to potentially inspire your denim and shoe wardrobes.
For the most part, Koszarek often recommends footwear silhouettes that are extremely versatile and could be worn with a range of items, blue jeans included. Below you'll see some of the shoes in question, including sleek boots and playful flats.
Keep scrolling for more, along with visual inspiration from Koszarek. And if you're in the mood to shop, there are also product recommendations for each.
"White trainers are a wardrobe essential and can be worn with any style of jeans. Layer a wool coat and scarf for a cool and effortless look."
Wear with jeans and knitwear now, cotton dresses come summertime.
There's no denying how flattering high-waist jeans are.
The retro-look trainer is super on-trend for 2023.
Such a versatile wide-leg style. 
Comfortable and stylish? I'll take one in every colour.
Dark blue denim is easy to dress up for evening drinks or a dinner date.
"I'm a huge fan of clogs, and I always suggest my clients wear them too. Try wearing them with straight jeans, and if it gets cold, add a sock for a warm and cosy look."
These would also work wonderfully with linen dresses in these warmer months.
Just add a cosy jumper and your chosen clogs for a laid-back everyday look.
A perfect autumnal colour. 
These look so expensive IRL.
Bostons are classics!
So retro, yet simple to style for 2023.
"I suggest a chunky loafer when my clients ask for a trendy shoe to wear with their favorite jeans. Loafers are comfortable and versatile. Plus, it's a fun way to channel the '90s. Try adding a white sock and chunky sweater to complete the look."
The chunkier the better in my eyes.
I want these jeans in every wash.
You can't go wrong with a classic penny loafer.
Light-wash denim looks so cool with black, don't you think?
These loafers are selling fast, so I suggest snapping them up quick.
This might be a bold statement, but I'm convinced H&M makes some of the best jeans on the high street.
"Chelsea boots are continuing to trend. I suggest my clients wear them with their favourite straight or wide-leg jeans."
A classic boot you'll reach for time and time again.
The perfect mid-blue wash.
These will look great with jeans, dresses, skirts—the list goes on. 
Available in waist sizes 23–37.
I love the soft brown suede for autumn and winter. 
Rumour has it Weekday's jeans feel a lot more expensive than they are.
"I suggest my clients wear a square-toe boot with straight or wide-leg jeans. These boots are chic and easily elevate every look."
It doesn't get sleeker than these boots.
Levi's is the OG denim brand, and it's still as relevant as ever—for good reason.
In my eyes, these black boots tick all the boxes.
Throw it back to the '70s with a subtle flare silhouette.
Reformation has done it again. 
Keen to try the low-rise trend? This is a not-too-daunting way to dip your toe in.
Next Up: The Classic Flat Shoe Fashion People Reach For Every Autumn
This story was originally published on Who What Wear U.S. and has since been updated.