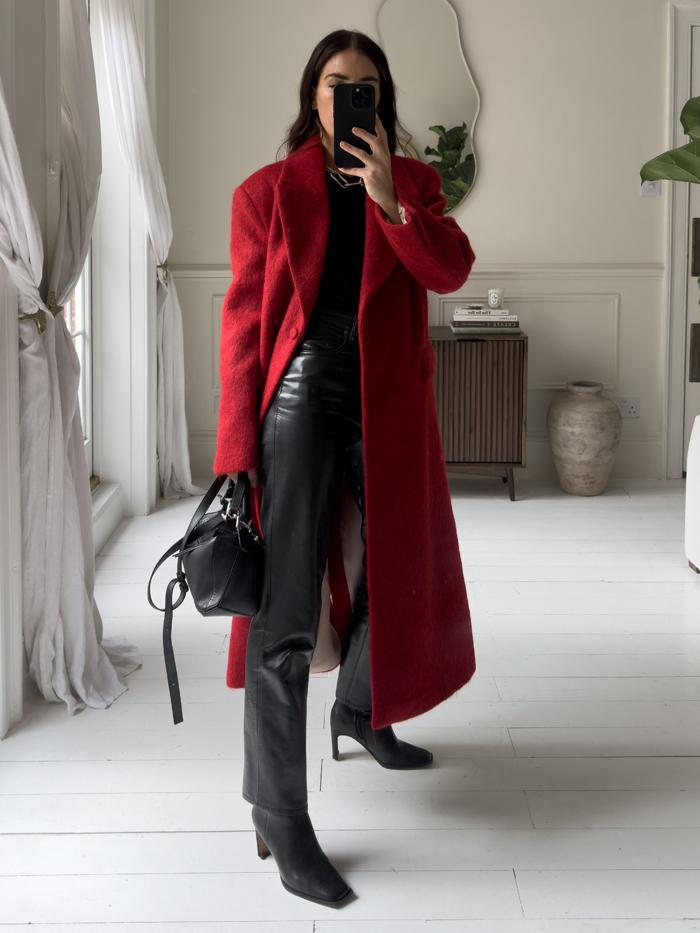 When it comes to looking polished every single day, no one is quite as proficient as Jessica Skye. An influencer she may be, but she has the fashion clout to match, having held various roles within the industry before she found social media stardom. It's this intrinsic knowledge and experience that sets Skye apart from her contemporaries (along with her imitable style, of course). With a penchant for pared-back staples and easy-to-wear outfits, all in a gloriously versatile colour palette, Skye creates perennially chic looks that aren't try-hard—a potent combination we immediately want to re-create. Thankfully, each month, Skye will be sharing her new-season selects exclusively with you.
After a summer hiatus I couldn't be happier to be back on your fashion screens and what better timing, because winter seems to be in full swing! It's my favourite season to style myself for and my wish-list is forever growing—I'm sure yours is too. So if you're on the hunt for some cosy knitwear, winter boots and oversized coats to add to your winter wardrobe, keep scrolling for my suggestions.
Little Red Riding Hood just got an upgrade and I'm pretty happy about it. Red isn't usually a colour I gravitate towards however when this popped up on the new in page on Mango's latest winter drop It was an instant purchase. The longline fit and oversize lapels are giving it a premium feel without the luxe price tag.
H&M always comes through with cosy knitwear and this fluffy grey number is the perfect addition to add to your winter wardrobe. I have a very similar version of this jumper and it's a piece I pull out every week to wear with jeans and black boots.
I've already had a few invitations come through for some soirées for the festive season (inserts emoji covering eyes) and it's got me thinking about how I would like to style myself, as always I keep things pretty simple and this Aligne longline waistcoat is right up my street, It would look so chic teamed with black flared trousers – hair slicked back in a low pony and chunky platform heels.
I have been searching for the perfect leather jacket for years now; I wanted something a little different than usual biker style, but I haven't been able to find something up until now, finally after a few years of feeling a little disappointed with the options. Whistles launched this, with its oversized silhouette and patchwork pockets it's a keeper for years to come. 
If you're building a considered capsule wardrobe then you should consider incorporating a suede western boot. These boots come around year on year and never seem to date. I have a pair from many moons ago and I still bring them out season on season. In the winter team with dark blue jeans and oversized knitwear.
Party pants at the ready! Although I generally like to keep things quite muted style-wise, I am a magpie for a pair of statement trousers. Silver trousers are actually quite an easy item to style, here's just a few tops I'll be wearing mine with; crisp white shirt, an oversized black or grey jumper, a powder blue shirt or an oversized black blazer. 
Shearling coats and jackets are my guilty pleasure and I'm always drawn to anything that looks remotely like a cosy blanket during the winter months. I love the button down toggle buttons and oversize collar which gives this jacket a high-end feel.
I've been on the hunt for the perfect everyday winter handbag and nothing seems to quite beat my Loewe puzzle bag. However, I think I've finally found something that's stylish and practical. This beautiful Toteme suede tote bag is the perfect companion for on the go.
Hello, cosy knitwear season—yay! I'm a self-proclaimed knitwear hoarder and I can always notice myself side eyeing the latest drops. Cardigans are incredibly versatile, whether you're needing a chic layer under your coat for some warmth or fancy throwing something over your shoulders for an evening out out, this ME+EM cardigan is the perfect addition. Team with silver trousers, a white t-shirt and your favourite high-heeled black boots (+ a red lip)
There's nothing I love more than throwing on a pair of jeans on and teaming with some black boots boots. Riding boots are a great way to elevate a simple look, you can also team with black leather shorts or mini skirts. 
Statement earrings have really made a comeback the past year and I just love how they can add a certain something to a paired-back outfit. Daphine has always been my go-to for jewellery—and these Saskia earrings are the perfect addition to your jewellery collection.
Jeans and nice tops are always an essential outfit for me, be it in the summer or winter. This COS slimline ribbed cis perfect for the season ahead.
I love when Arket releases new stock of pieces that were previously sold-out—including these silk trousers, which could also be worn as pyjamas. Style with an oversized cream jumper and slingbacks for the ultimate "I'm not trying, but really I am trying look".
When it comes to buying new handbags, be it designer or high street, I always think about practicality. My general rule of thumb is always go for neutral tones so they team with my minimal wardrobe. I love this COS crossbody and it's a perfect everyday bag to sling around your neck. 
Love at first sight, the billowy sleeves and tie back detail give this dress a designer feel without the price tag. Perfect to wear as a wedding guest, or any other soirées you may have over the next few months.
Statement earrings are an absolute must-have for S/S 23, and I've been wearing them non-stop recently. They're a great way to add a certain something to any simple outfit without trying too hard. These chainlink beauties from YSSO are perfect.
Clean, crisp and to the point, this blue shirt by the Frankie Shop is a must-have for 2023. Dress up with black tapered trousers and slingback heels or dress down and team with blue jeans and your favourite sneaks. 
This style of boots never seems to date, and everyone needs a pair of timeless shoes in their wardrobe. I particularly love wearing mine with raw hem jeans and an oversized blazer.
Daily Sleeper isn't just for party season; its spring/summer collection is full of drool-worthy pieces ready for the lighter evenings ahead. This subtle flower trench coat is the perfect piece to throw over your shoulders.
It doesn't matter the year, the season, the month—trainers will always be a staple in my wardrobe. Each year there seems to be a cult style or brand that is having a moment; last year it was the New Balance 550 (still a firm favourite of mine). This year it's the Adidas Samba OG. I'm yet to purchase a pair but I'm one click away from 'thank you for your order'. 
The sweetest pale blue ribbed top, wear with your favourite blue jeans and basket bag.
The cargo pant has had a makeover, so if you're not ready to go full camouflage (I mean, who is?) The Frankie Shop has kindly given you a very chic alternative.
Oh Jackie! This buttery delight has been on my radar for quite some time, she pops her head up every now and then and every time I see her, I want her. It's a classic and was originally designed in the '60s, the curved silhouette gives this bag a certain sexiness.
I sometimes struggle deciding on what to wear in the evening for drinks or dinner parties as I'm more of causal dresser, but my fail-safe is always jeans and a nice top. Team this beautiful silk brocade bandeau top with black jeans, a pair of gold hoops and a '90s-inspired bag for the ultimate nostalgia vibes.
Yaitte first caught my attention via Instagram with its drool-worthy pinstripe shirts, beautifully made and crafted from Italian cotton' these shirts are *chefs kiss. I always recommend investing in shirts as they're an item that never dates; an absolute classic to have hanging in your wardrobe year-round. I've teamed this shirt with the matching trousers, but I can't wait to style this earthy green shirt with blue jeans and my favourite trainers.
I recently purchased this Loewe raffia bag and cannot wait to wear it over the coming months. I love the extra large size and tan detailing.
Bias-cut midi skirts have been around a while, and they're still going strong. I tend to dress mine down with an oversized jumper or casual blazer, they're a great item to slip on if you want to feel a little put together.
On the subject of denim, Mango has also just dropped its denim collection which is giving me the circa 2013 Britney-and-Justin era. You can never go wrong with a denim jacket, whilst a tend led piece at the moment they are guaranteed to always make a comeback. So keep in the back of your wardrobe to bring out again and again.
White jeans are a sound sartorial investment, whether that's in winter or summer. I love wearing white jeans during the winter months, they add a certain softness to laid-back outfits. I already own these beautiful Re-Done jeans and always recommend them. 
It's a little too early for sandals so I'm very happy that ballet pumps have made a comeback, they're such a versatile shoe and the perfect addition to wear during spring.
It's no secret that denim is having a huge comeback—a trend I can absolutely get on board with. This simple yet sophisticated Anine Bing shirt is the ultimate staple to have hanging in your wardrobe. The relaxed fit and dropped shoulders gives this shirt an easy-going feel.
Be sure to check back next month when Jessica Skye will share her next edit exclusively with Who What Wear UK.
Next Up, The Autumn/Winter 2023 Fashion Trends That Really Matter