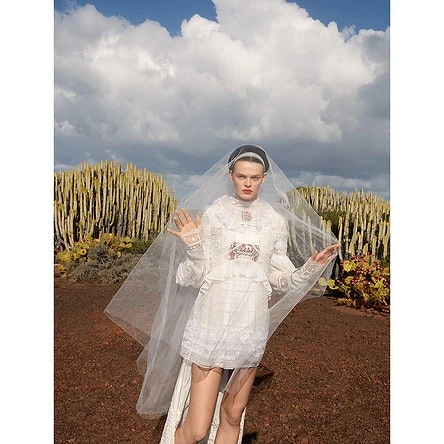 Image Credit @ Camilla Akrans for Vogue China
My work is all about creating gorgeous looks that will photograph beautifully, look great in real life, and last well under pressure. And this is exactly what you need on your wedding day! But before you even think about your wedding makeup you need to nail your wedding skincare. Every great makeup look starts with great skin (if I've said it once I've said it 100 times!). Wedding skincare is an essential consideration for your big day. With a little pre-planning, you can ensure that you have a wedding skincare routine in place to achieve that glowing and radiant complexion that every bride desires. Here, I'll share some top tips, and a few essential products that will make gorgeous skin a breeze.
Image Credit @ Camilla Akrans for Vogue China
THIS POST CONTAINS AFFILIATE LINKS
Wedding Skincare: Top Tips
Make sure you start early. I would advise starting your wedding skincare regime at least six months before your big day to allow your skin enough time to adjust to your routine, especially if you're making changes or adding new products. Consulting an expert to help you find the perfect fit for your skin is a great idea if you can afford it. Once you've found your regime, stick with it and don't expect results overnight.
Image Credit @ Camilla Akrans for Vogue China
Cleanse! Follow my 3-step cleanse in the evening to ensure your skin is in tip top condition and avoid breakouts for your wedding day. Cleanse once a day (at night) and in the mornings, just rinse with water and moisturise.
Exfoliate. Don't over-exfoliate your skin as this will lead to irritation, but occasional (once a week) exfoliation will add radiance to your complexion, and is an essential part of your wedding skincare regime. Read my guide to exfoliation here.
Drink plenty of water. It sounds like an obvious one but it's amazing how many brides are so busy running around organising, prepping, (or sipping champagne!) that they forget to take a moment to hydrate. Drink 8-10 glasses of water each day: your skin will thank you for it.
Use sunscreen. Protect your skin from harmful UV rays by applying a broad-spectrum sunscreen with an SPF of 30 every single day. This is especially important on your wedding day.
Add Moisture. On the day of your wedding, make sure you have gorgeous, glowing skin by using a pre-wedding face mask.
8 Wedding Skincare Must-Haves
SARAH CHAPMAN | Skinesis 3D Moisture Infusion Mask
DIOR | Capture Totale C.E.L.L. Energy Cream
111SKIN | Rose Gold Brightening Facial Treatment Mask
ALGENIST | Genius Liquid Collagen
SARAH CHAPMAN | Skinesis Intense Hydrating Booster
THE LIGHT SALON | Boost LED Mask
111SKIN | Celestial Black Diamond Eye Mask
OMOROVICZA | Acid Fix
Wedding Skincare Recap
Starting early, stay hydrated, cleanse everyday and exfoliate once a week, use sunscreen, and work with a dermatologist if you can. Consider a pre-wedding facial for a last-minute boost, but try it out a few months before the big day to see how your skin reacts.
READ NEXT: Perfect Pre-Wedding Facials | Facial Tools Everyone's Talking About
© Wendy Rowe. All Rights Reserved.