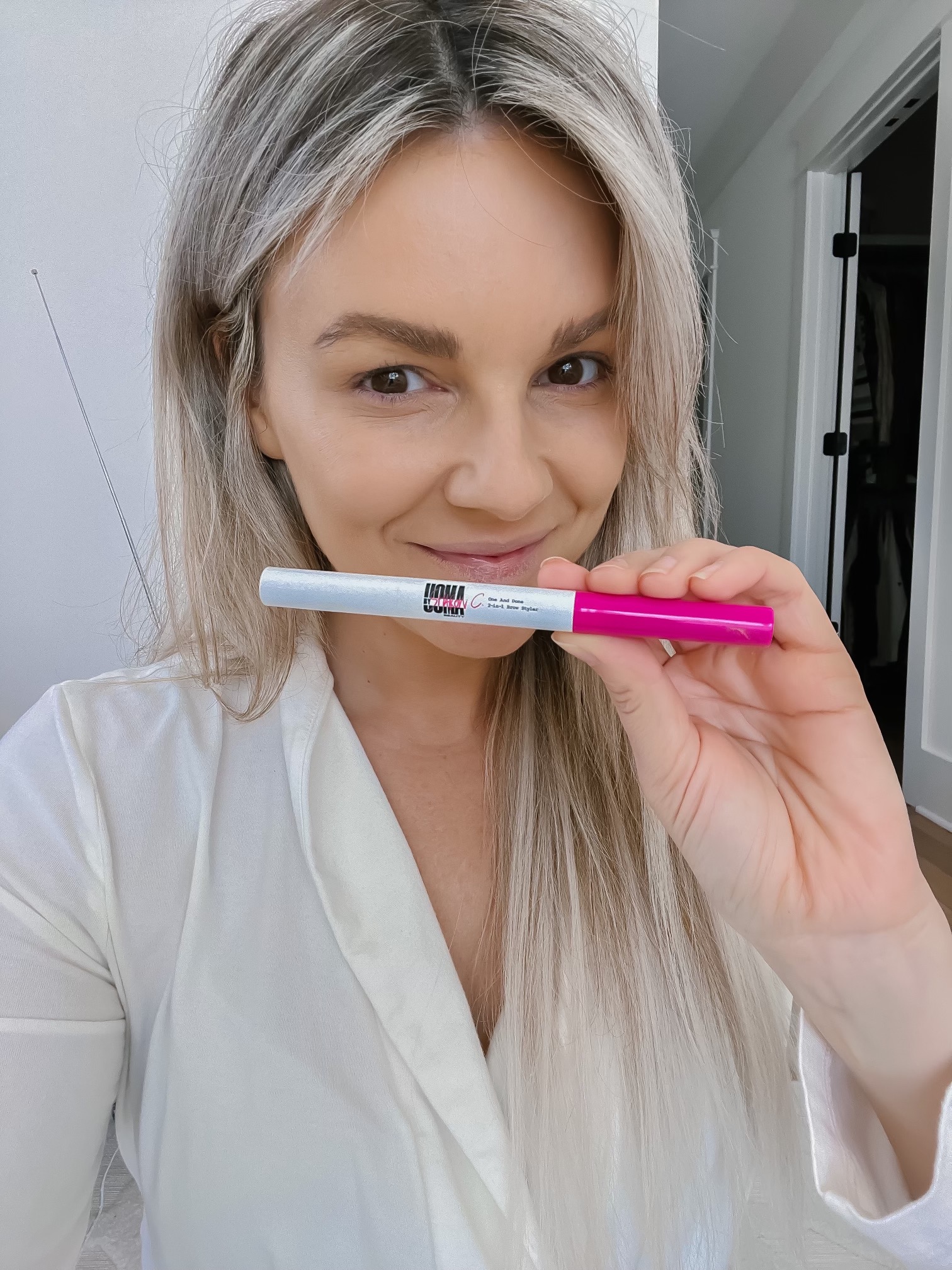 Good morning everyone and happy Affordable Friday! This Affordable Friday is unique because it's the first one I'm doing that's all about beauty products! I usually do fashion and sprinkle in a few home decor Affordable Fridays, but this is the first of its kind and I'm really excited about it. I tried so many different makeup products for this post and I ultimately chose what I think are the best of the best at really affordable prices! I absolutely love every single one of these products and I'm so excited to share them with you guys today.
Affordable Beauty Products!
All of the products are affordable in general, but most of them are also on sale because Walmart is currently having a beauty savings event! So take advantage of the extra affordable prices while you can!
I'm gonna first put a link here to my Instagram so you can see the full video of me using all these products. But for this blog, I'm just gonna use photos so you can see each product I'm talking about.
Foundation
I truly love this foundation and I'm shocked that I do! I always just thought that less expensive foundations didn't work as well, so when I tried this and saw how beautiful it looked on my skin, I was so pumped! It's on sale for under $9 right now! I'm using shade medium tan which is darker than my skin tone, but I always like to get a foundation that's a little darker than my skin tone for the summer because I like to look like I have a tan. Especially because I usually use sunless tanner on my whole body except for my face, so I need to kind of match my face to the rest of my body. But if I was going for my skin tone, I would probably get the light/medium instead of medium tan.
The coverage is good, but also very lightweight. I'd probably say it's a medium coverage, not light, but not too hard – it just left my skin glowing. This is a must get! Read the reviews and you'll see a lot of other people love it too.

1. FOUNDATION | 2. 2-in-1 EYEBROW GEL & PENCIL
Eyebrow that WOW!
I'm really excited about this next one because it's eyebrow gel and an eyebrow pencil in one, and it's 50% off right now. Only $4.24! Like you truly cannot beat that price. I am using the shade blonde/taupe and it's perfect for my eyebrows. I'm not even a natural blonde, but I still prefer this for my eyebrows, my eyebrows are more brown, but this works best for them not to be too dark. I don't really know what to say other than the pencil works great and the gel holds your eyebrow hairs perfectly in place. There's no reason not to get this. Especially at this amazing price! Trust me on this one, you will love it.
Glowing Blush
All of my blushes tend to be on either the pink or peach side. I don't really do mauve or dark colors when it comes to blush. I just love that sun-kissed, California glow look. This blush definitely gives me that. The shade I'm using is called Bougie AF, and that is what I am holding below. It looks a bit different than the product image online for some reason. But I also have it in the shade Audacity that I'm going to link as well. That is so beautiful. Plus, it looks like the Bougie AF shade is low on stock. So I'm definitely going to link the Audacity because it gives a similar beautiful color. I might even like the Audacity a little bit more. It's on sale for 50% off right now, for under $6.

1. 'BOUGIE AF' BLUSH | 2. 'AUDACITY' BLUSH | 3. 'PLEASURE' MATTE LIPSTICK
My Favorite Neutral Lip Color!
Rush to get this lipstick before it sells out. It's under $9 and truly one of my absolute favorite neutral lip colors ever! It's a neutral with a little bit of berry in it. For my skin tone, I would call it a nude. But obviously, if you have a darker skin tone, it might be a lighter shade on your skin. I feel like a lot of times when I order a lipstick that's supposed to be a neutral nude on my skin tone, it ends up being either way too dark or way too pasty light. This one has the perfect amount of berry tint in it that it is just beautiful! It's the shade Pleasure. I also have the shade Secret and I really like that one too, but it's a little darker. The Pleasure shade is just perfect. I'm telling you, get this and it will be one of your absolutely favorite go-to lipsticks.

PLEASURE | SECRET
Mascara With a Curved Brush
Okay, I am super picky about mascara. Like super super super picky. I have a few that are more expensive that I swear by so I really didn't think I was gonna be able to find one for this that I truly loved, but oh my gosh, I love this one. It's by Maybelline and what makes this mascara is the brush head. I've always believed that a curved brush head is superior to a flat brush head… even though a lot of the mascara that I use and love have a flat brush, I think they'd be even better if they had a curved brush, and this one has a curved brush! You can get a two pack for $16.98 or just get one if you want to try it to make sure you like it first for $8.98. Read the reviews, there are almost 10,000 of them that agree that this mascara is incredible!

MASCARA
Hair care that's Affordable
And last but not least, I want to talk about a few hair items.
Beautiful hair dryer
I'm gonna start the hair section of this blog with this Conair Double Ceramic Technology hairdryer. I honestly needed a new hairdryer because mine has been acting weird. I love this one because it's super quiet, looks beautiful and has double ceramic and ion technology that uses infrared to dry your hair fast with less damage – and it's on sale for $22! I will say at the time of writing this it looks like it's out of stock in some areas, but I'm hoping it comes back, which is why I'm including it in this blog.

1. CONAIR HAIRDRYER | 2. TAYSHIA'S FLATIRON
Blush Flat Iron
I got this flat iron because my girl Tayshia, who is a fellow Bachelorette, founded this line and I want to support my girl! I love the pretty pink color – it looks so perfect in my bathroom. And it works great! A straightener is really a straightener so there's not really much I can say beyond that in regards to function. But what makes this one stand out is that it's really pretty and it has a bunch of different heat settings for all kinds of hair (up to 410 degrees), it heats up in less than 30 seconds, and a touchscreen which is really cool! And it's on sale for $29!
Waves for Short and Long hair!
Lastly, I want to share this double ceramic barrel waver. I have another one like this, but the barrels are way bigger and I wanted to get this one because I wanted to be able to create smaller waves in my hair and be able to use it in Molly's hair. So this is really ideal if you have short or long hair. Because Molly's hair is shorter, I can't use my big curling iron or my big barrel waver in hers because there's not enough hair, but this works perfectly for her hair and you're gonna get it for under $20!

DOUBLE BARREL CERAMIC WAVER
Well, that's it for me today! I'm gonna put a link here to the Walmart beauty savings event so you can shop all of the beauty items they have on sale right now. Definitely worth checking out because there are so many items that are such great prices. Many that are 50% off, like a few of the items I talked about in this post. So stock up on your make up while you can! And let me know what you think about this post in the comments below. It's a different affordable Friday and I'm curious if you guys like this and would like to see more affordable Fridays that aren't just fashion, so let me know what you think!
The post Affordable Friday Beauty Edition! appeared first on Ali Manno (Fedotowsky).