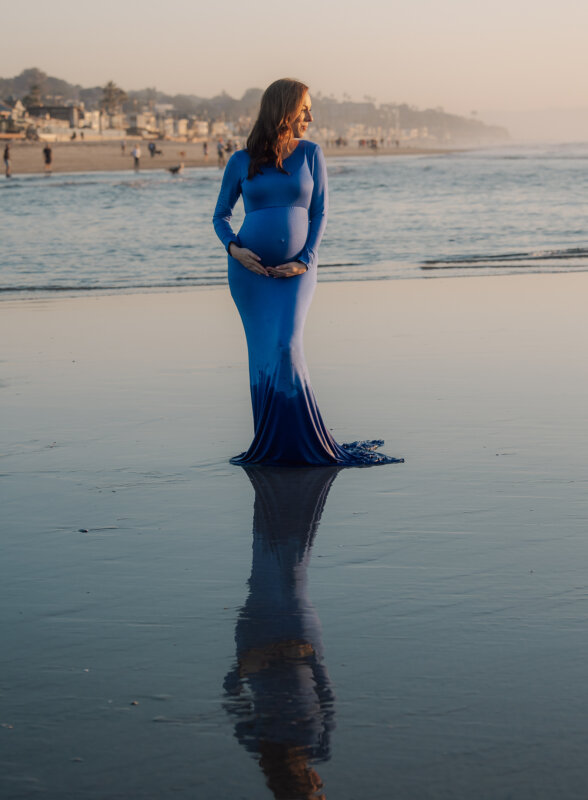 Given that I'm a Pisces and my baby is a Pisces, basically all my maternity shoots (except for the ones I did at home) were by the water. While Preston was in my belly we did a sunset shoot in Malibu when I first found out I was pregnant, photos at sunrise and sunset in Oahu on our Hawaii babymoon and finally a San Diego beach maternity shoot at 30 weeks.
When picking where to do a photoshoot on the beach in San Diego, I brought my photographer, Mun, to my favorite spot: dog beach. We shot on the Solana Beach side. It has more rock formations than the Del Mar side, which is mostly homes. I went with two outfits. My inspiration for both looks was one of my favorite Harper's Bazaar covers with Jennifer Aniston. I was actually inspired by the magazine cover the year it came out, in 2016. When I was in Cabo, I tried to get the look by standing on a step in an infinity pool. This time, I went all out by walking in the water. It was freezing. But it was worth it! I love how the photos and the videos turned out (I posted a couple of different reels if you want to watch).
Look #1: Into the Blue
It was December, and pretty cold on the beach. So I looked for affordable long-sleeve maternity dresses online. I wanted one that was inexpensive since I knew I probably would only wear it once. I found this solid color maternity gown for only $30! It comes in a bunch of different colors. I went with royal blue to go with the ocean.
Look #2: Seeing Stars
My second look was more ethereal. I actually got this tulle gown (also only $30!) to wear in my first pregnancy shoot. But it was a little big in the chest. By 30 weeks, I filled it out. So it was perfect for my San Diego beach maternity shoot. As the sun started to set, the sequined stars sparkled in the low light. When we finished shooting, we sat to watch that moment when there's a green spark as the sun dips beneath the ocean. It was another of many magical moments I experienced with my little boy in my belly.
CLICK HERE FOR ALL MY PREGNANCY POSTS
The post San Diego Beach Maternity Shoot at Sunset appeared first on Sydne Style.