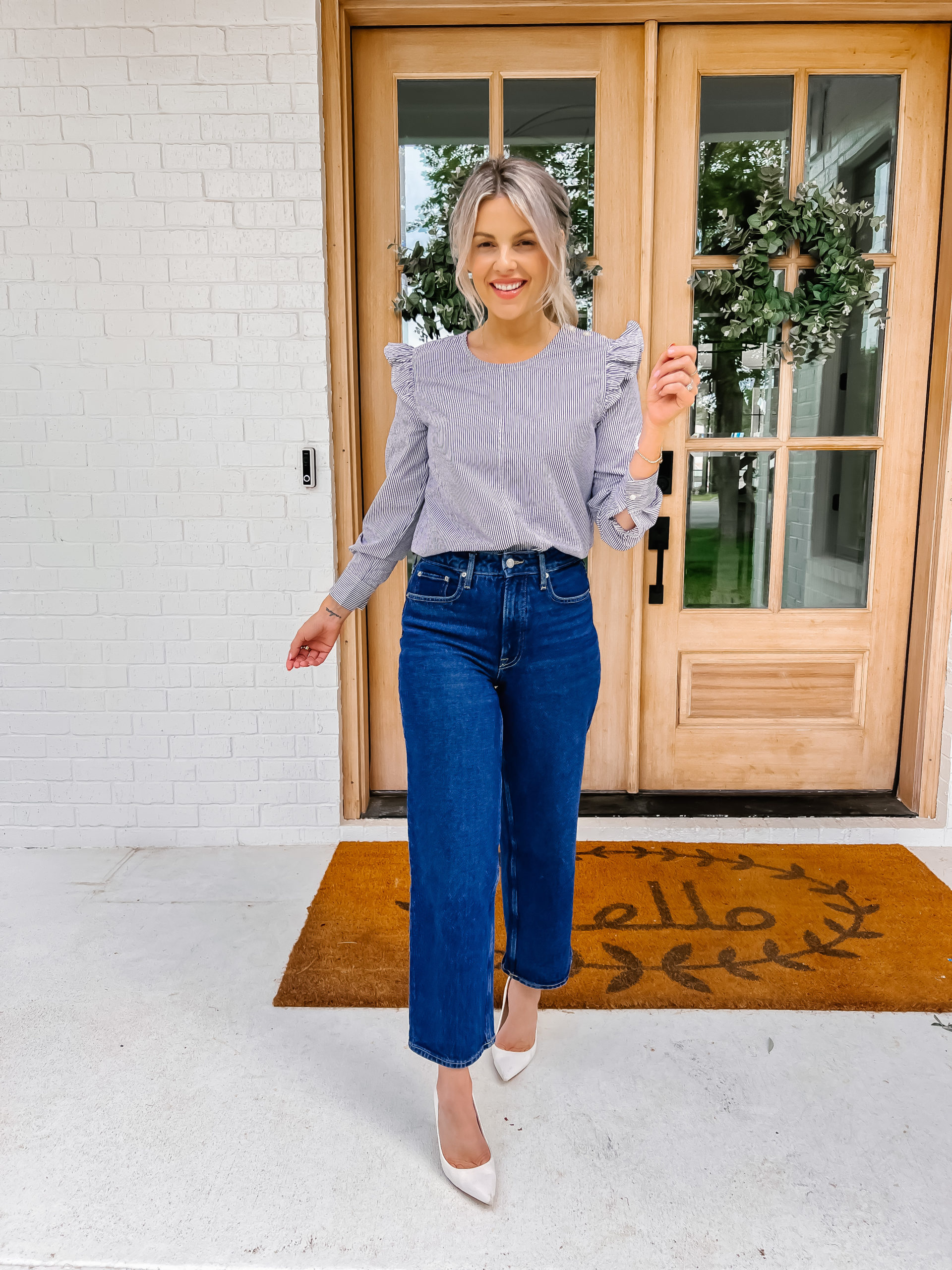 Affordable Friday is my favorite day of the week! In this blog post, pay close attention to how I describe the sizing! You guys know I'm a size medium and normally order a size medium but I definitely did not do that for every piece in this Affordable Friday post so make sure to read before you order an item!
Striped Ruffle Shoulder Top
I have to start with this look first because it's my absolute favorite! I think it looks super expensive and chic and put together, but it's super affordable and comes in lots of sizes! I'm gonna start with the top – and here's where the sizing comes in! Size down in this one! I guess it kind of depends on how you want the top to fit, but I knew I wanted it to be more fitted so I actually sized down two sizes and got an extra small both in the striped print I'm wearing in these first pictures and in the floral print I'm wearing in the second set of pictures. I will say however it is slightly hard to get on and off because I sized down so much. I think I would've been fine if I just sized down one and still gotten the look that I wanted. So I recommend sizing down at least one in this top!
I also found an amazing new feature on the Walmart site is the "Choose My Model" feature where you add in your normal size and height, and it gives you multiple models to choose from and shows you the item on that model. This will make it sooo much easier for so many of us to see what we'd like and envision it on ourselves. I love it!

1. STRIPED TOP | 2. WIDE LEG JEANS
You'll see in this post that I love a good white and navy stripe. I actually first saw this top when I was in the Walmart store and I loved it right off the rack so I bought it! Then when I got home and tried it on and loved it so much, I went online and bought the floral print.
The jeans I'm wearing with this look are a wide leg jean by Free Assembly. I'm wearing a size 8 which is the normal size I get in Walmart denim and they fit perfectly! For reference, I'm about a size 28/29 in other brands.

1. STRIPED TOP | 2. WIDE LEG JEANS | 3. WHITE BOOTIES
Then I paired it with two different types of shoes so you can see how versatile this outfit is. First a pair of white pumps that really dress it up and make it really chic. I could wear this outfit to an event or nice brunch or feel really put together at a PTA meeting. It's just beautiful. Then in some of the photos, I paired it with a white ankle boot. This exact pair I'm wearing I got years ago, but I'm linking a pair I found on Walmart's site for under 40 bucks!

1. STRIPED TOP | 2. WIDE LEG JEANS | 3. WHITE BOOTIES
Floral Top
In these photos of me in the exact same top but, in the floral print, you'll see that I am wearing a pair of white sneakers with the outfit. Just with a more skinny leg pair of denim. You could definitely wear the sneakers with the wide leg as well I just switched it up so you could see another option. Linking this denim as well because I've had these jeans for a while and they are amazing!

1. FLORAL TOP | 2. SKINNY JEANS | 3. SNEAKERS
SLOUCHY COMFY LIGHTWEIGHT LONGSLEEVE
The next outfit I wanna show you I think everyone is going to love! I truly did not know what to think when I ordered this top and I didn't have high hopes for loving it. But oh my gosh, I love love love love love it! It's size inclusive and comes in size XS up to XXXL, and it comes in four different colors. In these photos you see that Molly wanted to wear it with me so she herself put together this outfit which I am pretty dang impressed with! And yes we used a little clip in the back to tighten the neck just FYI.
I'm wearing it with another really cute pair of denim! This is a mid rise straight leg pair of denim by Time and True that are only $18! They come in both regular and petite sizes and range from size 4 to size 22! I love the size inclusivity at Walmart. Plus they come in three different washes. I'm wearing a size 8 but I will say I kind of wish that I size down in this pair and got a size 6. So I would recommend either sizing down. And definitely sizing down if you're in between sizes. Also read the other reviews on this pair of jeans because there are over 600 of them and they are all positive so this pair of denim is by far a huge win in my book! Plus they're really stretchy and comfy! I'm wearing a medium wash in these photos.

1. IVORY BEIGE TOP | 2. GREEN TOP | 3. JEANS | 4. SNEAKERS
But if you want to see the ivory top on an adult here are some pics. Ha! I got a size medium in the green top and a size large in the ivory only because I wasn't sure what the fit was going to be like based on the photo. I wanted to make sure it fit oversized because I like that look and it's great to wear with leggings and boots during the fall.
For this top, I purchased the green in a medium and it fits perfectly so definitely get this in your normal size! I also recommend reading the other reviews because I'm not the only one who loves this top. It's lightweight and really good for transitioning into fall and is so so so soft and flattering in the way that it's cut. I highly recommend this top, and one of the best part is it's under $16 at only $15.98!

1. GREEN TOP | 3. JEANS | 4. SNEAKERS
I'm posting the pictures of me wearing it in the large is the top as well so you can see. The large is definitely too big on me but I just want to show you guys so you could see.

1. IVORY BEIGE TOP | 2. JEANS | 4. SNEAKERS
BUTTON-UP BOXY TOP
Here's another top that I love! I'm almost mad at these pictures because I feel like it they don't do the top justice and it is amazing! I have a top that is almost identical to this that I bought from another company that cost me over $100. You guys know me I barely ever spent a lot of money on clothes but I loved the fit of the top so much that I splurged on it. Well this one is exactly like it for a fraction of the price. I just bought it the other day and it's already completely out of stock so I'm guessing another influencer posted about it and it's sold out. I'm so sad about it because I was planning on buying it in a bunch of other colors. I'm liking it here anyway just in case it goes back in stock.
Oh and definitely size down in this one. I'm normally a size medium and I got the size small in this. And I still have plenty of room in it! And it give me that boxy look that I love.

1. TOP | 2. JEANS | 3. SNEAKERS
Green Pants
I've linked this pair of pants before but I'm linking them again because when I put them on the other day Kevin told me it was one of his favorite outfits on me. And when he says things like that to me when I'm wearing something it sticks with me. I'll say it's one of my favorites too! It's just so dang comfy! I love that they're high-rise. I love that they're baggy, I love love love that they're only $18! This is another item that I recommend sizing down on if you're in between sizes. I'm a pretty solid size medium and I got a medium in these and they're definitely baggy. If they were any bigger they would be too big. I almost wonder if they would fit even better if I got the small, but I'm happy with the medium. Just know if you're in between sizes you definitely want to size down.

1. GREEN PANTS | 2. TEE
And depending on where you live you might have to pick these up from your local store. When I go it looks like the size medium in the green pants need to be picked up at my local store but the dark latte color can be shipped. I actually just bought the latte color because I love that color! They also come into other colors.

You'll See Me In These Soon!
I'm also linking a few other things that I bought but I didn't get a chance to photograph yet but I'm going to be sharing in stories this week so linking them here for you guys. Like these Time & True high-rise skinny jeans. I got both pairs and I love them and I think you guys will too. I'll show more in stories. Also linking an amazing pair of slouchy knee-high boots that are only $34 and are killer! They're already out of a couple sizes so get these fast before they sell out. Last but not least a skirt, a jumper, and a couple other tops I got in love.

I hope you guys enjoyed this Affordable Friday! I absolutely love doing these posts! It seriously brings me so much joy when I'm out and about wearing one of these outfits and someone asks me where I bought it and I get to tell them Walmart and how incredible it is. It brings me the most amazing sense of pride and joy – I truly can't even really explain it to you guys. I love being able to show people that they don't have to spend a lot of money to look and feel the best! I hope you guys enjoyed it. Let me know what you think in the comments below.