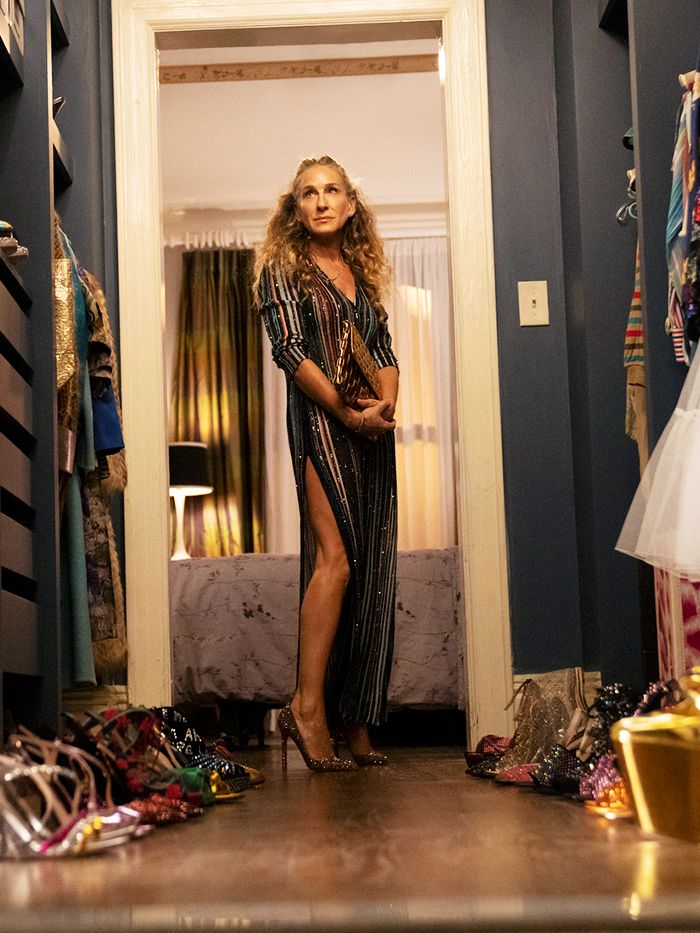 It was the most memorable scene from the series finale: Carrie Bradshaw coming to the Pont des Arts Bridge in Paris, a spot where she and Big had finally professed their love for each other, to scatter his ashes.
And it was a poignant moment in more ways than one—because in saying goodbye to Big, we said hello to the old Carrie, who emerged from a chrysalis dressed to the nines in a dazzling neon-orange Valentino Couture ball gown, fuchsia gloves and Timmy Woods Eiffel Tower bag.
Here was the old Carrie we loved; the Carrie we hadn't seen since Sex and the City; the Carrie who treats her shoes like children, who can put on an outrageously frou-frou dress because she damn well feels like it and wear it as nonchalantly as the rest of us wear jogging bottoms.
But we had to wait a whole series to meet her again.
Let's face it. Sex and the City had a lot to live up to this time around. When it first hit our screens in 1998, the show was every woman's must-watch—setting trends, sparking debate, breaking taboos and liberating women. Carrie, Miranda, Samantha and Charlotte ghosted men before ghosting was even a word. When it came to sex, nothing was off-limits.
Above all, though, it was a fabulously escapist ode to fashion; a weekly runway of looks we could only dream of wearing. Forget sex—the fashion is still what it's most remembered for, even 18 years after the final episode.
So did the new show live up to expectations? To answer that, we need to remember that it comes hot on the heels of a global pandemic, the Black Lives Matter movement, Me Too and a climate emergency. The three women (sans Samantha, who is much missed) are now in their 50s, no longer fully paid up members of the shop-till-you-drop, no-strings-sex noughties. The characters needed to move on, and so did And Just Like That.
But in making it feel more real, in the great words of Ms. Bradshaw, I couldn't help but wonder if it lost its way.
I have two (very small and tenuous) things in common with Carrie. I am also a writer, and I'm in my 50s. Although I don't have an artfully curated vintage/designer wardrobe, I love fashion and have worked in magazines for much of my career.
There aren't many programmes starring fashionable women of my age, so a reboot felt like progress. And I wanted to be challenged like Sex and the City used to. However, in its eagerness to be relevant, it felt like it was following the issues of the day rather than spearheading them—paying scant lip service to things like gender politics and menopause.
And when it came to the fashion, there also seemed to be a lag.
Once, Carrie's closet was the star attraction. Sure, some of it wasn't to everyone's taste. The men's ties, flat caps and crocheted baker-boy hats were a step too far for most, including me. But it set trends, and even though we all first poo-pooed a tutu, I still own several, albeit watered-down versions in my wardrobe.
At times in And Just Like That, Carrie's wardrobe seemed to lose its mojo, leaving other characters to steal the limelight. Ultimate boss Lisa Todd Wexley (aka LTW) blew Carrie out of the water with her accessory game, sweeping into a scene with an exuberant swoosh of a giant beaded necklace. Her safari jacket (episode nine), courtesy of Jeremy Scott for Moschino, had the entire contents of a makeup bag strapped to it—bonkers, yes, but it made you hit the pause button.
Sure, the fashion in And Just Like That had the hallmarks of classic Carrie—her trick of throwing on a mad, quirky accessory only she could pull off. And making even the edgiest, hardest-to-wear high fashion look easy.
Back too, were the familiar style staples that made Carrie so watchable: clashing prints, pretty vintage silk dresses and intricately embroidered dress coats. Old favourites were pulled from the archive, nodding to our more sustainable times and delighting fans: the "wedding" Manolos, the "Roger" belt and the white Chanel booties.
But while there were glimmers of the old Carrie—special mentions to her vintage rainbow '80s Norma Kamali Madras blazer (episode four) and delicious bubblegum-pink Carolina Herrera dress (episode three)—there was nothing that made you sit up on your sofa and take notice.
Perhaps her fashion exuberance was dimmed for a reason. Props to the show's stylists for not giving two hoots about age-appropriate dressing. As all women over 40 know, this is a ridiculous (and slightly insulting) notion. Could they have been nodding to the fact Carrie was a grieving widow? Perhaps so, but like the old Sex and the City, which never let a plot get in the way of a good outfit, I kept on wanting more.
I read a piece recently where a writer said they would have liked to have seen Carrie in trainers. I disagree. Carrie is heels.
And therein lies the rub: In the cries for realism, did the fashion escapism get lost? Carrie has always been fabulous, frivolous and, dare I say it, fictional. She is a bright fashion light, a tonic for the times we are living in. She doesn't need her star dimming.
Let's hope this series was just a warm-up. With discussions reportedly in progress to greenlight a second series, it seems like we could be seeing more of Carrie and co.
And if that big orange dress is a sign of what's to come, I'm looking forward to it.
Real estate agent Seema Patel brought the sex back. Her raunchy leopard-print Etro trouser suit in episode six and statement gold lamé brought the sex that seemed to be lacking following Samantha's no-show.
There were glimmers of Old Carrie in episode four when she came out of her brownstone wearing a huge white tutu, a 2022 nod to Sex and the City's opening credits.
The safari suit! The boots! The shades! Everything LTW wore was over the top, but alighting from a white Cadillac for a charity event in episode nine, this Jeremy Scott for Moschino outfit topped them all. The look of the series.
Most people can still cite their most memorable outfit. Mine was the impossibly-romantic 'mille feuille' Atelier Versace gown Carrie wore in a Paris hotel room for the final season of SATC, dusted off again for in episode eight.
The vintage 80's Norma Kamalimadras blazer and matching jumpsuit in episode four was a fashion rainbow that made your heart sing. SJP is known for being heavily involved in the styling of the show and her confident use of colour is one of her trademarks.