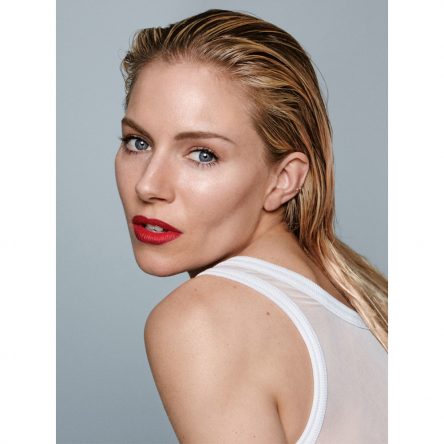 Sienna Miller is one of the clients I get asked about the most. How does she get her glowing golden complexion? What skincare products does she use? How does she do her own makeup? Luckily for you, she agreed to sit down with me in her New York home on my last visit and film a YouTube video so I could ask her all these questions for you! ICYMI when I first posted it last summer, I thought I'd share it with you again.
I've worked with Sienna for years and she's one of my absolute favourite people to work with; she has the ultimate face for makeup and she's willing to try anything, plus she brings plenty of ideas to the table herself (as you'll hear in the video). She's also pretty talented at doing her own makeup (sometimes I worry she won't need me at all soon!) and over the years she's even helped me come up with a few products with her genius ideas.
THIS POST MAY CONTAIN AFFILIATE LINKS
Things Sienna Miller has taught me about makeup…
In the video you'll hear Sienna talking all about her skincare and makeup regimes, but I thought I'd pull out a couple of tips and tricks that she's taught me over the years, one of which even led to me developing a new product for Burberry!
Using the Burberry Face Contour, Sienna did the outside of her lips, I said 'you can't do that!' but it worked so well that I actually developed the Lip Colour Contour for Burberry as a result of that.
Sienna always tells me that bright lipstick can brighten up a tired face. 'If you're tired it's a really good idea to put on a bright lipstick, because then people don't look at your tired eyes,' she tells me. And she's absolutely right! Sienna looks best in a burnt red, but to be honest she looks great in everything.
Sienna also suggested that I put the Burberry Fresh Glow Golden Radiance on her cheekbones and across her nose to give a golden glow; and that looked really great.
Find out more of Sienna's beauty secrets, worst habits and find out how she gets that famous glow (you might be surprised to hear…) in my exclusive YouTube video below, then read on to shop Sienna's skincare essentials.
Sienna's Skincare Essentials:
Here are just a few of the products in Sienna Miller's beauty bag that keep her skin gorgeous and glowing…
Dr Nigma Talib Hydrating and Plumping Serum No1
'Dr Nigma does a really great serum that I love.'
Dr Macrene High Performance Anti-Aging & Firming Serum
'Dr Macrene makes this 37 serum, it's a new thing that I'm using and it's great.'
Natura Bisse Diamond Glyco Extreme Peel
'This glycolic peel is good for occasional use.'
Charlotte Tilbury Skin Clay Mask
'I like both of Charlotte Tilbury's face masks, but the creamy one is my favourite.'
Dr Macrene High Performance Anti-Aging and Filler Lip Treatment
'I am a total lip balm junkie. I could put it on all day. It's almost compulsive to me.'
Elizabeth Arden 8 Hour Cream
'8 Hour cream is great for lips, and you can whack it on your face too if you're on a flight.'
READ NEXT: 5 Minutes with Sienna Miller | Sienna's Met Ball Look
© Wendy Rowe. All Rights Reserved.