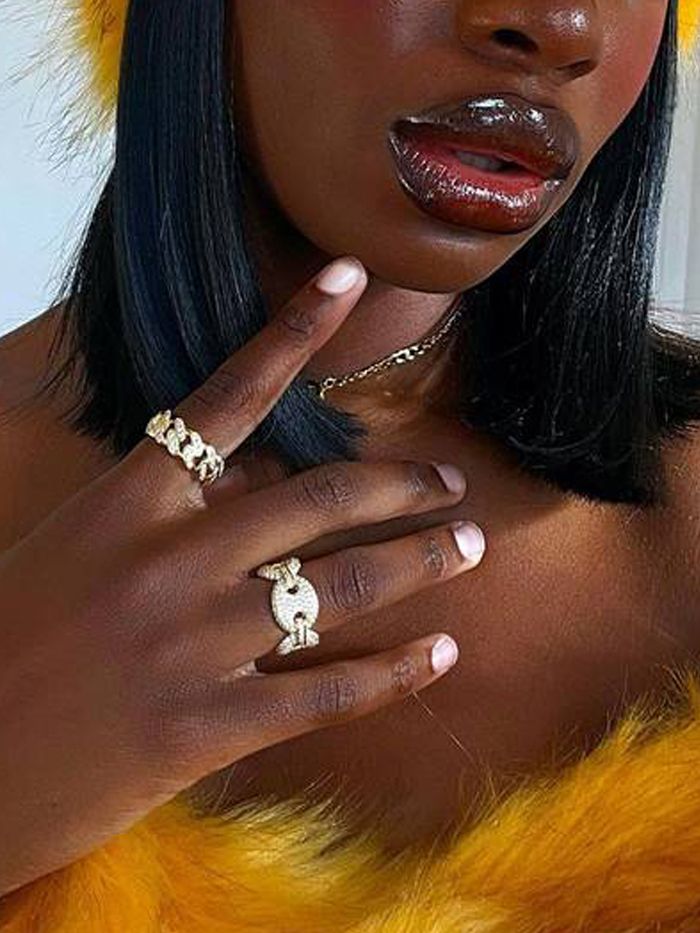 Party season is well and truly upon us, and whether you're keeping your plans low key or have a diary full of plans, we're all in need of a little festive cheer. One thing I'm certainly looking forward to is all the party makeup looks I've been eager to try out from glittery eyeshadows to glowing makeup and I've really been brushing up on my makeup skills in anticipation. The great thing is that the party makeup looks I've found are easy to create and can transform the most simple outfit into a WOW look.
If you're ready to be inundated with 7 party makeup looks that are absolutely worth copying, keep scrolling. I've even included my top products and tips so you can recreate the looks yourself.
For me, party season makeup isn't complete without a sparkly pop of colour on the eyes and thankfully we're always spoilt for choice with so many options from brands. Wearing shimmers doesn't have to be scary, whether you're looking for a vibrant shade that really pops or more of a subtle option that compliments the rest of your look.
To make the best of a shimmery eye, I like to start off by priming my eyelids with an eyeshadow primer to really make sure it stays in place throughout the day. I then will go in with a transition shade to create a seamless transition underneath the shimmer. Next, I'll either take a flat eyeshadow brush or use my fingertips to apply the shimmery shade all over my lids.
You can't possibly go wrong with a statement lip colour especially when you fancy keeping the rest of your makeup quite simple. A red lip is a timeless classic when it comes to makeup looks and does a great job at making any party makeup super effortless.
My usual shade of choice is either a red or a pinky-brown, as I find these shades really compliment my full lips. A few tips I recommend when going for a bold lip includes using a lip liner to help with the lasting power of any lipstick and picking a shade you feel comfortable in, a red for example doesn't have to be super bold, you can always opt for something that's a little more toned down.
Another lip finish that I think is great for the party season is a shade with a shimmery finish, I find the shimmer not to be too intense and the formula to be really hydrating for long-lasting wear.
There's nothing like a bold pop of colour on the cheeks and I often find myself daydreaming about Rihanna's 2017 draped blush look for the Met Gala. The great thing with blush is that it only takes a swipe or two to get the perfect colour payoff.
And, best of all? there are so many choices to pick from whether you're looking for an affordable pick or quite the splurge.
No matter the season, I'm always here for a glow! The great thing is that said glow can come from two ways—either with the makeup products you apply or with the skincare products you use for your base. There are serums, moisturisers and even face primers that can help you to easily achieve a perfect glow.
Simply start off with your skincare products of choice and then watch as your makeup glides over the top with your glow still intact. You can even opt for a setting spray with a luminous finish.
Colourful makeup is *probably* my favourite look to do when it comes to party looks as I find it to be so effortless and something I always get a lot of compliments on. There are many ways in which you can do a colourful eye look, whether it be with a bold eyeshadow shade or a standout eyeliner.
There really is an option for everyone and trust me, once you start incorporating colour into your routine, you won't be able to get enough of it.
Face jewels are a trend you'd typically find for festival makeup looks, but in more recent years it's become trendy for everyday makeup and party looks. We have TikTok to thank for that.
The great thing is that a lot of face jewels available are reusable, meaning the looks you can create over party season are endless. Just make sure to read the instructions carefully to really get the best out of your jewels.
Last but by no means least is glittery inner corners. If you find yourself stuck for inspiration then this couldn't be easier. Simply take your favourite eyeshadow wand or add your go-to sparkly eyeshadow to an oval-shaped eyeshadow brush and add to the inner corners of your eye.
Best of all? there are no rules as to how much glitter you can apply to the area.