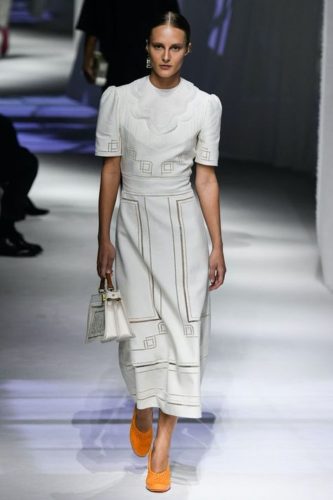 All white fashion trend from 2021 runways
As you've already probably known, there are a lot of fashion creative designers have added all white fashion clothes into their collections.
I continue to add fashion trends to this site and today I'm going to show you all white fashion trend photos from different runways and fashion collections. Yes, white always was a favorite color for spring-summer fashion but in 2021 it becomes a ready hot trend.
And now in 2021 you only need to wear all white clothes at once to be fashionable and fab.
If you don't know how to compose your all white outfit or combine your white clothes, just imagine how to wear denim with denim. So you can start with white jeans, then add a white top, blouse or shirt. Or you can start with a white dress (short or long – it doesn't matter) and continue with white sneakers or vans. Also, of course, you can add a white hat, belt, flower, bag, jewelry and etc. And finally, you can see in a mirror that your all-white outfit is completed.
Let's check Runways' ideas to catch outfits and all-white fashion combinations for your everyday inspiration from Zimmerman, Altuzarra, Andrew Gn, Fendi, Alberta Ferretti, Christian Dior, Chanel, Tory Burch, Iceberg Fashion Houses
Please, tap and swipe to check all white fashion trends photos >>
Fashion 2021 Main page
Do you follow me on Pinterest and Facebook? Follow me now!