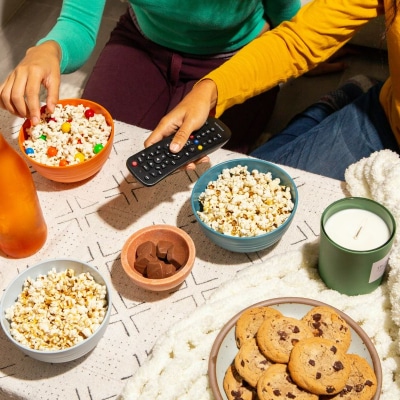 Happy short workweek (to most of our readers, at least)! We thought we'd start off Thanksgiving week with a chat about some movies you're, well, thankful for. Let's talk about holiday movies — and feel free to go beyond winter celebrations into any holiday themes!
Looking for non-holiday movies to watch during your time off this week, maybe even during Thanksgiving family get-togethers (to avoid political talk, perhaps?)? We've discussed office movies (including 9 to 5 and Working Girl), underrated movies, and fashion movies in the past…
When I think of my holiday faves, what immediately pops into my head is Love Actually, which somehow came out 20 YEARS AGO. I've lost count of how many times I've seen that thing. (For a while, my husband and I watched it every year at Christmastime, but we fell out of the habit a few years ago.) Yes, a lot of the movie is definitely, er, problematic (even "for that time"), as Lindy West explained in 2013 when she ripped it to shreds in Jezebel.
My feelings about Love Actually are perfectly represented by one of my favorite Onion articles, "Woman Takes Short Half-Hour Break From Being Feminist To Enjoy TV Show." Because it has Emma Thompson! Alan Rickman! Colin Firth! Laura Linney! Bill Nighy! THAT Mariah Carey Christmas song, which I unabashedly love! (Film trivia: Olivia Rose Olson, the young actress who sung it in the movie, performed so well that Richard Curtis told her to tone it down so that she'd sound more believable as a 10-year-old.) Love Actually will probably always be one of my comfort movies.
As for Kat's picks, her votes for holiday family movies are Elf and Home Alone, and though she says she typically can't stand Hallmark movies, she gives Vanessa Hudgens' Netflix holiday movies a rating of "OK" — Movies to Wrap Presents To, as it were. (I've watched a couple of the Princess Switch movies myself when I wanted some brain candy, and I'd say they're holiday-serviceable.) As The Cut declared a couple of years ago, "Nothing Says Happy Holidays Like Another Vanessa Hudgens Movie on Netflix."
So, do tell, readers: What are your favorite holiday movies? Does your family always watch It's a Wonderful Life (speaking of The Onion, here's their NSFW "review"), Miracle on 34th Street, or another classic? Would you die on the hill that Die Hard is a Christmas movie? Are Hallmark Christmas movies your guilty pleasure? If you don't celebrate Christmas, or Christmas movies just aren't your thing, what are your favorite movies about other holidays?
Image via Stencil
The post Open Thread: What Are Your Favorite Holiday Movies? appeared first on Corporette.com.