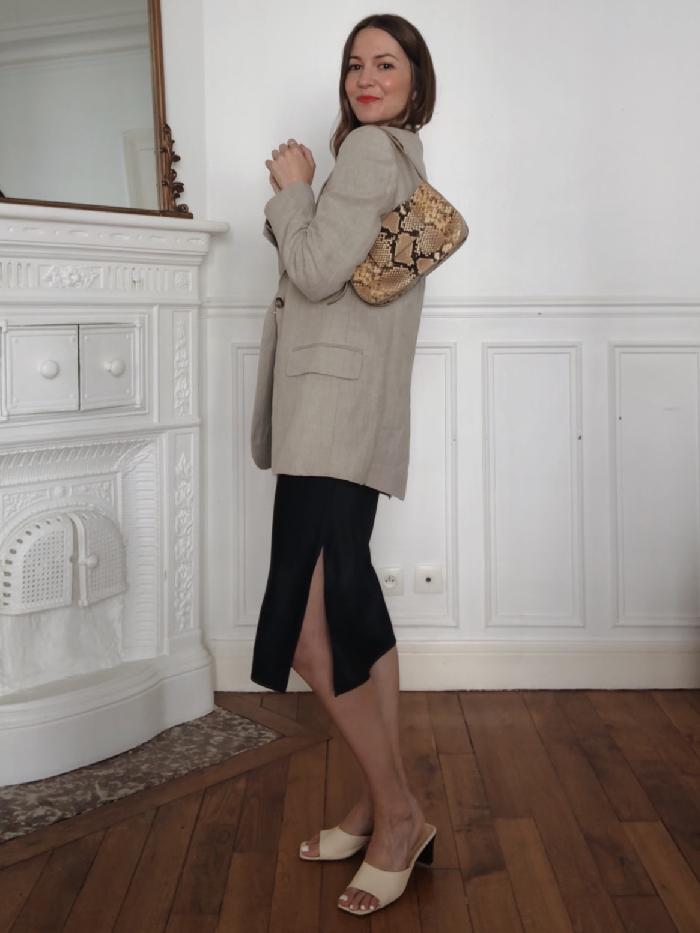 I'm a big advocate for the capsule wardrobe—an armoire filled with cherry-picked items that, to borrow from Marie Kondo, give me only joy when wearing them. Conscious shopping is something I've adopted too in the past eight and a half years since moving to Paris, and it's also incidentally something I write about in my book, Practising Parisienne: Lifestyle Secrets From the City of Lights. 
I've found that Parisians have a knack for picking forever pieces, are less likely to buy into fast fashion and have a penchant for vintage and pre-loved clothing that they mix in with more up-to-date styles. They have certainly inspired my own style that's a lot less try-hard than it used to be, and I now invest in pieces that last: elevated basics that I can wear again and again, such as a black blazer, a great pair of jeans, a trench coat, a shirt or a slip dress. 
At first glance, you might think that a slinky, body-hugging slip dress should only be worn to elegant soirées, but its simple silhouette means it can actually be styled in a multitude of ways for different occasions, making it one of the most effortless and versatile pieces you can own. It can easily be dressed up or down and worn with everything, whatever the weather or your mood. Scroll down to see my favourites, plus how I've styled one five ways.
Trust Arket to not just create the most beautiful slip dress on the high street.
This form-fitting dress comes in sizes XS to 4XL. 
You can always rely on Raey for elevated staples.
A slip dress works all year round. Wear with layers in winter and sandals in summer.
The racer neck on this iteration is super flattering.
Ghost's slip dress is a best-seller for a reason…
So chic. 
Opt for a cowl neckline for something a little different.
There's so many ways to style this sleek dress. 
The lace detailing on this style is just stunning.
Asceno is known for its gorgeous satin styles.
This Faithfull the Brand number style is extra special.
Style Notes: I'm a blazer girl, but I sometimes like to switch it up with an oversized denim jacket, which immediately dresses down your look. Throw a cosy sweater over the shoulders for the cooler temperatures. This striped style has become my go-to and gives a nod to the city I live in. 
A wardrobe staple that you'll rely on for years to come. 
All our editors see striped jumpers as a staple. 
For chilly days, I trade my Arizonas for the cosier Boston version. 
Style Notes: No capsule, or French wardrobe for that matter, is complete without a good white shirt. It also makes a great cover-up for a slip dress, dressing it down so you don't look too overdone. Go for an oversized style that works with today's trends. 
Every wardrobe should have a great white shirt. 
A timeless style.
Style Notes: A slip dress looks great under a trench (ideally one that's the same or a similar length). Pair it with long, chunky boots for a casual yet cool lunch look. 
Every French woman's wardrobe features a trench coat. 
Boot season is here.
This could easily pass for designer. 
Style Notes: A slip dress plus a knit is the perfect example of effortless dressing. I think it would work just as well for a date night on a cold evening as it would for the office teamed with a blazer.
I'm yet to meet a turtleneck I don't like. 
So sleek. 
Style Notes: This is probably the easiest evening look I know: a slip dress paired with a blazer, a baguette, heels and a slick of lipstick!
Such a great blazer.
Add a contrasting print and texture with this snake embossed bag. 
Parisians love touches of luxury, here and there.
Next Up: The Anti-Jeans Outfits French Girls Are Wearing on Repeat This Winter
This story was published at an earlier date and has since been updated.