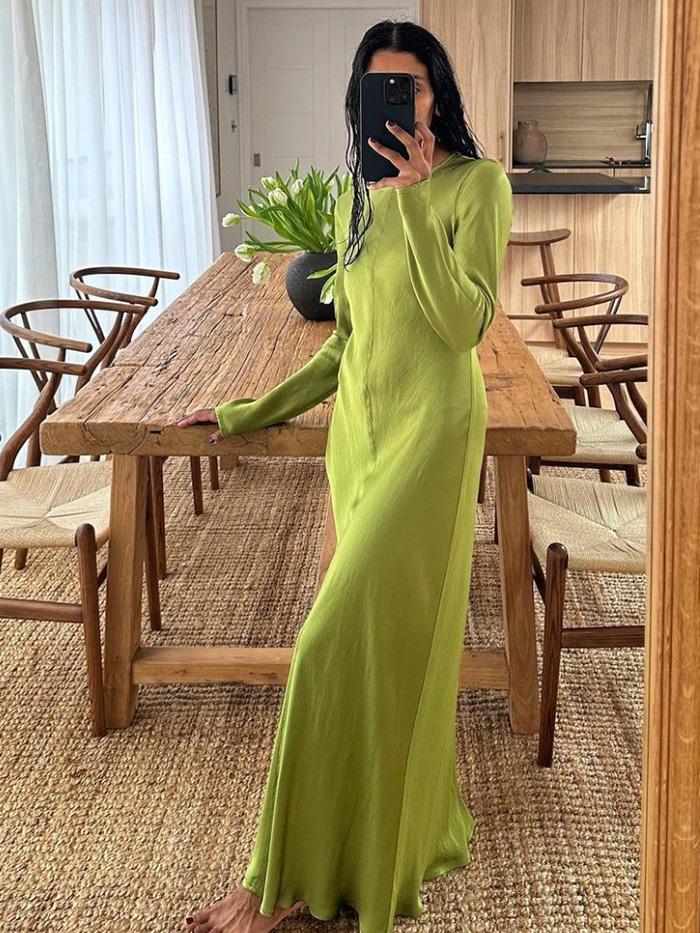 In the '90s, Ghost was one of the first places we'd visit when looking for a new dress as its silky slip dresses were the height of cool. But, as the brand focused on satin dresses and sleek tailoring, we tended to think of it as a destination for bridesmaid frocks and occasion-wear only. Now, thanks to a reboot of its button-front tea dresses and slinky midi dresses, Ghost has become decidedly cool again, and our team (like the many influencers we follow on Instagram), are all in agreement that this is now one of the very best places to snap up a quality, classic dress design in 2023.
And it turns out Kate Middleton agrees, as the royal is often spotted out and about in the brand's designs, such as the blue floral dress £90 Anouk dress she wore that sold out as soon as she was spotted in it. She's also the proud owner of the Ghost Avery dress too, and I have a feeling she'll be adding more styles to her wardrobe for years to come.
Monikh shows us the power of simplicity with this floaty monochromatic look.
But it's not just the royals who are infatuated with the brand. Plenty of our favourite influencers (as well as an abundance of editors) consider it their go-to for easy summer day dresses and event dressing (keep scrolling to see deputy editor Maxine Eggenberger's take on dressing up the Palm dress if you don't believe me).
And now Ghost has repositioned itself as one of the labels you see all over your Instagram feeds, it makes it even more sense to shop these investment dresses during Black Friday while you can get 25% off everything on the site. That's all of the midi and maxi length dresses, pretty floral prints and vibrant colours your wardrobe could ever need. Keep scrolling to see how our team and influencers share their own Ghost pieces; then shop our edit of the best ones.
Francesca styles the cult Palm dress with vibrant gazelles.
Marilyn has made a strong case for molten metallics in this dreamy gold dress. 
Nicole Ocran styles the Immy dress with chunky trainers. 
Who What Wear deputy editor Maxine Eggenberger has several of the palm dresses in different colours, but we love this deep plum for party season.
Okay, i'm sold. The Alice scarf and the Maisie dress make a killer combination. 
Pure evening elegance. 
I don't know about you, but I'm ready to make evening plans just to wear this number. 
Simply spectacular. 
It just wouldn't be Christmas without a little velvet. 
BRB, just copying this styling with bright tights. 
The Mari dress in this navy hue is stunning.
Look at that dreamy colour.
This is perfect for a civil ceremony.
You'll wear this for so many occasions. 
Ghost is a go-to for slip styles. 
You've probably seen this all over your IG feed recently…
A vintage-inspired neckline. 
This will make a beautiful wedding guest dress. 
Orange is key for summer. 
For the modern bride. 
24 carat chic. 
You can't beat a LBD. 
Such a pretty polka dot number.
Up Next, It's Party Season—Here Are 7 Major Trends That Work for Every Dress Code
This post was originally published at an earlier time and has since been updated.