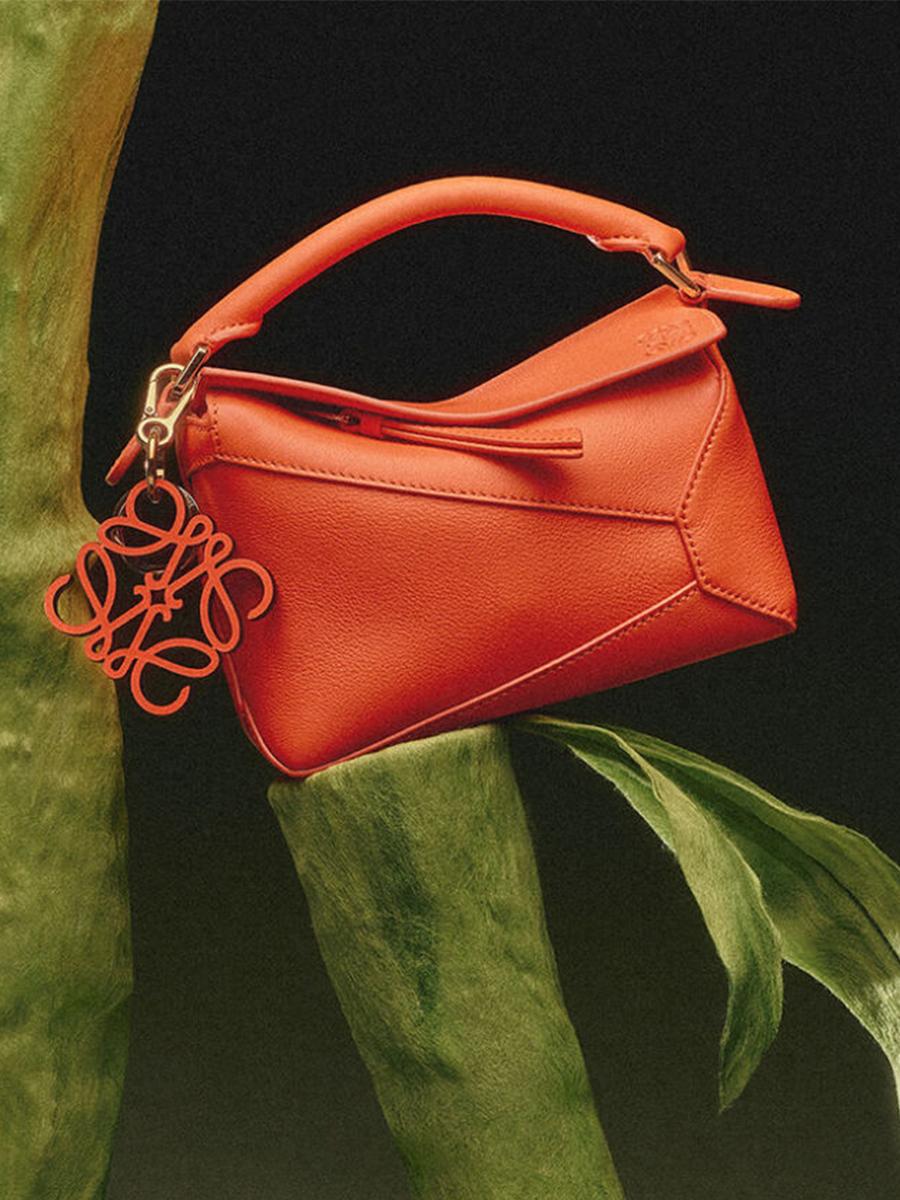 In the world of fashion, there are few brands that manage to create a piece so iconic that it reaches true It status. Fewer still are able to create more than one. Loewe, on the other hand, has many. You'll be well aware of them, from the basket bags that have become synonymous with luxurious European summers, to the iconic Puzzle bag that evolves each season through new colourways and cuts, or the enduring appeal of the brand's anagram logo tank, a piece that has become a byword for cool.
With each new collection, It pieces are reformulated with new twists and yet more cult favourites are born. Alongside the classic items that Loewe has finessed there is an inherently more conceptual nature, where creative director Jonathan Anderson manages to make fashion people crave items they never knew they needed. These unique styles come in fantastical forms—take the brush-heeled sandals or the Toy pumps—demonstrating the brand's unrivalled ability to harmonise fun and form. And that's exactly what we've been served for 2023's holiday collection. 
As we gear up for Christmas, Loewe is ensuring that we embrace the joyful nature of this time of year. In collaboration with Kyoto-based ceramic studio Suna Fujita, the collection draws upon imagination and childhood memories, brought to life in the characters we see featured throughout the styles. Find pandas climbing trees on Loewe's sculptural Hammock bag, penguins diving off the brand's logo along a wool sweater, and a pair of lemurs exploring a patterned knit. What's more, Loewe will donate part of the proceeds from every purchase from the collaboration to Save the Children's Education in Emergencies programme, which works to guarantee safe and protective learning for children in humanitarian crisis situations around the world. 
Along with its playfulness, the collection brings a strong focus to craft. Whilst the collaboration highlights the illustrated wonders of the Suna Fujita studio, the core collection shows a well-rounded view of Loewe's own craftspersonship. There are timeless wardrobe additions given a very Loewe twist through interesting finishing touches like exaggerated cuffs, asymmetric hems and clever logo placements. Proportion play has become a signature of the brand, delivered in ready-to-wear and accessories alike, from oversized knitwear to inflated cat-eye sunglasses, and of course, the Puffer Goya bag. The reimagined classics are bolstered by the introduction of new colourways, from deep burgundies that seamlessly blend with neutrals, to standout shades of pistachio and tangerine that are destined to draw the eye. From the minimalist to the maximalist, Loewe's holiday collection sprinkles its own brand of festive cheer into each piece this season.  
Keep scrolling to explore. 
Bring some whimsy to your days with this illustrated Hammock bag. 
Fashion people can't get enough of scarf coats, and this one looks particularly cosy. 
Take simple stripes to new heights. 
This joyful tote also comes with a detachable shoulder strap for multiple ways to wear. 
You'll cuddle up in this cosy sweater for every winter to come. 
The tiny penguins are a subtle addition to this elegant striped shirt. 
This Puzzle Fold Tote has been on my wish list since it released. 
Your favourite winter jumper, but better. 
Ideal for gifting (or self-gifting) this season. 
The newest addition to the brand's It bag repertoire. 
From the architectural heel to the petal-shaped toe, these boots are a subtle standout. 
Carry as a clutch or wear with either the leather or chain strap. 
No matter the season, sunglasses are the finishing touch to any outfit. 
Come winter, Loewe's beloved scarves take centre stage. 
Introducing the new burgundy iteration of the brand's iconic Puzzle bag. 
This reversible belt offers a beige and burgundy colourway, complete with the distinct brand anagram. 
Step up your footwear with these playful pistachio mules. 
Compile your daily essentials in this vibrant Flamenco clutch. 
Invest now, wear forever. 
A sleek addition to any wardrobe. 
Tap into Loewe's love of proportion play with this anagram sweater. 
Your classic jeans just got an upgrade. 
Combine form and function with a sleek cream puffer jacket. 
The asymmetric front-to-back hem adds a fresh twist. 
The dropped shoulders add a relaxed feel to this shearling jacket. 
Add an element of intrigue by rolling the sleeves with the detachable cuff chains. 
Next Up: The Winter 2023/2024 Fashion Trends That Really Matter