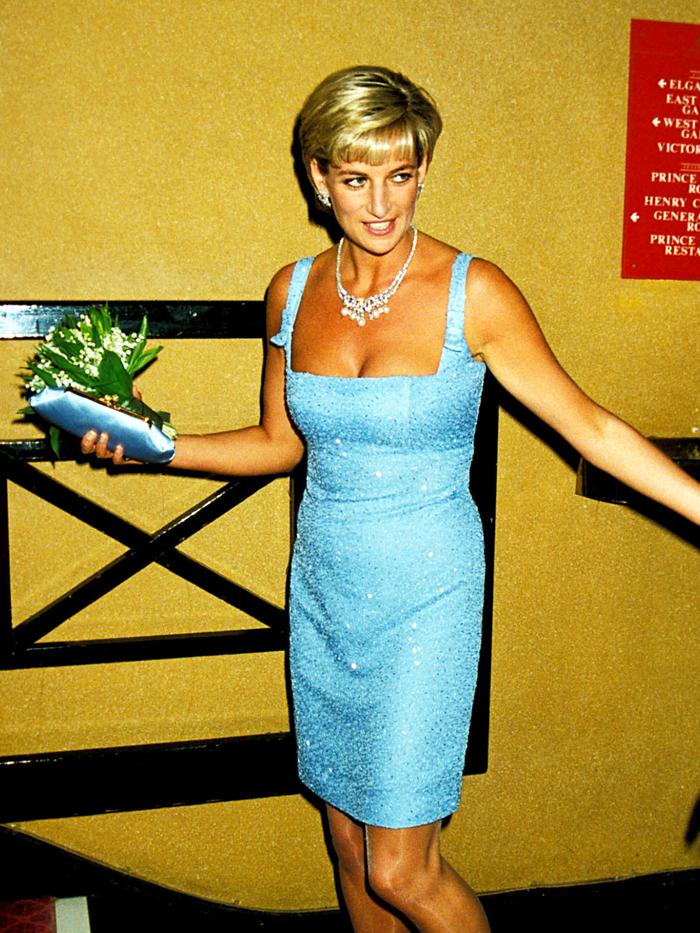 Countless exhibitions, a plethora of books, and many, many a Who What Wear UK article all serve as proof that the world has an infatuation with Princess Diana's style. This year, our obsession reaches yet another peak thanks to Elizabeth Debicki's spot-on portrayal of the beloved icon in the most recent season of The Crown. 
It's clear, from the moment Diana stepped into the royal spotlight that her outfits would be put under the microscope, however, the fascination still remains today. Looking back, it's fair to say that she was one of the most progressive dressers of her time (not to mention lineage).
Elizabeth Debicki as Princess Diana in The Crown season five. While we're besotted with just about every aspect of her wardrobe, be it off-duty or fabulously chic, it's Princess Diana's party outfits that truly set our fashion pulses racing, particularly this at this time of the year when "party season" is at the fore of our minds. With office nights out and get-togethers on the horizon, Princess Diana's excellent array of sequinned, bejewelled, and fanciful ensembles are here to inform your own wares (or to live vicariously through).  As such, we've devoted hours to archiving our favourite Princess Diana party outfits in one place to serve as inspiration for the festive season ahead, and as a reminder of what a style star she was. 
Style Notes: For she and Prince Charles's first public outing since announcing their engagement in 1981, Diana opts for a black strapless dress by The Emanuels. Of course, the design duo would later go on to create her magnificent wedding dress. 
Style Notes: On paper, blue and white polka-dot tulle shouldn't work, but on Lady Diana for a dinner at Claridges in 1981, it was the perfect choice. 
Style Notes: What's the use in being a princess if you can't dress like one? This ice-white creation looks dream-like set against her skin tone.
Style Notes: We don't know about you, but this midnight blue velvet dress, complete with on-trend lace collar, is precisely the sort of thing we'd wear today. Trust Diana to be ahead of the sartorial game all the way back in 1981. 
Style Notes: While pregnant with Prince William, Princess Diana held onto her style prowess in this scarlet maternity gown by David Sassoon. 
Style Notes: We'll be dreaming of sapphire sequins and spaghetti straps tonight. What a way to kick things off, Di.
Style Notes: As if the one-shoulder trend wasn't enough, Diana embraced '80s fashion in all its glory with a ruffled neckline to boot.
Style Notes: Red can be a bold hue to pull off, but it's no match for Diana. See how she's pulled out the gold accent in her dress a coordinating clutch? Masterful.
Style Notes: We don't know what we love more—the bow straps, or the Spencer family tiara. 
Style Notes: We don't know what we're more impressed by—her glittering tiara or her wide metallic belt. Yes to the accessories.
Style Notes: Princess Diana wears an achingly cool tuxedo by Margaret Howell while secretly pregnant with Prince Harry at a Genesis concert. Bravo. 
Style Notes: Attending the Indiana Jones and the Temple of Doom premiere in a blue satin wrap dress. This look is so 2019 that we'd gladly wear it to our office Christmas party.
Style Notes: The outfit might not say "party," but Diana's new hairstyle sure does. 
Style Notes: Sequins, bows, and metallic accessories—Diana pulls out all the party stops to take in a performance of the stage show, Starlight Express. 
Style Notes: Diana debunks the myth that blondes don't suit yellow.
Style Notes: Looking glam in silver lamé, we could swear we saw this exact dress on Matches last week. Diana was indeed a woman ahead of her time.
Style Notes: This Jasper Conran cream skirt suit, complete with a quirky bowtie, is so, so slick. 
Style Notes: This drop pep-hem dress couldn't be more '80s if it tried—and that's precisely why we love it.
Style Notes: The diamond headband is grossly overlooked in the world of bijoux.
Style Notes: One of Diana's chicest looks to date, this embellished one-shoulder dress is a prime example of timeless style.
Style Notes: Dancing with John Travolta at the White House calls for something suitably swooshy—something we know all too well.
Style Notes: Diana proves that matching your bag to your dress is far from passé. 
Style Notes: The plunging neckline, the bright satin fabric, the crystal closure… This fabulous two-piece has Alessandra Rich written all over it.
Style Notes: This dress is nothing short of fabulous—as are the mismatched gloves.
Style Notes: Proving royals needn't adhere to the nude tights rule, Diana receives top marks for her excellent use of colour hosiery. Also, must track down taffeta opera gloves.
Style Notes: In our opinion, you should never need an excuse to wear opera gloves, but the opening night of The Phantom of the Opera in 1968 is as an opportune time as any. 
Style Notes: This crushed velvet dress needs to be viewed from the back to be fully appreciated. Just look at that string of pearls. 
Style Notes: This dress wouldn't look out of place on the Oscar de la Renta runway. Divine.
Style Notes: Diana ensures her little black dress still makes a big impact by choosing one with interesting chain-motif straps. 
Style Notes: No '80s style album would be complete without a nautical-themed dress, but Diana's is easily the most impressive we've seen.
Style Notes: Diana looks elegant in a halter neckline for the premiere of Far and Away. 
Style Notes: Proving she wears suits just as well as dresses in an elegant, ivory lace two-piece.
Style Notes: Back at it again in floor-length sequins, Diana kept coming back to the trumpet dress silhouette—easily the most flattering style for her figure.
Style Notes: See? We told you trumpet silhouettes look beautiful on her.
Style Notes: Easily one of her strongest party looks, Diana never looks more stylish than when she wears cream embellishment.
Style Notes: The gold buttons give this could-be Emilia Wickstead dress a jaunty feel.
Style Notes: This would arguably become Diana's most iconic look of all time. Designed by Christina Stambolian, the dress was created for Diana three years before it received this outing in 1994. It's been said Diana was concerned it would be too daring. However, it would mark a new age in Diana's illustrious style history, and would swiftly become known as her "revenge dress." 
Style Notes: For the 1995 Fashion Awards, Diana wears a navy dress by Catherine Walker, which she effortlessly offsets with a slicked-back hair 'do. 
Style Notes: That's right—Princess Diana was wearing slip dresses before anyone else. We bow down.
Style Notes: One-shoulder, off-the-shoulder, halter… Diana knew the power of a sexy neckline.
Style Notes: Proof that little black dresses are anything but boring. Wearing a dress, shoes and bag in the same hue is the simplest way to make it look like you've spent hours working out to wear when, in actual fact, it only took two minutes.
Style Notes: We rarely saw Diana wear purple, but this look proves it pays to change up your colour palette.
Style Notes: Giving good suit in this double-breasted checked style. Simply switch the top-handle bag for a beaded pouch bag.
Style Notes: Continuing her penchant for embellished minidresses, Diana knows that sometimes less is more when it comes to accessories.
Style Notes: Wearing a beautifully bejewelled minidress, matching accessories and diamonds… Princess Diana's party outfits don't get better than this.
Style Notes: Princess Diana wears a sparkling Jacques Azagury gown as she attends the Tate on her birthday in July 1997. 
Next Up, The Stats Don't Lie: These 6 Designer Bags Are Always Worth the Investment
This story was published at an earlier time and has since been updated.