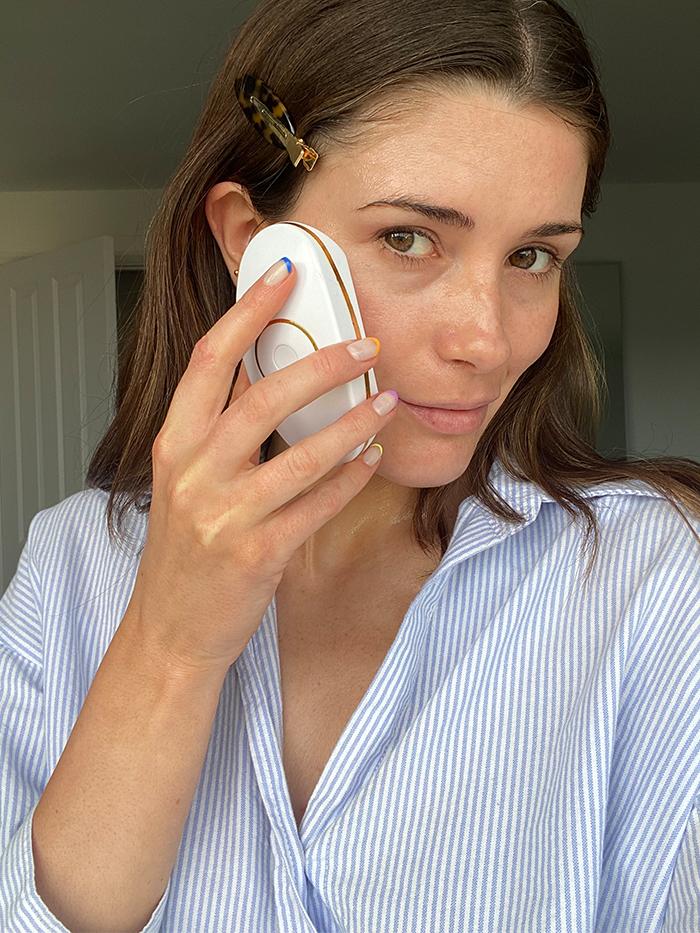 Black Friday is the time to stock up on all things beauty. It's the ideal opportunity to replenish your skincare and makeup favourites and take the plunge on that coveted fragrance you've had your eye on. However, if there's one Black Friday beauty item you should be bookmarking for a serious saving, it's beauty tools.
In my experience as a beauty editor, I generally get the best Black Friday deals on beauty tools. Be it skincare gadgets or hairstyling tools, there are big discounts and savings to be had on beauty devices across the board. 
Beauty tools are one of the best investments you can make in your routine. While serums and moisturisers can only reach the surface levels on your skin, skincare tools allow you to supercharge your routine by lifting, sculpting and enhancing the absorption of your skincare. Take LED (aka, light emitting diode) devices, which use light wavelengths to kick-start collagen and treat acne breakouts from the inside out, or a microcurrent facial tool that whips facial muscles into shape. Sure, you can get these professional treatments in clinics, but there's nothing like the convenience of having an at-home device in your arsenal. And don't forget hair tools. A new hair dryer or hairstyler is most definitely an investment purchase, but Black Friday is the prime time to snap up a deal to unlock your best hair yet. With Black Friday now here, I've bookmarked some of the best beauty tools, devices and gadgets that I've found on sale.
I put one of Déesse Pro's famed LED masks to the test earlier this year for two weeks, and it's safe to say I was so impressed with the results on my skin. (You can read my LED mask review here.) Yes, they are expensive, but if you've been thinking of investing in an LED mask, this one currently has 25% off (a huge saving of £360) on Face The Future. It helps improve acne by killing blemish-causing bacteria, boosts collagen and helps to treat pigmentation too. My skin has genuinely never looked better than when I put this to the test.
Dr. Dennis Gross's LED mask is a more affordable option and helps to plump wrinkles from the inside out and fend off acne-causing bacteria. On Liberty it currently has 25% off, saving you £86.
I need to update my makeup brushes, and this set is incredible value. It's worth £35 if you were to buy the brushes individually, but it's yours for less than half. In the set you get a blusher brush, buffing brush (my favourite for foundation application), a powder setting brush, eye shadow brush and a makeup sponge. All useful and great quality too. You literally cannot go wrong.
While we've not yet seen a deal on the Dyson AirWrap in the Black Friday sale, you can get £75 off the Corrale Straighteners on John Lewis & Partners when you join its free My John Lewis rewards programme. These quite possibly be the best straighteners I've tried for creating straight and sleek styles and well as creating curls. They're also cordless, making them so easy to use.
Microcurrent devices have soared in popularity in recent years for their ability to work the facial muscles to lift and tone for a sculpted appearance. Foreo's Bear is one of the most popular microcurrent devices (which uses electrical current to lift, tone and brighten the skin) and you can save £58 on Amazon right now.
If you're a fan of FaceGym's viral facial workouts, then this one is for you. This device also uses electrical currents to lift the muscles to achieve a firming and sculpted look. FaceGym describes it as a power plate workout for your face, and I definitely want in. It's currently on offer for £412, saving you over £100 which is a great discount. If you want the results of a high-tech facial at home, then you can't go wrong with this.
This nifty device is reportedly loved by Jennifer Aniston, and you can save £85 right now of Currentbody. Ziip's device uses nanocurrents and microcurrents, which send signals to the skin to kick-start collagen production, reduce acne-causing bacteria and help target pigmentation. Read our full review of the Ziip device here.
Consider this your magic wand. Not only do you get easy, bouncy curls in an instant, but this Black Friday you also get £40 off, an accessories kit, and a free vanity mirror. Did I also mention that Cloud Nine plant a tree with every order from their Evergreen collection? It just gets better and better. 
Black Friday is the best time to buy an at-home hair-removal device if you want a great saving. The Philips Lumea is currently on offer on Amazon with an £80 saving, and is regarded as one of the best to reduce unwanted hair on the face and body. As someone who has tried a couple of at-home hair removal devices, I think this one is the most effective.
Everyone should own a pair of hair straighteners, and you can't beat GHD's. They're not just for straightening your hair, but you can also create salon-worthy waves and curls with these too. You can save a generous discount of £24 on Harvey Nichols right now.
When the Who What Wear UK team put at-home gel kits to the test, this one came out on top as one of the best. Mylee's kit is regarded as one of the best for getting professional results in the comfort of your own home, and you can save £27 on the complete works set, which has everything you need for a long-lasting mani. 
I've had my eye on this pore-cleansing device for a while, so I'm pleased to see it has £30 off right now. The stainless steel tip uses ultrasonic technology to dislodge build-up in the pores that can lead to blackheads and congestion, so it's great if you're acne-prone or have an oily skin type. It can also be used as a post-skincare tool to infuse the product into the skin.
Heated brush tools are hot right now (no pun intended) for creating those salon bouncy blowouts at home. I'm a big fan of BabyLiss's hair tools, and this one has so many attachments to create so many different looks. I can't quite believe how great value this is.
NuFace's microcurrent devices have earned a loyal following for delivering serious results. In fact, it has been coined as a "five-minute face-lift" for its ability to lift and sculpt jawlines and cheekbones. It currently has a huge discount of £122, so now is the time to invest if you've had your eye on this cult device for a while.
This micro-needling kit from Sarah Chapman (who, FYI, has a celebrity-loved clinic in London) is the key to getting your glowiest skin yet, and you can save £14 right now. The micro-needles dissolve as you roll the serum into the skin to deliver a cocktail of peptides and hyaluronic acid. 
If you want to supercharge your cleaning routine, then you're in luck. Foreo's cleansing device has 25% off, saving you £47. It gently vibrates to dislodge build-up from the day, leaving your skin gently yet throughly cleansed.
Up Next, I'm a Beauty Expert, and Here's My Black Friday Shopping List