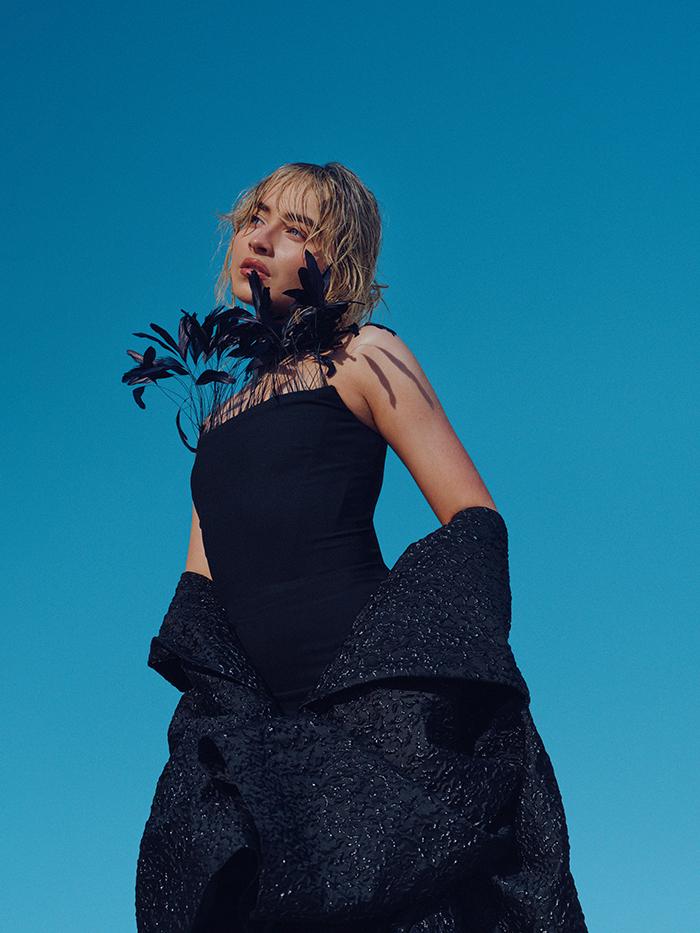 The day before Sabrina Carpenter's "Feather" music video breaks the internet, the 24-year-old enters our Zoom call flush with apologies. She's forgotten to redownload the app after deleting it to save on data (IYKYK), making her a few minutes late. "My phone has been out of storage for like all of eternity," she declares. After settling into a spot on the floor between her coffee table and sofa—which is currently decorated with an Ariana Grande pillow, a keepsake from her stint as the artist's opening act on the Dangerous Woman Tour back in 2017—she props her phone up, and we dive into a 90-minute conversation.
During this time, she's refreshingly open about everything from the proven difficulties that come with growing up in the spotlight and what happens when the internet turns on you to how it feels to experience all of the emotional roller coasters that come with teenhood years later than your friends because you were simply too busy at 15 to join them. Her lyrics often live in the grey zone, leaving her fans to search for breadcrumbs alluding to their meaning or who they're about, but her ultimate conclusions to my questions are surprisingly black-and-white. "This was the trajectory of my path," she says. "I can't change it now."
Letting past regrets or grudges eat away at her doesn't exactly fit into Carpenter's busy schedule, which hasn't eased up in more than a decade. When I ask the singer-songwriter and actress if she's had a day off in 14 years, she laughs, saying, "You know, it sounds dramatic if I say no, but definitely not like a super day off." For Carpenter, keeping her sights firmly set on her next move is precisely what's gotten her to where she is today. "My brain works in ways where I'm like, 'Oh, I want to do this. … It's gonna take a long time … so I [have] to start now,'" she explains. "Even in those moments of free time, I feel like I'm always just visualising something in the future." It's this mindset that's produced five studio albums, two Billboard Hot 100 hits, and three Platinum singles. "It's a blessing and a curse," she says. "I would love to be on a boat somewhere, though."
Even with the heavy workload, nothing can take away the fact that Carpenter is living out her lifelong dreams. "There was never really a question. Music was always the thing as a child that made me feel like I understood more about life," she says. As for convincing everyone to take her seriously, she attributes that to her conviction. "Not to be the person that brings up their astrology, but I'm a Taurus, and I think that might have something to do with the fact that I've always just been very driven. Some people like to call it stubborn. I like to say driven," she explains.
Unlike other kids who woke up one morning wanting to be a pop star and a doctor or fashion designer or astronaut the next, Carpenter's interests never varied. "I wouldn't start things and not finish them. That wasn't really my MO," she says. "I ate, slept, [and] breathed singing and would be at the piano all day, or I'd be practicing or doing my warm-ups. Even if I had nothing to do with singing in the coming weeks or months, I would try doing it every day just to practice and get better." All these years later, I get the impression that Carpenter is still this way—never quite satisfied. "The only way I'll make it through this is if I never actually fully feel established because I'll always just keep working," she adds.
Carpenter was 12 when she first signed with Hollywood Records, a label under Disney Music Group. In addition to granting her the ability to record her own songs and perform them, it meant she'd be sent into boardrooms with men many times her senior telling her about her future. "That was probably the weirder thing that I had to experience from a really young age," she says. 
Then there was social media, which nobody, Carpenter included, could have predicted would be such a requirement of the job when she started in 2009. Today, she sees it from two sides. "It's heartwarming if you think about it in the way that it provides togetherness," she says. "It's scary if you think about it in the way that you're like, 'Oh, people think they know me from videos on the internet.'" For Carpenter, there are ups, and there are "down, down, down, downs" when it comes to social media and the role it plays in her career and personal life. That's when she reminds herself just how fortunate she is. "I literally get to sing into a microphone. That's my job," she says. "It's everything that I've always wanted. I'm really lucky that my childhood thing… I stuck with it, and, you know, we're hand in hand through this."
Writing her own songs also contributes to her calm and collected nature and her ability to move past any road bumps that have and will continue to arise as she navigates her life as Sabrina Carpenter: pop star. "I really feel like I disconnect and fall off the face of the Earth [when I'm making music]," she says. It's through this process that she found her voice and fearless disposition. (She does admit to being "a sarcastic little snippy ass" since, well, forever, which is presumably why she's never really been walked all over.)
It's through music that Carpenter is able to turn off from the online world, where everyone has an opinion and heaps of time to share it. "Sometimes, I bang my head against a wall repeatedly," she says of hate comments online. But at the same time, she can't harp on them. She adds, "If someone says, 'Oh, she's ugly,' what am I going to do with that? Okay, well, bummer. I have to just move on with my day, regardless of whether you think I'm ugly or not." Sitting at her piano, no matter what the situation on hand may be, escape and resolution are only a few keys away. "It is so satisfying when you can take a negative situation in your life and turn it into a positive memory with a song," she says.
As she's gotten older, her music has evolved—getting more vulnerable and emotion driven. In 2021, the "Nonsense" singer left her longtime label to join Island Records, an organization that she says trusted her vision as an artist first and foremost. "I didn't sit down with them and go, 'This is the album that I'm making. It's called EmaiIs I Can't Send. It's very blunt and very forward,'" she explains. "They didn't know just as much as I was still figuring it out. But they had a lot of faith in what I was creating and let me experiment and create something really special." 
Because of this freedom, Carpenter was able to speak her truths on the album without all the outside noise. "When you're worried about [music] appealing to people and making sure that everyone likes it, I don't know if you make anything that feels authentic," she says. Putting out the album left Carpenter exposed. "[It is] borderline too personal," she admits. But not once since its release in 2022, and subsequent deluxe edition that came out earlier this year, has she felt an ounce of regret. Being on the Emails I Can't Send Tour and hearing the voices of her longtime fans singing along only reassured Carpenter that she'd made the right decision. 
Now, she's performing those same songs in front of an even larger fan base: Swifties.
In June, Taylor Swift announced the first round of international shows for her record-breaking Eras Tour, revealing Carpenter as her opening act for the Mexico, Argentina, and Brazil dates. Carpenter will also return for Swift's seven Australia and six Singapore shows. "I'm not gonna say I peed my pants because that sounds really graphic and maybe not sanitary, but I think it really just caught me off guard," she says of hearing the news. "It was very much a childhood dream come true." For her tour debut in Mexico City, Carpenter opened her performance with her first-ever YouTube upload, a video of her nine-year-old self singing Swift's "Picture to Burn," exhibiting just how long she's looked up to the 12-time Grammy winner. "I still probably have not processed it if I'm being completely honest with you," she says. 
The duo first met backstage at a show when Carpenter was 17 years old. "She had her cats with her," she recalls. (Carpenter herself has two white British shorthairs at home, so their shared love of felines bonded them for life.) "I have older sisters, so if anything, it felt like that type of a relationship." According to Carpenter, Swift's support of her music has been significant, but perhaps more impactful has been the "All Too Well" singer's championing of Carpenter as a human being. "To work with someone [who] cares about you as a person as well as an artist … that's been the biggest gift for sure," she says. Carpenter recently released a pared-down version of Swift's 2012 track "I Knew You Were Trouble" on Spotify, with many on TikTok sharing how the cover made them completely reinterpret the song, a pop hit with deep lyrics. Carpenter chose to cover the track because of how similar the perspective is to "Feather," the song Carpenter rereleased alongside "I Knew You Were Trouble." Like her cover, "Feather" got the chilled-out treatment, making them a perfect match. Swift's reaction to the cover was direct and to the point: "She nailed it."  
Despite her experience performing on the road, touring with Swift is a whole new ball game for Carpenter. "When you're doing your own shows, you have this assurance [that the audience] is there for you," she says. "They know the songs, they came to see you, and I feel very lucky in that sense that I'm like, 'Whoa, I have this crowd of people that dedicated their Friday night to come sing these songs with me.'" On the Eras Tour, however, there's a little more pressure for Carpenter to work the room. "I go into it with a little bit more excitement, being playful and just really singing and interacting with the crowd as much as I possibly can," she says. "There's so many of them—I can't see them all."
Her costumes, likewise, contribute to her energy onstage. "I want to feel as confident as humanly possible so I can be up there and not worry about what I'm doing," she says. "It helps me perform better." She ended up donning custom Swarovski-crystal minidresses by the Ukrainian brand Frolov, a favorite of Beyoncé for her own shows. She paired the dresses with her signature white go-go boots. "The go-go boots have been there for me in hard times," she says. 
Fashion played a pivotal role in Emails I Can't Send, more so than it did in any of her previous albums. "[The record], to me at least, feels like the first album cycle where I really felt like there was a style connection to the music," she explains. "I haven't always felt that way in the past because I was young and didn't know who I was." By getting to know herself better and finally gaining firsthand experience of the themes she'd long been singing about, everything just clicked. "This theme of hearts [is] sprinkled throughout the music and different visuals," she says. "It made so much sense to me because [the album] was so deeply surrounded by this infatuation with love and the lack of love and [how it helped to shape] me into the person that I am right now." Scrolling through her Instagram feed, the symbol is ubiquitous in her looks. "There have been a lot of little heart cutouts," she says. "I've pretty much done it everywhere."
Her style outside of the album has also seen a shift as she's learned more about who she is. "The things I feel really confident in now, maybe five years ago I probably would have never worn [them], but that's the beautiful thing about evolving with fashion," she says. Though she's most known for her hyper-romantic aesthetic laced with soft pastel shades, micro hemlines, and ethereal fabrics, Carpenter's found herself experimenting outside of that look. (Don't worry—it's not going away entirely anytime soon.) "I'm constantly exploring and figuring [things] out," she says. One look at her recent ensembles from Paris Fashion Week—where she wore a runway look from Schiaparelli's F/W 23 collection to the French couturier's S/S 24 show and a completely sheer black slip dress to Givenchy—is proof enough of that. 
Her stylist Jason Bolden—whose client list also includes Yara Shahidi, Storm Reid, and Vanessa Hudgens—has contributed significantly to that exploration. The duo first teamed up when Carpenter was just 17 around the same time that her breakout Disney show Girl Meets World wrapped. "The first thing he put me in was a red Loewe dress," she recalls. "That was so out of left field for me because I don't think anyone else would have done that at that time in my life." Just then, she knew he was perfect for the job. "We started with taking some of these more daring fashion risks that I probably would have never seen on the rack and been like, 'That's the one for me,'" she says. "He was really good at pushing me in those ways." They've been together ever since through each of her different musical and style eras, collaborating seamlessly to communicate her ever-changing story via clothes. "It sounds so silly to say that so much of my life is the little outfits I wear, but it kind of is," she says.
Carpenter's style is but one of many aspects of her life that revolve around music. She launched a second perfume a few months ago—Sweet Tooth: Caramel Dream—which she describes simply as an emotional extension of her music. She's preparing to head back out on tour with Swift this month, followed by multiple shows on the iHeartRadio Jingle Ball Tour. She is releasing a new holiday EP titled fruitcake on November 17. And yes, she has plans for a sixth album. "There's definitely more coming," she says with an air of mystery. Everything she does remains firmly planted in her singular childhood dream. "I sometimes look at that as such a phenomenal thing to think about," she says. "Why, for some reason, you just have something, this idea in your head when you're put on this Earth and how it happens, you have no idea, but you have this blind faith and just wake up every day and make it happen." Perhaps that explains the black-and-white manner in which she deals with those areas of her life that fall outside of her control. When she's needed it most, music has come through for her, stepping in and helping her overcome every obstacle life's thrown her way. Why question its powers now? 
Photographer: Dennis Leupold
Stylist and Editorial Director: Lauren Eggertsen
Hairstylist: Scott King at The Only Agency
Makeup Artist: Allan Avendaño at A-Frame Agency
Manicurist: Zola Ganzorigt at The Wall Group
Set Designer: Ali Gallagher at 11th House Agency
Producer: Luciana De La Fe
Video Director: Stephanie Romero
Cinematographer: Amusement Productions
Video Editor: Collin Hughart
Sound Mixer: Jason Flaster
Executive Director of Entertainment: Jessica Baker
VP of Creative: Alexa Wiley
VP of Social: MacKenzie Green
This story originally appeared on Who What Wear US.