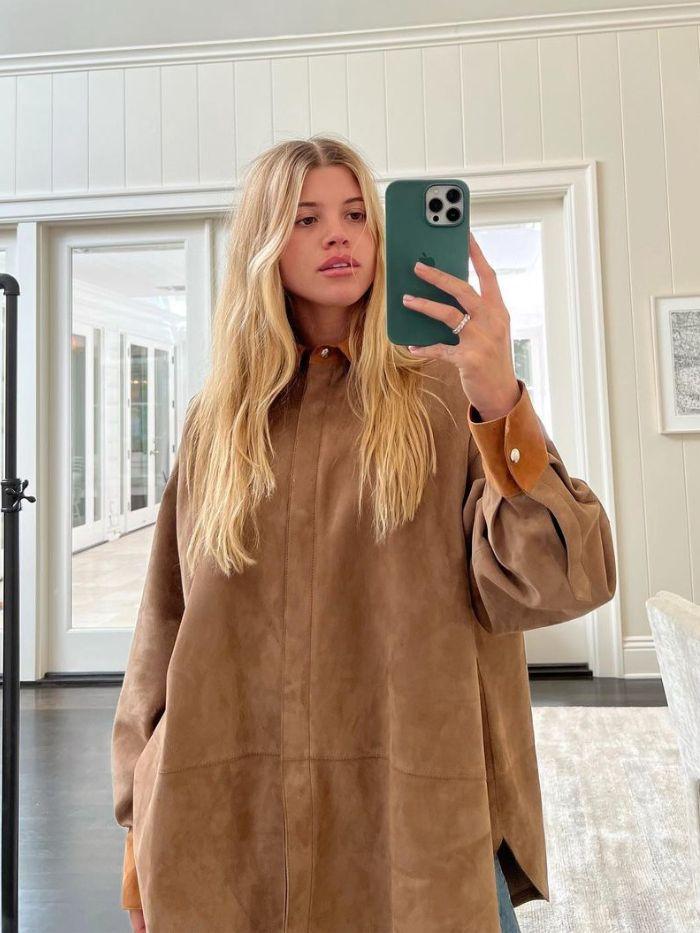 Getting a haircut is a very personal thing. I don't know about you, but my hair is a huge part of my identity, so whenever I sit in the salon chair, I like to know that I'm about to get a trim that perfectly suits my face shape. You see, when it comes to different hairstyles, it's not always a one-size-fits-all approach. Don't get me wrong, I'm all about choosing whatever haircut you want, but there are certain things you can do to tailor your cut to suit your face shape perfectly. I personally think my face is a little on the rounder side, and with my next hair appointment all booked in, I was intrigued to know what sort of style an expert would recommend. Therefore, I reached out to the hair experts at Hershesons to find out exactly what to go for. Keep on scrolling for all the info…
According to the experts, a round face shape can suit a variety of hairstyles. "Haircuts of various lengths, be it long, medium, or short, can complement round faces, explains Nataliia, stylist at Hershesons Belgravia. "The crucial aspect is the shape and detailing. Ensure the haircut isn't monolithic." When thinking about what to go for, Natallia recommends aiming for options that add height and movement, and to consider adding face-framing elements such as layers or curtain bangs.
First up is none other than the pixie cut. According to Elliot, stylist at Hershesons Fitzrovia, this is a great option for round face shapes and remains a chic choice this winter. "The key to making this shape work is to build weight along the temple area and around the crown," explains Neale, stylist at Hershesons Fitzrovia. "Not only will this elongate the face from a 2D perspective but [it will also] elongate the head [and] neck from the side profile."
I'm a big fan of this hairstyle, and it's great if you're wanting to make a serious statement.
You'll want some added volume at the roots for this hairstyle, so try a foam like this Hershesons one.
A pomade is great for styling, and this Ouai one is always my go-to.
Of course we had to include a bob haircut, and according to the experts, it's all about the angular bob. If you're not familiar with this style, the clue is in the name. The hair is essentially cut at an angle so that it gradually gets longer towards the front.
According to Elliot, this is a great choice as the haircut adds angles to balance out the roundness of the face.
A smaller blowout brush like this one is ideal for getting those curved ends.
To get that smooth, sleek finish, you simply can't go wrong with Color Wow's Dream Coat Supernatural Spray.
As mentioned above, layering elements such as curtain bangs are perfect for round face shapes. According to Elliot, not only does this cut help to frame the face, but it also adds dimension.
I've been seeing curtain bangs everywhere, and I'm seriously tempted to give them a go…
These clips are so handy for styling your bangs quickly and easily.
I know this texturising spray is expensive, but it really is great at adding some movement into your fringe.
"[This style is] similar to a crop or a pixie, but it retains length both in front and behind the ears…elongating the face from both a front and side profile," explains Neale. "[Add] a cute little micro fringe to open up the face and you can have a beautiful feminine shape with a contemporary edge to it."
If you don't fancy a fringe, don't fear, as this hairstyle also looks super cool all slicked back.
Use this cream on towel-dried hair to style and add body.
If you want a slicked-backed look like Pixie Lott, add some gel and comb through the hair.
"The classic middle [parting] gives the illusion of a long, elongated face by creating a long vertical line down the face," explains Neale. "For me, this should be kept simple. No layering, no shaping, no fringe. The key is creating two strong corners towards the front of the shape to balance out the roundness of the face."
A middle parting is always my go-to style as it's so easy to recreate. 
If you want a really neat middle parting, use a thin comb to section the hair.
This handy kit from Larry King will help to keep any flyaways at bay.
Last, but by no means least, the experts recommend going for beachy waves. According to Elliot, this style helps to provide a relaxed and effortless look. It can be super flattering on round face shapes as it adds texture and volume around the face to balance everything out. 
This is the perfect style for summer and winter, and is giving me all of the laid-back vibes. 
This tool is great at creating those effortless, beachy waves, and looks super cute too.
Scrunch or twist this spray into your hair to enhance movement.
Next Up: I've Never Had So Many Compliments Since Using This £48 Curling Wand on My Hair