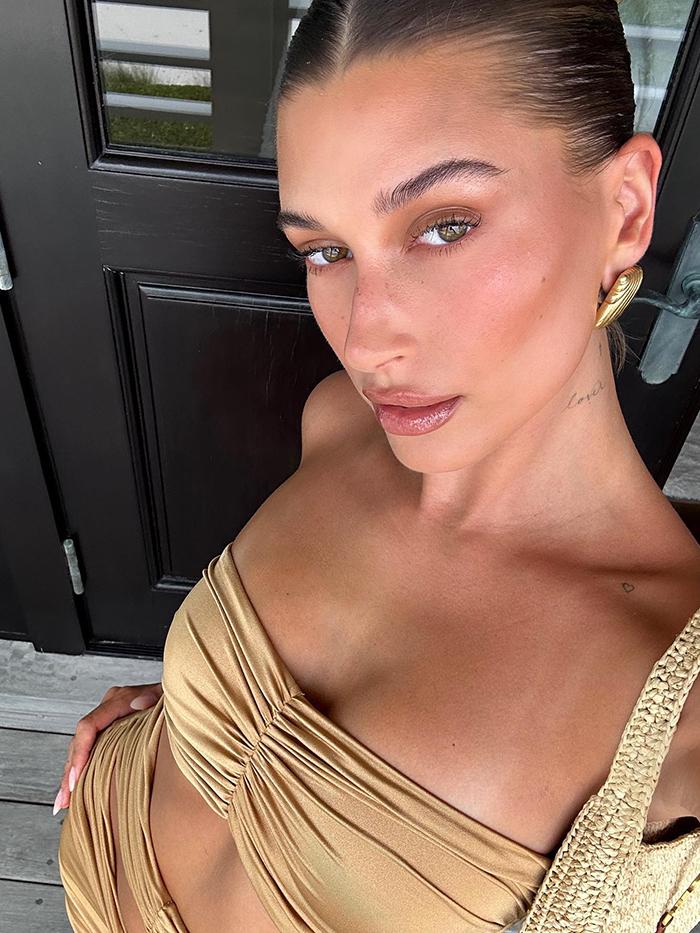 When it comes to cult skincare, there are few brands more hyped than Augustinus Bader. Despite only launching in 2018 with just two products—the now-iconic The Cream and The Rich Cream—Augustinus Bader has amassed an impressively devout following of celebrities, makeup artists and beauty editors who all swear by the glow-boosting, skin-smoothing benefits of this covetable moisturiser. It seems almost every A-lister, from Alexa Chung and Naomi Campbell to Hailey Bieber and Priyanka Chopra Jonas, has a bottle of Augustinus Bader in their skincare rotation—and if they don't, then their makeup artist does. But at £225 a pop for a bottle of moisturiser, it's impossible to offer up a truly unbiased review of Augustinus Bader without mentioning the cost. Because, let's be real, skincare with a three-figure price tag just isn't a realistic purchase for the vast majority of us. So what makes Augustinus Bader worth the hype, and is this luxury skincare line really worth the splurge?
Hailey Bieber took to IG Stories to share her favourite skincare products and revealed that she's on her third bottle of Augustinus Bader The Rich Cream. Most notably, while the value of some heritage beauty brands and buzzy skincare products might be debatable, there is no denying that the sheer amount of science behind Augustinus Bader's products—and I'm talking proper science, not just marketing spiel—makes them true investment buys. In fact, before segueing into skincare, founder and professor Augustinus Bader actually spent decades as the head of stem cell research at the University of Leipzig, where he intensely studied the skin's natural healing process in a quest to find ways to aid burn victims and improve our body's capacity for renewal. His research led to the creation of Bader's now-renowned Trigger Factor Complex, or TFC8. This patented technology, which powers all of Bader's formulations, is unique in its ability to not only support and optimise your skin's capacity for cellular renewal but also make Augustinus Bader skincare "smarter" by helping the products adapt to individual skincare concerns, whether that be fine lines, pigmentation or scarring. Essentially, it helps to deliver what your specific skin needs. Pretty clever, right?
Both Augustinus Bader's cleansing gel and moisturiser are staples in Priyanka Chopra Jonas's skincare routine, she told Vogue. As a beauty editor, I'm endlessly fascinated by the products that makeup artists genuinely keep in their kits, so it's of huge interest to me that Augustinus Bader is continually name-checked as a skincare staple by some of the industry's biggest experts. After all, these people have access to the very best products in the world. Makeup artist Pati Dubroff, whose client list includes the likes of Chopra Jonas, Margot Robbie and Kate Bosworth, swears by Augustinus Bader's products, which, to me, speaks volumes about the efficacy of Bader's skincare offering. In fact, it's so good that Dubroff told me that she not only uses The Rich Cream to prep her celebrity client's skin but also uses it in her personal skincare routine. That's a real seal of approval.
Facialist Melanie Grant shared Victoria Beckham's full skincare routine on Instagram, revealing that she uses Augustinus Bader's The Cream morning and night. Finally, it would be more than fair to say that I'll try any skincare product that Victoria Beckham approves, and it turns out that VB swears by Augustinus Bader. Heck, Beckham is such a fan that she collaborated with Bader himself to launch her own skincare products—the Victoria Beckham Beauty Cell Rejuvenating Priming Moisturizer (£140) and Cell Rejuvenating Power Serum (£184). And surely a full-on skincare collaboration is the highest praise there is.
Of course, there's really only one way to decide if a product is truly worth the hype and that's to try it. So in the interest of research, I tried every product from Augustinus Bader to give you my honest opinion on whether it's truly worth the money. It's a hard job, but someone has to do it, right? Keep scrolling to discuss the products that I think are worth the splurge and the ones that I think are worth skipping.
Let's start with the most-raved-about products from the Augustinus Bader line: the moisturisers. I have written extensively about my skin previously, but in short, I would describe myself as having a combination, acne-prone complexion with some dryness around my eyes now that I'm in my early 30s. As so many people have commented on how rich even this original formulation is, I have to say that I really wasn't expecting to get on with it. But it turns out I really like this moisturiser. There is, of course, a need for a disclaimer here. As a beauty editor, I am lucky enough to be sent products to try for free as part of my job. This means that I've been able to make my way through a couple of bottles of this cult cream without it making the slightest dent in my bank balance. However, putting the price to the side for one moment, I think that this is a brilliant product. My skin looks brighter and more glowy on days that I use it, and my acne scarring looks smoother and more even. For me, though, The Cream really comes into its own when I use it beneath makeup, particularly on days that I'm wearing a more full-coverage foundation and want it to stay looking fresh all day long. Is it worth £225? It's all relative. Personally, if I were going to spend that much on a moisturiser, then I'd probably want something a little more active purely because acne is my number one skincare concern. But if you've got the money and want to splash out on something that's going to give you even, healthy-looking skin, then this would make a worthy splurge.
When it comes to The Rich Cream, however, I'll have to pass. As the name suggests, this is a richer, more luxuriously textured moisturiser than the original with a higher concentration of plant oils and fatty acids. It will come as no surprise then that this just felt way too heavy for my combination skin, and by the end of the day, my skin felt oily rather than dewy. Not cute. Having said that, I have friends who absolutely adore this formulation, and if your skin is on the drier side, then you might actually prefer this to the classic cream. For me, there's no need for both in my routine when The Cream is such a brilliant all-rounder, so it won't be making its way into my permanent stash.
Who What Wear UK beauty editor Eleanor Vousden reviewed Augustinus Bader's retinol, and shared some impressive before and afters. As retinols go, it's very gentle but delivers great results by plumping the skin, smoothing fines lines and reducing pigmentation and scarring. While it is expensive, it's a great investment if you're willing to part with the money. "Over the course of the six weeks of testing, I have noticed that my complexion has become more even-toned, my pigmentation from hormonal acne breakouts swiftly departed after just a few days of use, and my skin now has bucket-loads more radiance," says Vousden. "In fact, I've since had a few compliments on my skin recently, which feels like further confirmation that this serum really is working. The fine lines on my forehead have also softened, and my skin texture in general looks much smoother. As such, I'm less inclined to wear foundation and feel that skin tints or just concealer are enough to cover any areas of concern."
"I'm not one to spend a fortune on eye creams, however, this formula really impressed me," says Vousden. "The skin around my eyes was compromised and thin after experiencing an eczema flare, which exacerbated the lines around my eyes. But, this formula really helped to revive the skin back to its pre-flare state, leaving my eyes looking revived and hydrated."
This is another product that Vousden rates. "I first tried this moisturiser when my skin was going through a sensitive phase, and I was blown away by how much it repaired my reactive skin. The rich texture is ideal if your skin barrier is compromised, and it left my skin looking radiant and glowing in the depths of winter," she says.
I already knew that Who What Wear beauty contributor Shannon Lawlor was a fan of this cleanser, so I was really excited to use this, and I'm pleased to say that it didn't disappoint. As the name suggests, it's a lightweight gel formulation that you massage into skin, working into a lather. It's incredibly gentle and calming, yet once rinsed away, it leaves my skin with the kind of brightness that I'm normally only faced with after using an exfoliating toner. Plus, it's worth noting that my skin always feels incredibly soft and well-hydrated after cleansing with this. However, for me, I'd say that this is more of a morning cleanser, as I prefer to use something a bit more heavy-duty when removing makeup and SPF at night. At £54, it's definitely on the pricer end of my face-wash wardrobe—although, it's a mere snip in the world of Augustinus Bader—but I think it makes a brilliant everyday addition to my skincare routine.
Augustinus Bader's second cleanser offering comes in the form of this cleansing balm and—spoiler alert—I adore it. As I mentioned before, I prefer a more heavy-duty cleanser in my evening routine, and balms are my cleansing formulation of choice. This one is buttery rich and melts into dry skin to get rid of every inch of makeup, sunscreen and dirt. You then add a little water to your face to emulsify the product into a kind of milky oil and wash away with the cloth provided (which handily lends a little manual exfoliation to proceedings). My skin is always left so smooth and glowy that it basically looks like I've had a facial. Honestly, I would wholeheartedly repurchase this with my own money, and if I could only recommend one product from the entire Augustinus Bader line, I think it would be this.
I'm always a bit undecided about face oils. I avoided them religiously as a teenager when I basically tried to dry my skin out to keep spots at bay (not a good tip, FYI). Then in my 20s, I went through a phase of layering them on before I went to bed, and while my skin did look good at the time, I wonder how much of that was due to being on the contraceptive pill and enjoying unlimited hours of sleep per night. These days, I tend to only use an oil in my routine if my skin is looking particularly dull or dehydrated. This one contains the brand's TFC8 complex alongside a blend of botanical oils, but the thing that intrigued me most was the addition of antimicrobial Karanja—a bacteria-fighting ingredient that gave me hopes that it might actually improve my spots rather than cause more congestion like some oils. I've been using this in place of my moisturiser at night, and so far, I have to say that I've been pleasantly surprised. Come morning, my skin definitely looks more radiant and well-rested (which is a great feat when you have a 19-month-old who's allergic to sleep). Would I spend £195 on it? As I'm only using it two or three evenings a week and only using a couple of drops at a time (a little goes a long way), I can't see me getting through this bottle in less than a year. So thinking of it as a £15-a-month investment means that I could probably justify the price tag. Plus, you can get a smaller bottle (£70) if you want to give it a bit of a test run first. However, if I used oil every single day as part of my usual skincare routine, then I might seek out some more affordable alternatives. 
I am a lip-balm obsessive, and one of my favourites of all time costs £40, so I'm not resistant to a highly priced balm if it works. Augustinus Bader's is nice. It's conditioning, comfortable and smoothing—all of the things that a good lip balm should do—but it just doesn't have that wow factor for me. I like that it comes in a twist-up tube for hygiene reasons. A lot of my go-to lip balms come in pots, but in our post-pandemic world, I just don't feel the same about digging my finger into a pot while I'm out and about. But for £32, I think you can find more luxurious textures and scents for your money. 
I don't wish to speak badly about essences, but in general, the ones that I've tried have felt like unnecessary additional steps in my skincare routine, with many making unquantifiable claims about improving the efficacy of products applied afterwards. There is nothing wishy-washy about the Augustinus Bader Essence. In fact, to me, this is more like a chemical exfoliator. It contains softening phytic acid and decongesting salicylic acid, and it's enriched with gluconolactone—a real mouthful to say but a polyhydroxy acid that gently exfoliates. I think it's doing a brilliant job of minimising the appearance of pigmentation and deeper-set acne scars as well as generally leaving my skin more luminous and even. It's a worthy investment, for sure. So, there you have it—my honest review of the entire Augustinus Bader skincare line. My star products are undoubtedly The Cleansing Balm, The Cream and The Essence, while I'd describe The Cream Cleansing Gel and The Face Oil as nice-to-haves, and I'd skip The Rich Cream and The Lip Balm entirely.
A repairing leave-in elixir that delivers the brand's renowned TFC8 complex to deliver nutrition straight to the strands of your hair—strengthening, boosting thickness and reducing the risk of split ends.
An intensely hydrating lotion, despite its lightweight texture, this cream locks in moisture with a blend of nourishing amino acids and high-grade vitamins to leave skin smooth, toned, and even.
This is a thick, luxurious body cream that's perfect if you're after something more heavyweight than the body lotion above. I am genuinely impressed with this product which not only hydrates, but leaves my dry limbs looking so glowy and velvety to the touch. 
If you have perpetually dry hands like me, then this hand treatment will provide some much needed relief. It's ultra-rich thanks to a shea butter-infused formula, yet it doesn't leave hands feeling greasy or slippy. With continued use, the skin on my hands looks so much smoother. Up next: Experts Agree, These Are the 6 Skincare Trends to Try This Winter.