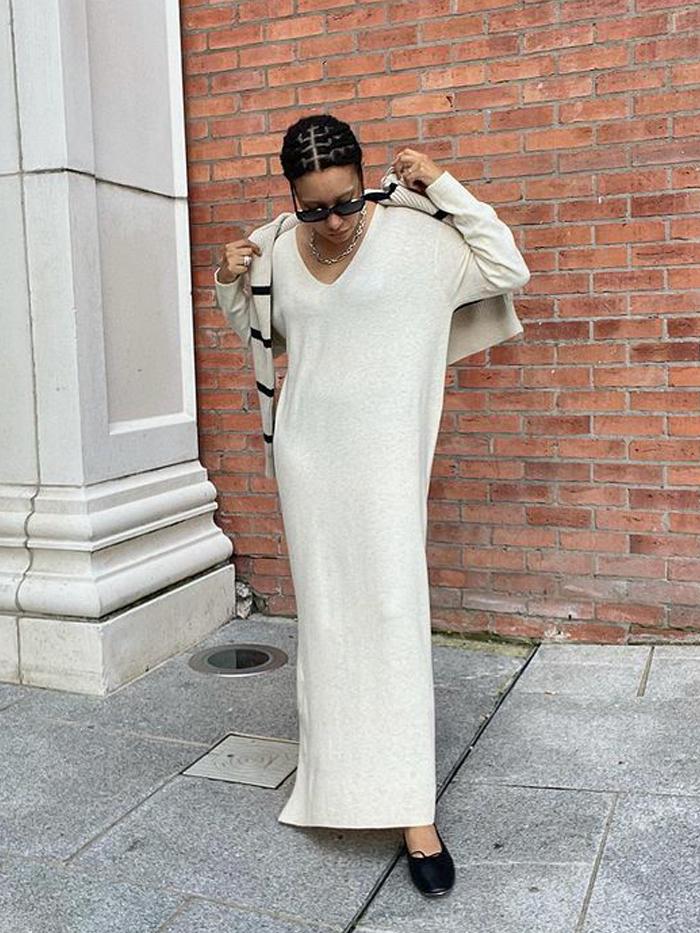 Since last month, I've been wearing a handful of items on rotation. Admittedly, one of them is a pair of joggers, which I think is justified after neglecting them over the summer. Another? Knitted dresses—specifically long-sleeve knitted dresses.
As a dress person who's prone to feeling the cold, I'm excited at the prospect of being able to wear my favourite garment without having to sacrifice warmth. Knitted dresses are so easy to style, and I like wearing mine with knee-high boots and camel coats for immediate polish. That said, on days when the sofa proves too tempting, knitted dresses also double as elevated loungewear (an option I don't mind answering the door in, either). Win-win.
While I already have a couple hanging in my wardrobe, with winter rapidly approaching, I've decided to treat myself to a new knitted dress or two, prioritising those with long sleeves to maximize cosiness. Handily, there are so many impressive styles to choose from.
In case you, too, are on the hunt for the perfect long-sleeve knitted dress, I've whipped up an edit of my favourite knitted frocks for you below. Yes, there are 24 of them, but what can I say? Brands have outdone themselves on the dress front this year. Scroll below to see long-sleeve knitted dresses (in every shape and shade imaginable) in all their wintry glory. All you need to do is add your go-to boots, and you're all set.
Cosy x100. 
Taking my cable-knit obsession to the next level. 
Navy always looks so chic. I'd wear this with taupe suede boots. 
The perfect knitted dress doesn't exi…
In the colour of the season! 
Would you look at those flared sleeves. 
I'm into this icy blue. 
A classic that'll live in your wardrobe for a long, long time.
This plum shade suits every skin tone. 
Minidresses aren't off the agenda. 
One word: Pockets! 
Dark brown tones look so expensive. 
Pep up your winter wardrobe with this banana-milk yellow hue. 
Cute collar! 
Sweetheart necklines are still going strong. 
A glorious shade of green—one that's hard to come by. 
I'd like to copy this entire outfit. 
Knitted dresses present the perfect cosy party-outfit option. 
Look closely and you'll see this dress has the most beautiful gold weave. 
This throw-on midi comes in so many colours. 
This will pair beautifully with burgundy boots. 
A knitted maxi dress will look so elevated worn with leather accessories. 
Look for styles with matching belts to add definition to the shape of a knitted dress. 
You had me with the words "ruffle hem". 
Next Up: The 9 Most Expensive-Looking Pieces on the High-Street This Week. 
This story was published at an earlier time and has since been updated.