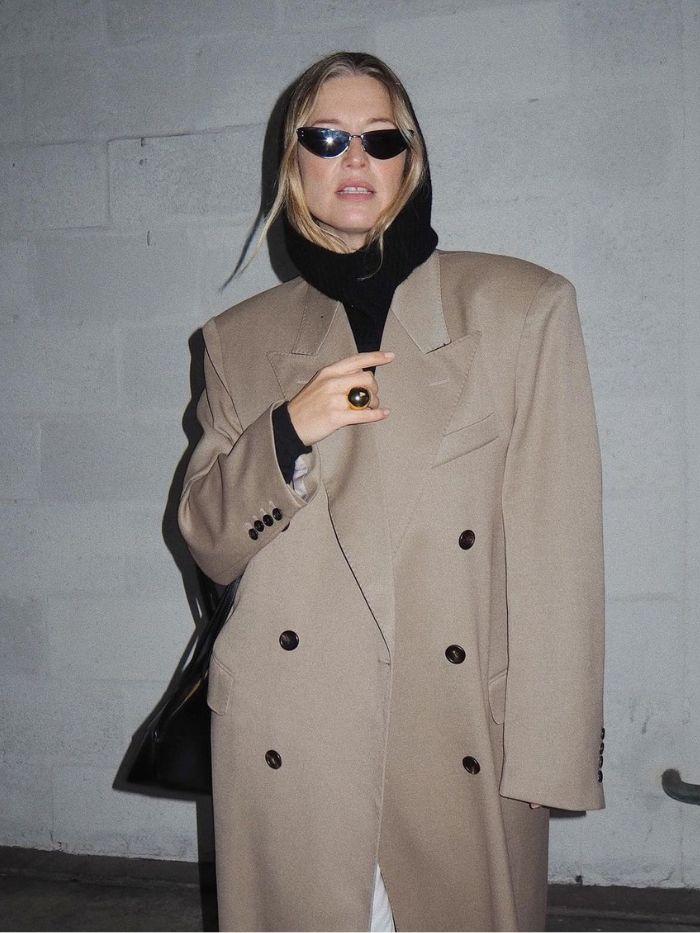 Don't get us wrong, summer is lovely and all, and autumn has been throwing out some excellent trends, but we've been counting down to winter and for one reason only: it's officially the start of coat season. Not that "too-warm-for-jumpers-but-too-cold-for-t-shirts" jacket season. And absolutely not the "I'll pop a cardigan in my bag for later" weather. This is the start of full-blown layering, and we find the prospect of getting cosy in big boots and even bigger coats nothing short of exciting. 
As we switch our mindsets from al-fresco to hibernation mode, it's time consider investing in sensible outerwear to see us through to spring, and given just how many coats are on the market right now, it's tricky to know which are actually worth spending our money on. There are of course the timeless classics that come around every year (and we tried and tested the very best and given our reviews here), but if you're looking for something that will do a little more than just keeping you warm, we've got that covered too.
Just as with anything else in fashion, new trends come around as quickly as dated ones fall out of favour, and coats are no exception. In the last few months we've shelved our denim jackets, trench coats and quilted car coats in favour of something more buzzy (and far better suited to inclement weather), so it's time to start shopping around for something to fill the gap.
Having searched through runway shows, street style pics and the wardrobes of social media's best dressed, a handful of clear trends have emerged for this winter that you're going to want to wear well into 2024 and beyond too. So, should you be feeling uninspired by your current go-to or just curious about the looks that are about to start popping up everywhere this winter, here are the six chic coat trends that we're ready to start wearing now. You won't be disappointed.
Style Notes: There's nothing worse than having to head out into the cold on the days we'd rather be in bed. The solution? Taking your duvet with you of course. Longline puffer coats are the secret to banishing the winter blues, and this ultra-cosy, ultra-comfortable coat stays warm while looking cool, so you needn't worry about what the weather has to throw at you.
I wouldn't blame you if you mistook this for designer.
Such a good shade of cocoa brown (but more on that later).
This entire look is perfect for a winter weekend.
This also comes in bright bubblegum pink. 
You can rely on this to see you through even the very worst weather.
Style Notes: Whoever came up with the scarf-coat hybrid first, we applaud you. Not only does this polished coat manage to make every outfit look infinitely more expensive, but it cuts out the need to stuff a scarf into your bag "just in case". Simply wrap and go. 
This is a cult classic for a reason.
A slightly more cropped version of the trend for milder days.
This just looks so elegant.
I spot a bestseller in the making…
Bravo, Isabel Marant.
Style Notes: It was only a matter of time before the maxi dresses and skirts we were obsessed with in autumn would influence our outerwear choices too. The long, sweeping maxi coat pairs perfectly with ankle-grazing dresses and knee-high boots, but happens to look just as good with jeans and flats too. However you style it, nothing quite beats the dramatic silhouette that this tailored coat creates, and it's the key to making even the most simple outfit feel like a statement. 
This looks at least five times it's price tag.
Camel coats go with everything.
The belt detail is a nice touch.
How to get the premium, designer look on the high street.
Let's not leave leather out of the conversation!
Style Notes: Dopamine dressing is undoubtedly the antidote to grey winter weather, and pops of bright coloured shearling is the guaranteed way to add a dose of vibrancy to your day (as well as everyone else's). Sure, a black wool coat is timeless, but I'm impossible to have a bad day in Crayola shades of hot red, cobalt blue and apple green and plenty of cosy fluff. Consider this mood-boosting coat just as important this season as your umbrella. 
The Jigsaw X Roksanda collab predictably sold out moments after launching, and this was the most popular piece. Get it while you can…
A colour pairing that shouldn't make sense, but definitely does.
I'm adding this shade of blue to my 2024 moodboard.
The sell out success is back in stock for another year.
Too cute for words.
Style Notes: As editors we're often asked for tips on how to look rich without having to shell out, and often the answer lies in something as simple as introducing the right colour into your wardrobe. We're calling it now—brown is the new black, and it's just as professional and well-put together as its darker counterpart, but the rich, warm undertones make it universally flattering for all skin tones. We love you camel, but this season we're heading to the dark side. 
This is the whole outfit.
Style this up with a wide waist belt.
Arket puffer jackets are a Who What Wear favourite.
Style Notes: We supersized our tailoring, our tote bags, and now is the turn of our bomber jackets, and this autumn/winter the preference is for baggy, voluminous leather bomber jackets that look like they were borrowed from the menswear section. No complaints here, this roomy jacket is perfect for layering over chunky knits and oversized shirts (in other words, everything we'll be wearing for the foreseeable), and judging by the amount of influencers and editors who have taken to the trend, it'll be sticking around long into 2024 too.
Up Next, Camel Coats Always Look Elevated—28 That Get This Fashion Editor's Approval