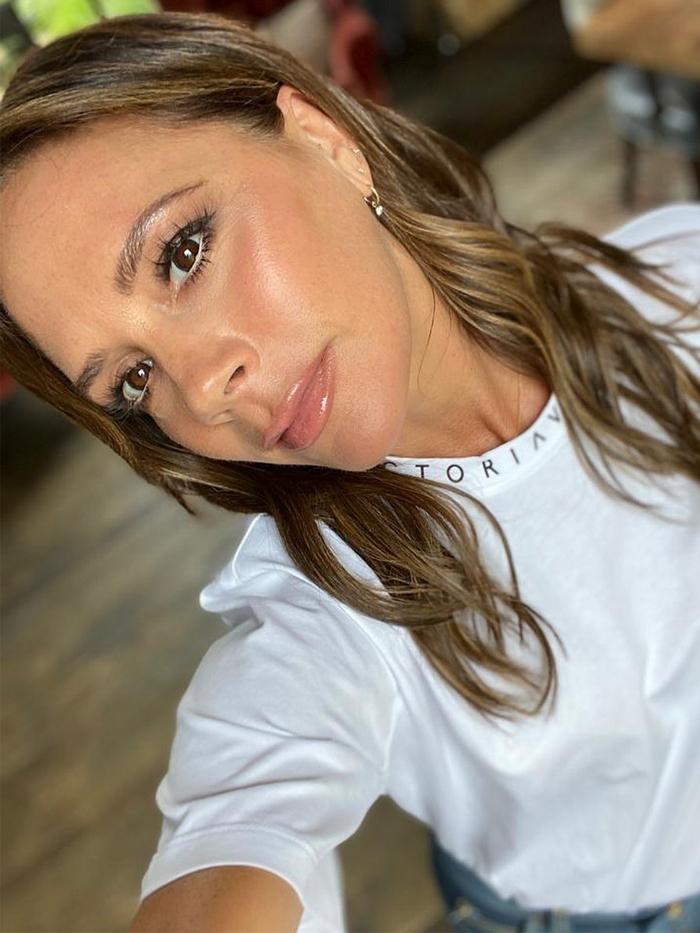 A good cleanser might be the foundation of any successful skincare routine, but finding the right moisturiser can take your skin to the next level. While celebrities might have access to the very best facials and skincare experts in the business, there's no doubt that most of the A-list have seriously good skin, and a lot of that will be down to the moisturiser they slather on daily.
Although there are celebrity exceptions (Emma Stone reportedly loves olive oil, while Pixi Geldof swears by argan oil), a little bit of digging proved that basically all our favourite celebrities were loyal to one moisturiser. Ranging from £15 to £405, there's a whole mix of price points and skincare solutions here, but keep scrolling for the very best moisturisers that the likes of Rosie Huntington-Whiteley, J.Lo and Victoria Beckham actually use.
After Alexa's favourite moisturiser, Moisturel Therapeutic Cream, was discontinued, she revealed to Into the Gloss that she switched to Cetaphil. "[My favourite] was basically like Cetaphil cream but thicker, [but it] has been discontinued. Why? We just don't know," she said. "So I'm on the hunt for the best moisturiser. Currently, I use a mixture of stuff. I'm trying out Cetaphil mixed with Decleor oil, but I'll do anything that I think might save me."
It might look like a face mist, but natural brand Tata Harper actually describes Rosie's favourite as an oil-free moisturiser. When sharing her full skincare routine on Rose Inc., Rosie said, "I just like to add a little bit of this—it's obviously really hydrating, very cooling, it smells incredible, and makes you look really dewy and luminous."
It's no surprise that VB's favourite is the cult Augustinus Bader moisturiser. When Beckham's facialist Melanie Grant took to Instagram to reveal her full skincare routine, this moisturiser was on the list for both day and night. Take a look at Victoria's beauty highlights on Instagram and you'll spot it cropping up time and time again in her beauty favourites.
The most expensive moisturiser on the list comes courtesy of Kim Kardashian's favourite, which she previously described as her "fave face cream in the world" on her Instagram stories. Suffice to say, I'd hope it was for that price.
Potentially one of the most iconic moisturisers on the market, it's worth noting that while a standard 30-millimetre pot of La Mer retails at £150, you can purchase up to a 500-millilitre jar of the good stuff for £1850. Major. Kate Hudson swears by it, taking to Instagram to share her love. "I have been a loyal fan of this product since I was 19 and unwrapped it as a Christmas gift from my Mama," she said.
Priyanka Chopra Jonas is perhaps even more obsessed with moisturiser than we are. With a collection that spans niche, pharmacy, and high-end formulas, she has countless options at her disposal. However, speaking to Hello US, Chopra Jonas revealed the cream she reaches for most is Clarins Instant Smooth Perfecting Touch.
For a lady so glamorous, EmRata's skincare routine is surprisingly pared-back. As for moisturiser, she told Into the Gloss that her main thing is Philosophy's Hope in a Jar moisturiser: "It's so nice and thick." Ratajkowsk even mixes it with her foundation for a light, dewy base.
In her guide to the products she uses for clear skin, Zendaya revealed that her moisturiser of choice was an oil-free formula from Mario Badescu. "This moisturiser protects against sun damage, doesn't clog my pores and contains green tea extract—a great antioxidant," she explained.
"My skin tends to run pretty dry," Emma Watson revealed via Into the Gloss. "I switch up my moisturisers depending on what issue I'm trying to address. "I use the MV Organics Rose Soothing and Protective Moisturiser a lot."
After suffering from stress-induced breakouts in her late twenties, Laura Harrier had to take her skincare routine up a notch. Speaking to People, the actress reveals her all-time favourite moisturiser to be iS Clinical Active Serum. 
Suki revealed that she loved this affordable moisturiser when asked by Harper's Bazaar what her skincare saviour is. "When I'm travelling, I use Weleda Skin Food," she said. "You go to sleep and just wake up feeling like a goddess."
I already knew Amal was a huge fan of Charlotte Tilbury, but it turns out she loves her skincare too. Tilbury revealed on her blog that she prepped Clooney's skin on her wedding day using her Magic Cream. This helped to "reveal a youthful, dewy complexion," Tilbury explained.
When Catherine Zeta-Jones took to Instagram to share a shelfie shot of her bathroom cabinet, I immediately spotted her luxury moisturiser of choice from Natura Bissé. "My face and body essentials," explained Zeta-Jones. "And no, I don't use them all at the same time."
Taking to Snapchat to share her skincare favourites, some of Khloé Kardashian's essentials included some surprisingly affordable products—including this cult French moisturiser that Parisians, beauty editors and other celebrities adore.
"Capture Youth is made 
for girls [who are] my age," Cara explained while chatting all things skincare with InStyle. "My tip is to mix the [Dior Capture Youth Age-Delay Advanced] cream with one of the five serums, depending on your everyday need."
There's no doubt that J.Lo's apparently age-defying skincare secrets are amongst the most coveted in beauty. Believe it or not, it turns out getting your hands on her go-to moisturiser actually won't break the bank. According to Grazia, she swears by Dr Hauschka Rose Day Cream (£31) for soft, glowing skin.
Speaking to Who What Wear UK, Sarah Jessica Parker revealed that she uses RoC's Multi Correxion Hydrate + Plump Moisturiser SPF 30. "If I had to one product for the rest of my life from skincare, I'd probably be this," she says.
Okay, so this product that technically isn't a moisturiser. However, if that's what a royal uses to keep her skin hydrated, who am I to argue? When Meghan Markle was asked by Banter Babe what she moisturises her face with, she revealed that her product of choice was Kate Somerville Quench Hydrating Face Serum. "I've been going to Kate's clinic in L.A. for facials for years," said Markle. "I still use the products to maintain that glow that her facials give."
The Quench Hydrating Face Serum has been discontinued, but this is the next closest match.
It comes as no surprise that this starlet's favourite moisturiser is a product from her eponymous skincare line. In a routine shared to the model's TikTok page -Bieber can be seen using Rhode's Barrier Restore Cream, alongside numerous cult skincare products and of course Rhode's Essence and Glaze Milk. 
This post was originally published at an earlier time and has since been updated.
Opening Image: @victoriabeckham
Next Up: 14 Serums 40-Something Celebs Always Use (But Aren't Paid To)