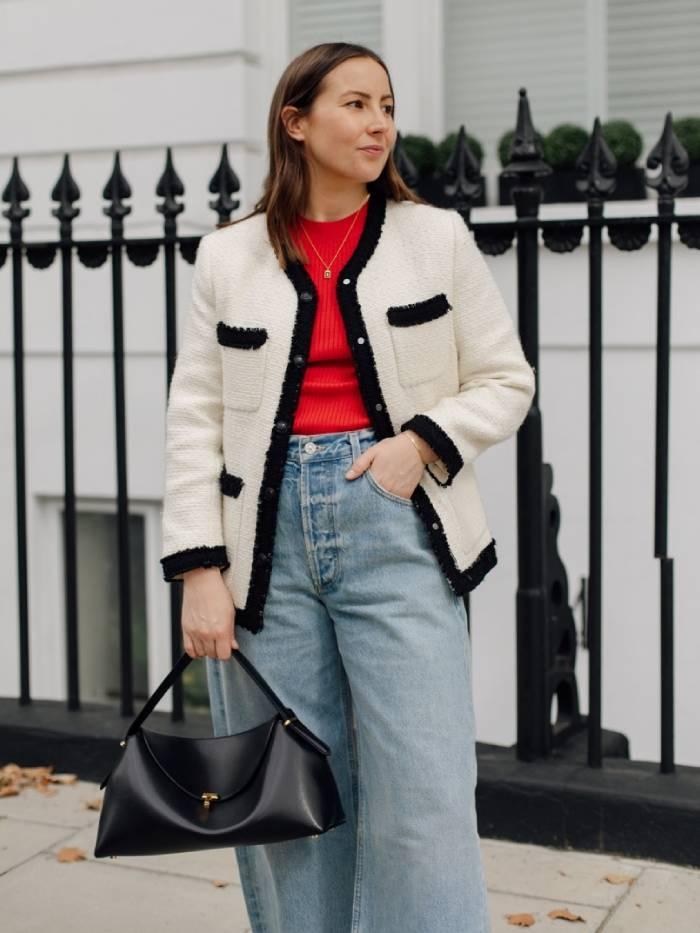 As a Who What Wear UK editor specifically focused on finding the very best shopping buys for you, I spend an awful lot of time scrolling through brands' new-in sections. And when I'm not combing websites for standout pieces, I'm usually in-store trying them on, which means I get an even better idea of what new things are actually worth buying. I feel the fabrics and get to grips with the fits and detailing, all of which helps me recommend only top-tier products when I write these articles.
I come across so many great pieces, but some are just better than others—like, next-level good. And those are usually the pieces that end up on my own wish list (and often in my own wardrobe). So I thought I'd create a space here to collate all these truly amazing new-in buys each month and pass on the knowledge of what a fashion editor is actually considering buying for herself.
I'm always on the lookout for pieces that make my outfits look the most stylish and expensive with as little effort as possible, so you'll find a lot of easy but chic pieces below. Versatility also plays a huge part in the elimination process when I'm thinking about whether something is worth buying. If I can dress it up and down and layer it up in all seasons, I know I'll get more wear out of it, so it's a winner.
Keep scrolling and you'll find 36 new things I'm currently obsessed with. Any one of them would add worth to your wardrobe, and you can have full confidence that I'm either saving up for, dreaming of or wearing these exact pieces right now. 
All of our editors are currently obsessed with cherry red knitwear. 
A strong contender for best wool jacket on the high street, especially in this shade of chic charcoal grey.
COS' popular quilted bags now come as a sleek leather crossbody too. 
Consider this your warning, these are already selling fast.
A pair of mesh flats that are actually in stock (for now)!
The coat now comes in a deep chocolate brown and it's living in my mind rent free. 
My first knitwear buy of winter 2023 is going to be this striped knit, it's a no brainer. 
I keep coming back to COS for cosy and expensive-looking knitwear. 
Soooo cute. 
I've never met a tweed jacket I didn't like. 
Such a timeless wardrobe piece I know I'll wear on repeat. 
I've done the research and navy always looks expensive, trust me. 
I can't get over how expensive this top looks. An incredibly chic work or even going-out top for pairing with black jeans or tucking into tailored trousers this season. 
This whole outfit, please. 
Such a great high street alternative to The Row's iconic style. 
This expensive-looking jumper sells out every year, and I'm so grateful Arket have brought it back in this chic grey for another year. 
I've been searching for a pair of polished dark denim jeans and hese have answered my prayers. 
I'm on the hunt for some flat knee high boots to pair with leggings and these could easily pass for designer. The strap is removable too, for two looks in one. 
It might seem counter-intuitive but white jeans are going to be big news this autumn/winter. Pair with chunky, cosy knits. 
H&M's premium knits are mind-blowingly good this season. 
Heavenly. 
I didn't know I needed a mini skirt for autumn, but now I do. 
Legging season is upon us, and these are anything but basic. 
Suede accents are going to be everywhere this autumn/winter. 
I love that this is actually a dark dark brown. Very chic. 
Is my obsession with brown becoming obvious yet? These are the perfect wide-leg trousers. 
I'll be buying this a few sizes up so it's super cosy. 
I love an elevated white T-shirt. 
My favourite jeans now come in black. 
Effortlessly cool. 
The Row just used gold bangles in its SS24 show, and now I want a gold bangle. This also means they're going to be the accessory du jour very soon—it's such an easy way to elevate a simple outfit. 
I simply cannot wait to cosy up in this all winter. 
A beautiful addition to any jewellery box. 
So classic. 
A dreamy new autumnal colourway in my all-time favourite knit. It's a worthy investment. 
Up Next: The 9 Most Expensive-Looking Pieces on the High Street This Week