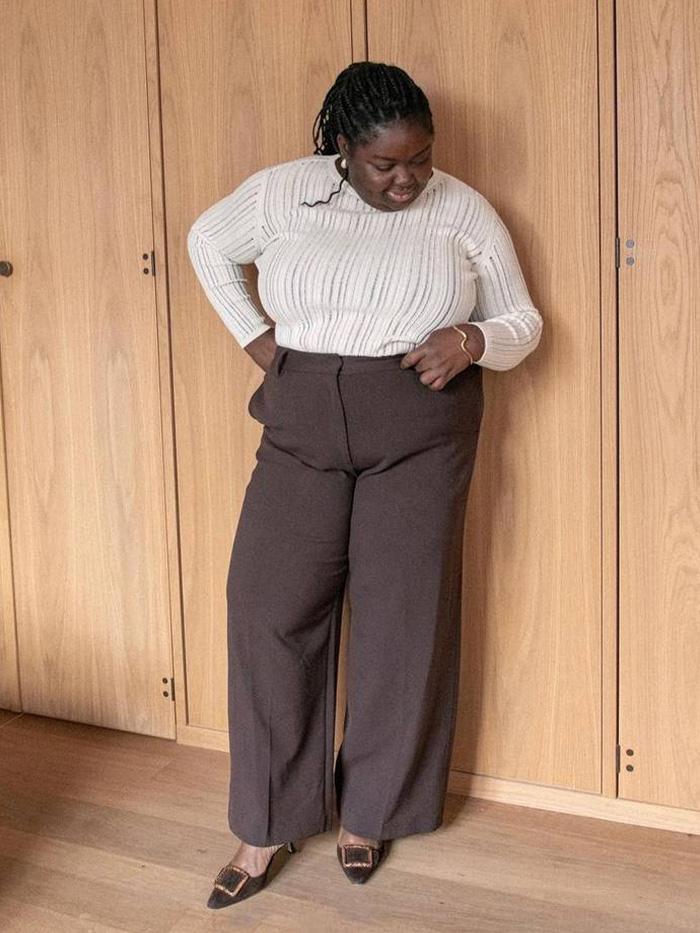 Over the past few years, I've had something of a style evolution and it's been spurred by colour. While I've known what shapes and styles I like to wear for quite some time, I realised that although I appreciate monochrome outfits, I was craving warmer tones. I've always been a lover of neutrals but as I've gotten older, I've realised that I don't necessarily want a wardrobe devoid of colour. I found myself gravitating to earthy and warm hues that still feel wearable and neutral, especially on darker skin. This realisation coincided with the dominance of brown at the tail end of last year, so my interest was piqued. 
Between espresso, warm tobacco shades and rich cocoa (akin to melted chocolate), brown has been one of the leading colours on the runway along with ochre. After spending the past year drawn to every coffee-hued item in sight, I've come to realise that brown has pipped it to the post as my new favourite colour. I've since come up with many brown outfit colour combinations, and ways to incorporate brown into my wardrobe. While it may demand more thought than say black or white, the options are aplenty and so inspired.  If you're also enamoured by the many brown pieces on offer, keep on reading for a guide to wearing 2023's most celebrated colour. I've studied it carefully so you don't have to!
There's something complimentary about pale colours against brown tones. Instead of a stark white, try ecru, oaty hues and stone colours that mimic the natural colour of linen. It's my favourite combination this season.
This style is one of my most worn dresses of 2023. I wore it with heeled sandals in the summer and with heeled boots now.
This is such a classic piece but if you look closely you'll notice the taught and thicker waistband which gives this style added shape.
I'd style this co-ord with knee-high brown boots.
Comprising 90% merino wool and 10% cashmere it's bound to keep you toasty.
Next to brown, canary hues are also having a moment and it just so happens to be a good pairing for brown. Ochres, pale yellow and mustard are all distinctive colourways that work in harmony.  The subtlety of brown with the brightness of yellow is a combination that never fails.
The joyful colour and '80s plisse is bound to put a smile on your face.
Mother of Pearl offers a slightly richer yellow.
This beige-toned yellow will suit monochrome outfits.
Tove's designs are exquisite.
Blue denim can act as a neutral, so if you're ever in doubt, opt for pared-back outfit combinations such as a white shirt and blue jeans with brown accessories. To be specific, deep indigo denim and cocoa brown is an unmatched pairing.
Deep indigo always looks great with brown.
Although denim skirts are a trend focus for 2023, this piece feels timeless.
Just add a crisp white shirt and brown boots!
This jacket calls for a double denim look.
Grey tones are dominating this winter and lucky for us grey and brown is a match made in heaven. I much prefer charcoal tones as they feel refined and sophisticated as compared to marl grey, which often boasts a casual lilt.
This coat looks incredibly premium.
My fallback winter outfit consists of a black wool coat, a charcoal scarf and a brown bag.
Invest in classic knitwear now and wear it for many winters to come.
Pair this smart dress with a Victoriana blouse underneath and a dark brown coat.
Many green pigments meld beautifully with the rich undertones of brown. From bottle greens to chartreuse and khaki, you're bound to find a well-matched pairing. Match brown tops with green skirts (and vice versa) for styling options that mimic nature and feel seasonally appropriate. This type of tonal styling can provide an introduction to saturated hues for those of us who are more familiar with monochrome palettes.
A smartened utilitarian look in the chicest green.
This season many tops feature ruched elements.
The most stunning colourway and drop.
While this dress is intended to be worn as a bridesmaids frock, I wear mine in the evenings.
Next Up: The Expensive-Looking Colour Fashion People Are Wearing on Repeat This Winter