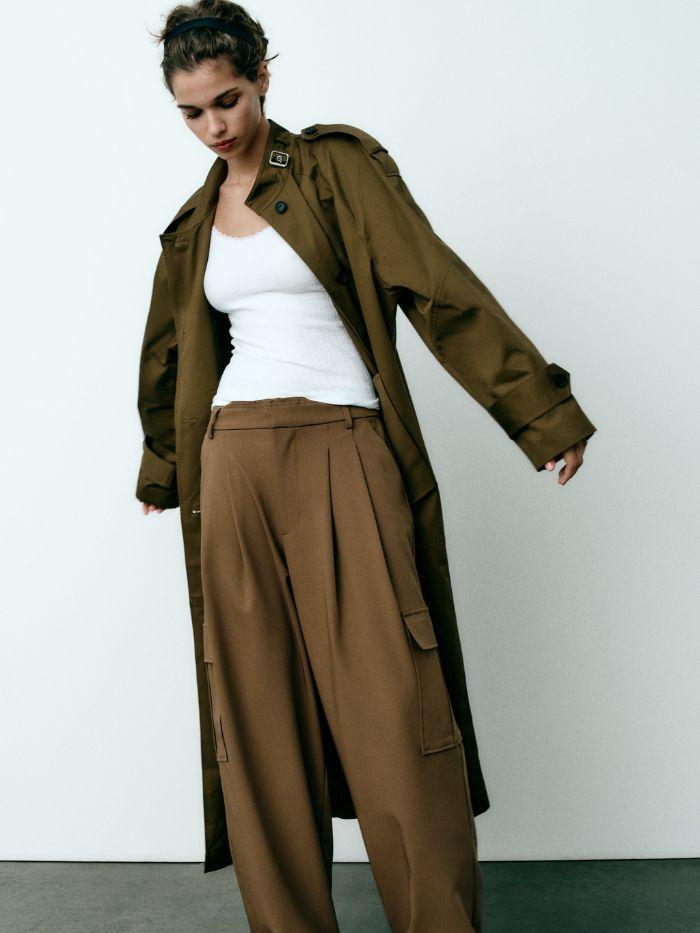 I've spent years carefully crafting my winter wardrobe. I've chosen classic coats, knitwear that doesn't date, quality boots that go way beyond one season and tailoring I can dress up or down. Still, I sometimes wish my winter wares packed a bit more of a fashion hit. I'm all about timelessness, but there is something to be said for adding a bout of trend-led appeal to your wares, particularly in winter when you spend a significant amount of your time wrapped up in practical layers. So with the idea of making my winter ensembles feel more timely, I thought I'd head on over to Zara to see the timely pieces the brand is recommending for the season ahead.
Zara is the first place I turn when I want something of the moment. The brand doesn't merely follow the trends laid out by designers. It starts its own, and I was eager to find out which it's backing for 2023.
It only took about 30 seconds of browsing its new-in section to discern a pattern—or, should I say, six patterns. As I scrolled, it became evident that there are a handful of winter trends Zara has invested heavily in. You'll be pleased to hear that they're all genuinely wearable and will work for a variety of aesthetics. Such is the appeal of Zara in the first place. That and price tags that don't require much commitment. Still, I'd never suggest shopping frivolously or snapping up pieces you can only see yourself wearing once or twice. What you'll discover below are trends I believe have staying power for 2024 and beyond. Fashion is cyclical, after all.
Scroll on to discover the six Zara winter fashion trends this editor is considering investing in.
Shearling and faux-fur textures always make a comeback in the winter months, but for 2023, the fabrication feels more prevalent than ever, especially at Zara. 
A cosy coat is a must on my wish list. 
Fun layering pieces are all you need to update your basics. 
This looks great styled with a chunk scarf.
Yep, even these slides have a furry finish to them. 
Who doesn't love a toasty jumper? However, if you're becoming fatigued with run-of-the-mill weaves and silhouettes, cue Zara's dollop of dreamy, directional knitwear. 
This looks so premium. 
Expensive-looking detailing right here. 
The beaded embellishing really lifts this otherwise staple knit vest. 
Cardigans keep cropping up this season. 
Maxi hemlines were all the rage on the autumn/winter runways, and seen everywhere from Celine to Saint Laurent. Zara is backing the trend in a big way this winter, too, in everything from mesh to wool to satin. 
I love this set. 
If you're used to relying on jeans, this denim skirt is for you. 
So sleek. 
The ultimate party skirt. 
That's right—cargo is still a big deal over at Zara, a brand which continues to feed into the popularity of the Y2K aesthetic. Having said that, I've noticed a distinctly honed offering for winter in more premium-looking textures and cuts. 
Just add a blazer and a simple vest. 
These also come in brown, green, ink blue, black and white.
These will help curb your dependency on jeans. 
Invest in a black pair for a cool take on party dressing. 
Unlike other designer-born trends, French styling is easy to re-create on a budget. Zara's new-in section is currently packed with the bouclé jackets, printed blouses and skinny jeans we see on repeat on the streets of Paris. And what's more, these easy pieces can be dressed up or down depending on the occasion, making them a versatile addition to any wardrobe. 
From the fab to the cut, this looks incredibly high-end. 
Another key Zara winter fashion trend: embellished tailoring.
Just add a slick of red lipstick and your favourite heels. 
This will elevate your entire outfit. 
Denim is a key staple year-round, but I think it comes into its own in the winter months. Being a heavy fabric, it's ideal for keeping you warmer in cooler climes, and Zara is running with this idea, using the textile to create dresses, skirts, and tops alongside classic jeans and jumpsuits.
So cool! 
I just know this will fly. 
The waistcoat trend is still going strong. 
That's right—you can tick off two trends at once with a denim maxi.
Next Up, I'm Anti-Trend, But These New-Season Items Work With My Winter Capsule Wardrobe
This post was previously published and has since been updated.